Day 13 of Valorant Champions 2022 was a rollercoaster ride for both XSET and FunPlus Phoenix. While FPX at first walked away with Ascent 13-11 and the series, their jubilation soon proved to be short-lived.
A Killjoy Turret bug in the final round of the map ultimately forced the round to be replayed. The North American squad ended up winning the round, sending the map to three nail-biting rounds of overtime.
FPX eventually reclaimed their victory with a 16-14 win, but both teams were visibly weary after the relentless back-and-forth. Tensions had also run high following Riot Games' decision to void FPX's win the first time and replay the round, with several FPX players taking to Twitter to voice their displeasure.
"Not demons just losers," said Dmitry "SUYGETSU" Ilyushin, walking back an earlier tweet after their initial win where he praised XSET for putting up a good fight.
---
---
A Killjoy Turret bug meant that FPX had to replay their game-winning round against XSET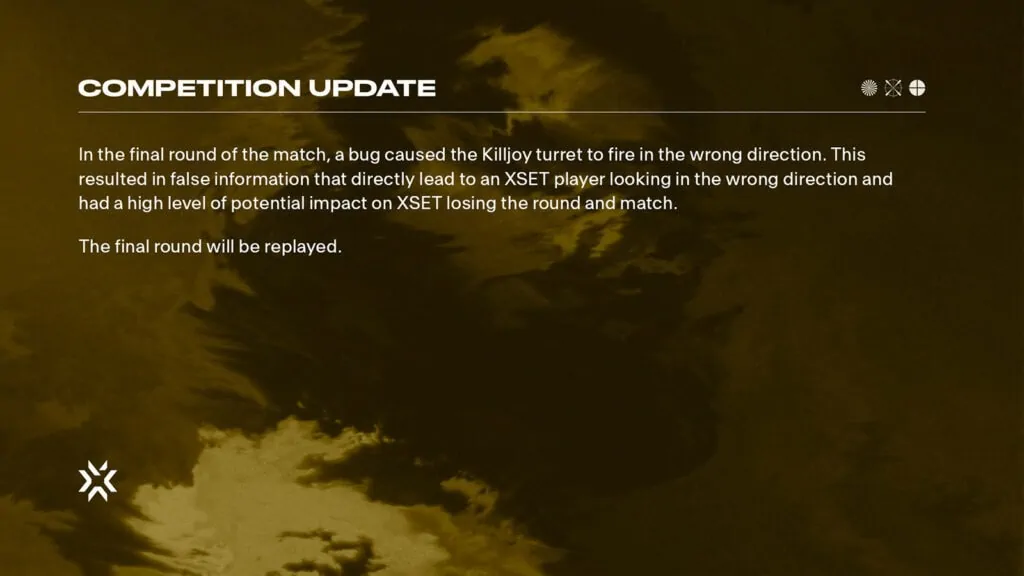 In Round 24, XSET found themselves in a 3v2 post-plant. With the advantage seemingly on their side, Jordan "AYRIN" He's Killjoy Turret went off in the direction of A Heaven.
Unfortunately, that turned out to be a bug and a fatal misdirection. Rory "dephh" Jackson turned away from A Tree to watch Heaven, when both FPX players were actually pushing from Tree. As both AYRIN and Zachary "zekken" Patrone fell, dephh was left in a tough 1v2 that he did not win.
---
---
In a competitive ruling later, Riot said that it had decided to replay the round because of the high potential impact it had on the outcome of the match and series.
"In the final round of the match, a bug caused the Killjoy Turret to fire in the wrong direction," it said. "This resulted in false information that directly led to an XSET player looking in the wrong direction and had a high level of potential impact on XSET losing the round and match."
Unsurprisingly, that decision proved controversial. While the bug's impact on the round could not be denied, many also argued that it was a known glitch that should have been accounted for by XSET.
Overtime saw high-octane clutches by both teams, including a 1v3 from Pontus "Zyppan" Eek. The final round played out similarly to the way it did the first time. XSET had a 3v2 man advantage once again, but Kyrylo "ANGE1" Karasov and Zyppan responded with a flurry of frags to close out Ascent.
FPX will now move on to face DRX on September 17 at 1:00 a.m. GMT+8 | September 13, 10:00 a.m. PT | September 13, 5:00 p.m. GMT. This will be their second meeting at Champions, following DRX's 2-0 victory earlier in the playoffs.
The match will be broadcast live on the official Valorant Twitch and YouTube channels.
READ MORE: DRX head coach termi explains why they made stax IGL again