Update as of December 5 at 7:30 p.m. GMT+8 | 3:30 p.m. PT | 11:30 a.m. GMT: Riot Games will have Acend and Vivo Keyd replay their third map on Breeze at the start of Day 5's group stage.
Acend was also handed a 7-0 lead to start the map on Breeze due to Vivo Keyd's Cypher Spycam exploit. Vivo Keyd versus Acend will take place on December 5.
Riot Games announced that it will delay Valorant Champions 2021's Group A matches in order to review the ruling against Vivo Keyd, who used an in-game exploit against Acend during their match.
Valorant Champions' Day 4 matches will now only feature Team Vikings versus Gambit Esports, and Team Liquid battling Sentinels for their spots in the tournament's playoffs. The matches will take place on December 4 at 11:00 p.m. GMT+8 | 7:00 a.m PT | 3:00 p.m. GMT.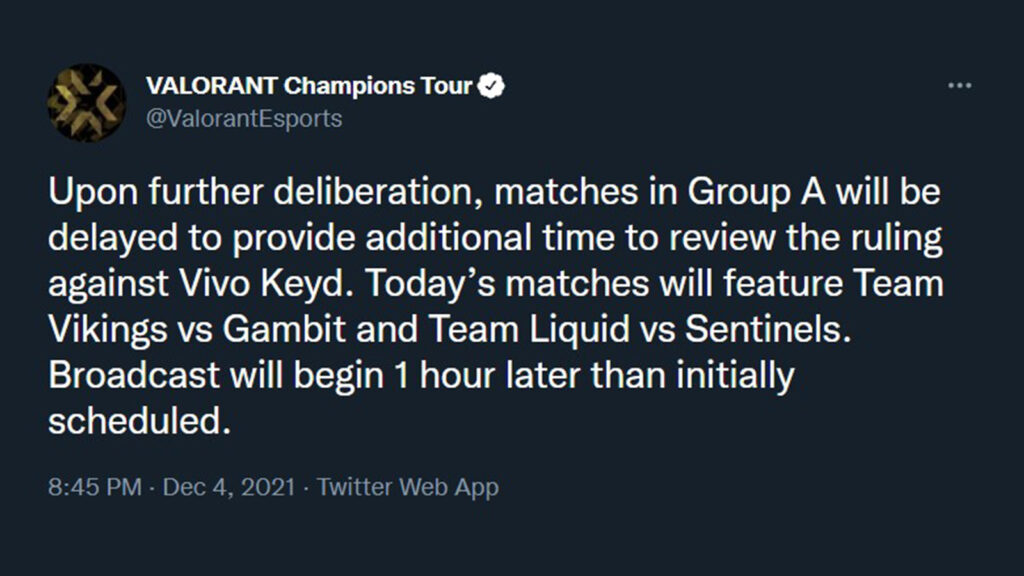 Riot Games announced that Vivo Keyd's Jonathan "JhoW" Gloria violated Rule 7.2.6 of the Valorant Global Competition Policy by using a Cypher Spycam placement that is not functioning as intended on six different rounds during their Group A opening match against European squad Acend.
Riot Games' initial ruling after Vivo Keyd's exploit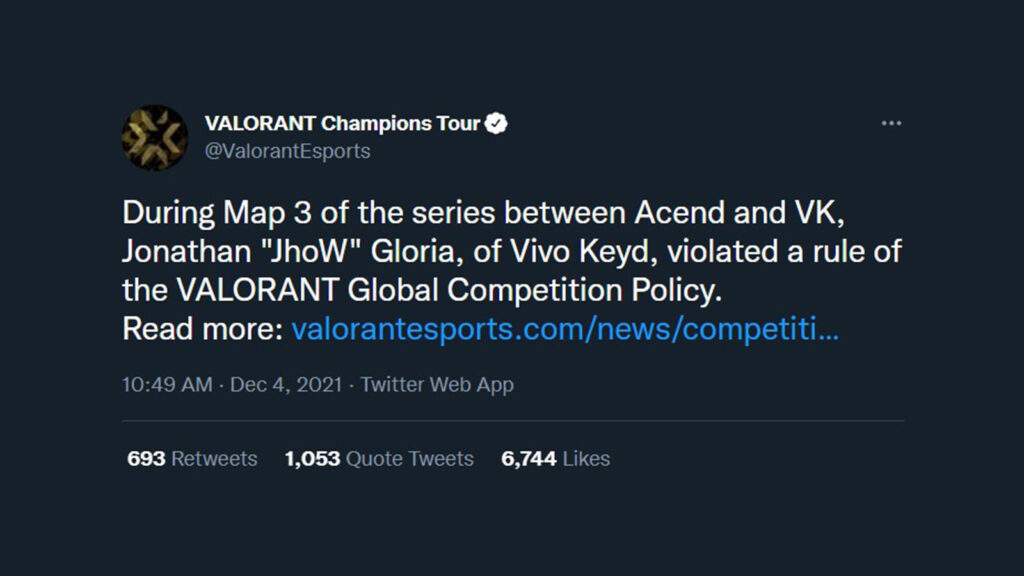 Day 3 featured a Group A opening match between Acend and Vivo Keyd. The Brazilian squad won the first game on Icebox 13-9, and Acend answered back by securing Bind 13-3.
Vivo Keyd initially won the series 2-1 by securing the 13-8 victory on Breeze before Riot Games made its ruling regarding the team's Cypher Spycam exploit.
According to the tournament organizers, "The six rounds where the camera exploit was used will be forfeited by Team Vivo Keyd and granted them to Acend, resulting in an adjusted score of 12-9 in favor of Acend."
Acend was then awarded an additional one round due to the economic impact of the six forfeited rounds. This resulted in a 13-9 final score, with Acend winning their match against Vivo Keyd, 2-1.
---
---
Why is Cypher's Spycam on Breeze considered an exploit?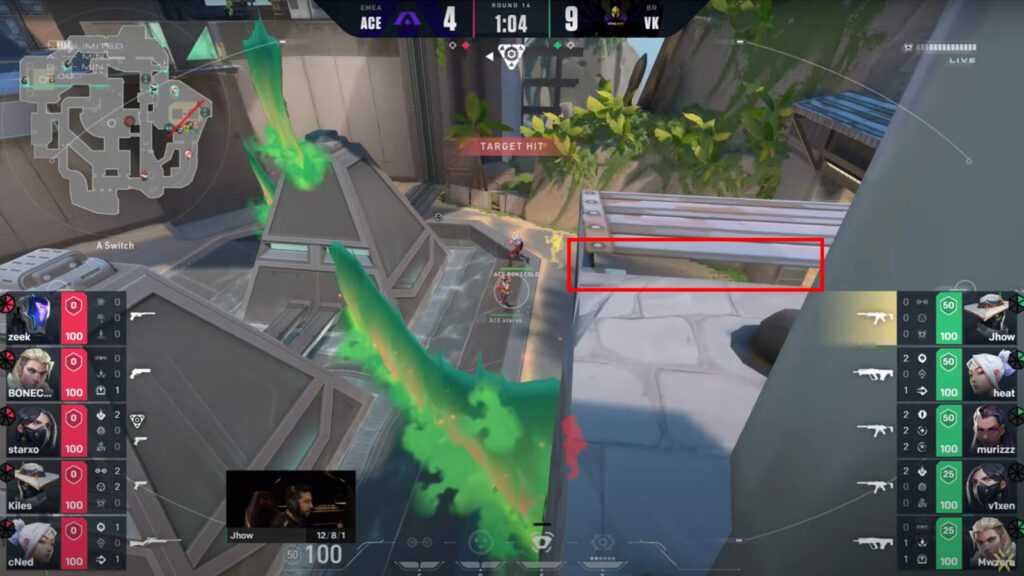 Riot Games explained, "The location of the camera allows the Cypher to see through the back of a small map texture that is intended to block the player's view."
Due to viewing such a critical location of the map, Cypher's Spycam exploits provide information that is extremely valuable regardless of whatever the camera sees players from the opposing team.
The tournament organizer also explained that match officials will only stop a match if an exploit is clear and obvious, or if it is reported by a participating team.
Riot Games also added, "Acend did not report the exploit."
A few hours before the start of Valorant Champions 2021's Day 4 group stage matches, Riot Games decided to postpone its ruling against Vivo Keyd and delayed all of Group A's matches.
#JusticeForKeyd trending on Twitter after Riot Games' initial ruling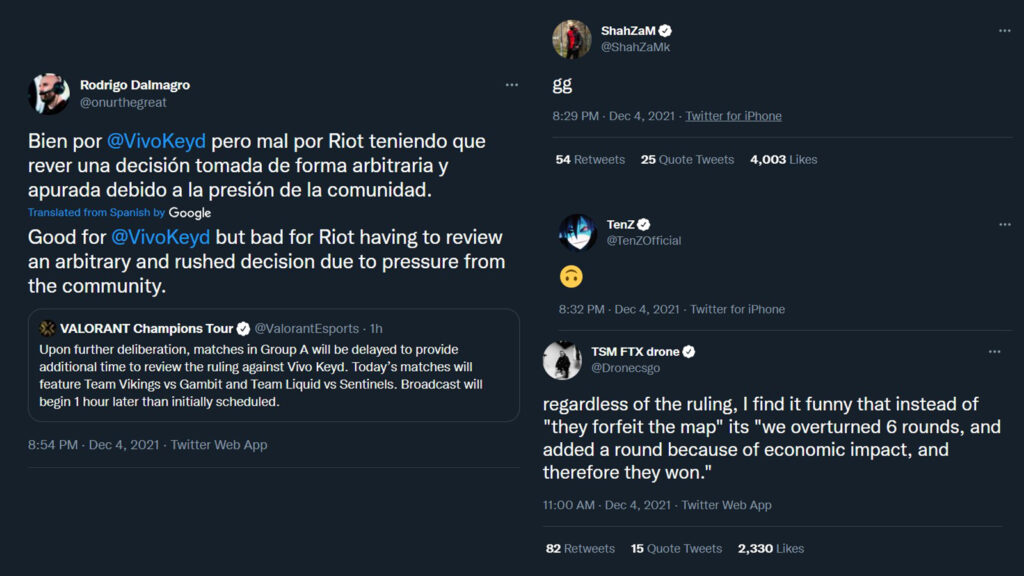 Brazil's Valorant fans, along with notable pro players, took to Twitter to react to Riot Games' initial ruling of overturning Vivo Keyd and Acend's match results on Breeze.
In fact, the hashtag 'justiceforkeyd' became one of the top Twitter trends worldwide after the initial ruling was announced.
Valorant pro players Shahzeb "ShahZaM" Khan, Tyson "TenZ" Ngo, and Taylor "drone" Johnson, along with KRU Esports' coach Rodrigo "Onur" Dalmagro weighed in on Riot Games' hasty ruling against Vivo Keyd with varied opinions.
Follow ONE Esports on Facebook for the latest news, updates, game guides, and more.
READ MORE: This Viper's Pit Ace by Gambit Esports nAts is poetry in motion