The best Valorant we've seen all year was on full display during the Valorant Champions 2022 group stage, with several teams battling to qualify for the playoffs.
In Group A, LATAM's Leviatán were the first team to make it into the playoffs after a 4-0 map record in the group stage. Team Liquid secured the second playoffs spot in their group, eliminating Masters Copenhagen runner-up squad Paper Rex.
Meanwhile, North American squad OpTic Gaming powered through Group B with wins over Zeta Division and LOUD. However, the Brazilian squad soon bounced back with a convincing 2-0 decider match victory over Zeta Division.
Group C saw another NA team emerge on top, with XSET prevailing over XERXIA Esports and FunPlus Phoenix. But FPX would not be shut out of the playoffs, sweeping KRU Esports in Group C's decider match.
Over in Group D, Korean powerhouse DRX continued their historically strong performance in the group stage, notching clean series wins over both FURIA and 100 Thieves.
With the tournament now moving to the playoffs, here's a look back at the top five plays from the group stage.
---
---
Watch the top 5 plays from Valorant Champions 2022 group stage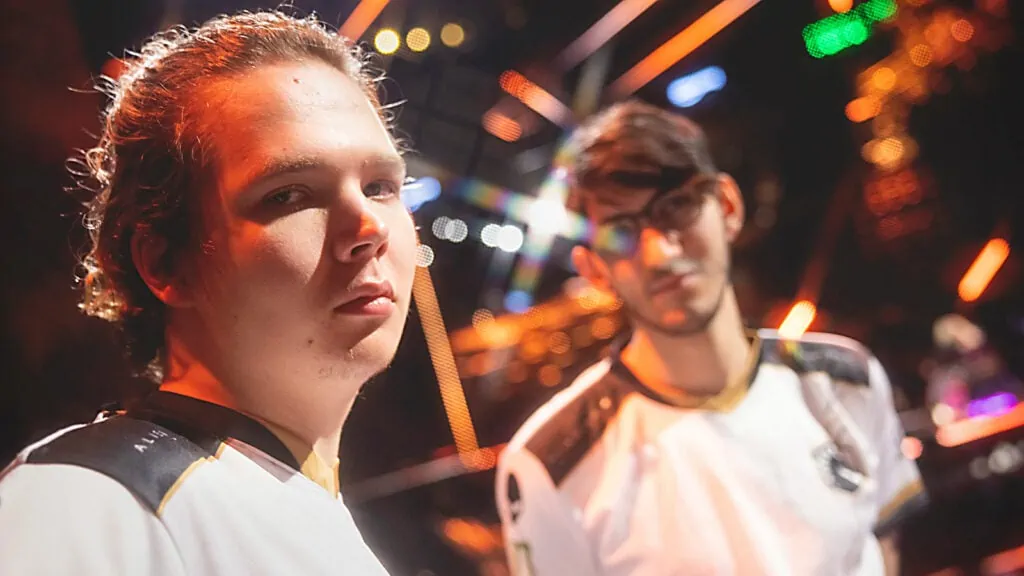 5. Team Liquid Jamppi wins a 1v3 clutch armed with an Operator and Chamber's Headhunter
Elias "Jamppi" Olkkonen showcased his world-class Chamber skills when he pulled off an incredible 1v3 clutch against Leviatán in Group A's opening match.
In Round 22 on the first map, Haven, Leviatán were successful in their C site push, taking down four Liquid players defending the site. With Leviatán on match point and Liquid on the verge of defeat, all eyes were on Jamppi to bring it back for his team.
He slowly pushed from C Garage and got an Operator pick on a player holding default. As the remaining two players turned their attention to Garage, he repositioned and crept to the C site through C Link. With Chamber's Headhunter, the Finnish player cleaned up the last two players to keep this team in the game.
---
---
4. Leviatán's Tacolilla pulls off seemingly impossible 1v3 clutch
Vicente "Tacolilla" Compagnon came up big for Leviatán in Group A's winners' match, singlehandedly bailing them out of a seemingly unwinnable round against Paper Rex
It was an all-out brawl on the A site of Bind. Tacolilla was the last man standing for Leviatán, faced with retaking the site against three PRX players. Despite being surrounded on all sides, he was able to eliminate the enemy Brimstone at A Lamps.
When that prompted a hasty Nightfall ultimate from Khalish "d4v41" Rusyaidee's Fade, he pushed through the smoke to take him down before he could reequip his weapon.
As Wang "Jinggg" Jing Jie pushed into the open to try to trade the kill, Tacolilla kept his nerve. With four bullets left in his Vandal, Tacolilla peeked out and hit a crisp headshot, then defused the spike to finish the half with an even score.
---
---
3. OpTic Gaming's yay doesn't miss with Chamber's Tour de Force
Jaccob "yay" Whiteaker continues to be one of the most consistent Valorant players in the world. With his steady aim and game sense, the man they call "El Diablo" destroyed LOUD in Group B's winners' match.
Yay showed LOUD no mercy on Fracture. OpTic Gaming quickly lost three players at the start of the round after a failed B Main and B Arcade push, leaving just yay and Austin "crashies" Roberts alive.
With most of LOUD's players holding B site, yay and crashies were able to walk onto A site uncontested. While crashies planted the spike, yay's aggressive A Rope push with Chamber's Tour de Force caught LOUD by surprise. 
With several LOUD players rotating through defender spawn, yay was in prime position to catch them. He dropped three players on the rotate, finishing the round with a clean shot on the enemy Raze who peeked from A Drop.
---
---
2. FunPlus Phoenix's ardiis gets an ace with a Classic
Masters Copenhagen champion Ardis "ardiis" Svarenieks was absolutely sublime against XSET on Fracture, notching an impressive KDA of 29/10/1 and an Average Combat Score (ACS) of 438.
XSET decided to go for a B site rush during the second pistol. With XSET pushing through Dmitry "SUYGETSU" Ilyushin's Viper Toxic Screen and Poison Cloud, ardiis took down three attacking agents using only his Classic. FPX's Chamber main then secured the ace, finishing off the last two XSET players.
---
---
1. Fnatic's Derke demolishes FURIA with his perfect Chamber play
Nikita "Derke" Sirmitev proved that the bald buff is alive and well at Valorant Champions 2022, pulling off an incredible ace against FURIA in their Group D elimination match.
In Round 8 on Icebox, Fnatic looked like they might lose to FURIA's eco after two players fell at the start of the round.
Despite this, Fnatic still managed to take control of the A site and plant the spike, but had to fend off a five-man retake from FURIA.
Derke struck fast and hard, finding a collateral Operator shot to take down the enemy Viper and KAY/O who were running toward A Rafters. He then teleported to safety using Chamber's Rendezvous and repositioned himself at A Nest.
From his high vantage point, the Fnatic star eliminated the enemy Sova who peeked from A Rafters. Meanwhile, the rest of Fnatic had already fallen, leaving Derke alone against two FURIA players.
Derke refused to be denied, cleanly picking off Sage with the Operator before charging onto the site with his Headhunter pistol in hand to mop up the last player.
---
---
The Valorant Champions 2022 playoffs will run from September 9 to 18. All matches will be broadcast live on the official Valorant Twitch and YouTube channels. 
READ MORE: FPX ANGE1 talks what it takes to stay competitive at 33