FunPlus Phoenix have booked their spot in the playoffs at Valorant Champions 2022, following a dominant 2-0 sweep of Latin America's KRU Esports.
The decider game was a rematch of an earlier meeting in Group C, which FPX also took 2-0. The Masters Copenhagen champions looked dominant throughout the series, clinically dismantling KRU's game plan.
Kyrylo "ANGE1" Karasov's leadership has been credited with much of FPX's success. With his 33rd birthday looming, ANGE1 was the oldest player at Masters Copenhagen and now Champions — an impressive outlier in a game where many players are in their late teens or early 20s.
And in a region where many teams struggle without a dedicated in-game leader, ANGE1 has stood out as the mind behind FPX, particularly as the team rose to the top of EMEA and global competition this year.
In a post-match press conference, the soon-to-be 33-year-old shrugged off the matter of age, saying that it was all about having the drive and mindset to succeed.
---
---
Age doesn't matter for FPX ANGE1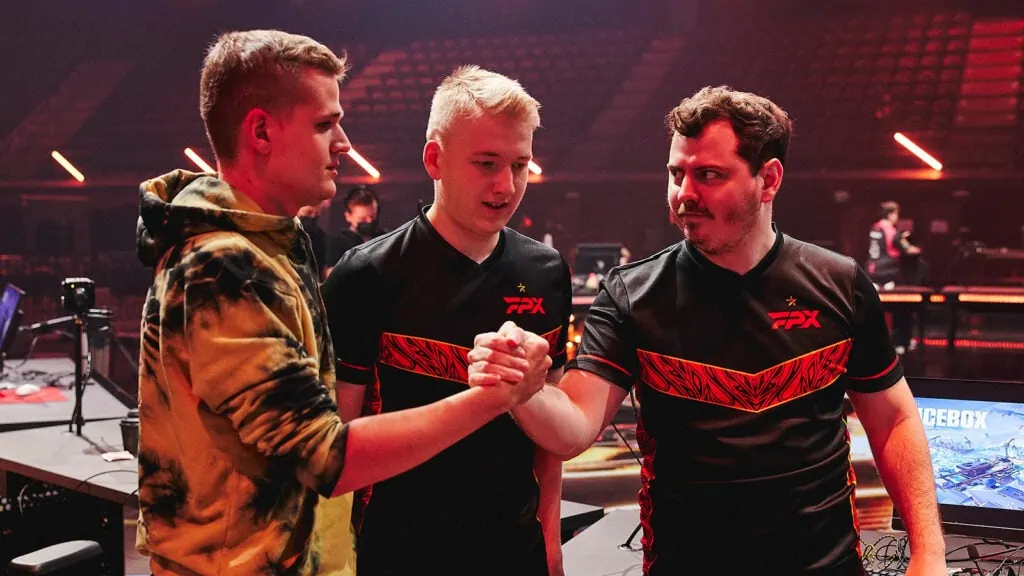 "The same rules apply regardless of your age," he said. "You just need to focus 100 percent on the game."
"The biggest problem is that when people get older, they have a lot of other stuff happening around them, so they cannot focus properly on the game."
At the same time, older players can become set in their ways and lose a certain degree of flexibility or ability to adapt. "But I guess that is not the case with me," said ANGE1. "I am still very hungry to win tournaments. I am open to everything new and implementing new things."
"With Valorant, it is very important for you to always be open-minded."
As the reigning champions of Masters Copenhagen, FPX will be looking to be the first team in Valorant history to notch back-to-back wins at international events.
---
---
This is a team that has proven remarkably versatile and adaptable, pivoting from slow, methodical executes to aggressive rushes. While many consider them a team with a cautious approach to the game, FPX were actually second only to Paper Rex in terms of time to first kill at Copenhagen, according to Bleed eSports analyst Sushant "Ominous" Jha.
On Ascent against KRU, FPX showcased this diversity of style, rushing onto sites in consecutive rounds when they sensed that KRU had no answer to their aggression, and then switching to slow lurks to catch KRU's rotations.
The CIS team look in superb form going into the playoffs, where they will face Korean team DRX on September 10 at 1:00 a.m. GMT+8 | September 9, 10:00 a.m. PT | September 9, 5:00 p.m. GMT.
READ MORE: Zombs slams ShahZaM's shotcalling: 'Everything he told me to do was not good'