Valorant streamer and former CS:GO pro Tarik "tarik" Celik has criticized Sentinels' management for failing to provide their Valorant roster with a coach.
The North American organization recently made its first roster change in over a year, replacing longtime controller Jared "zombs" Gitlin with former Akrew player Eric "Kanpeki" Xu.
However, with just a week of practice between the signing and the first VCT NA Stage 2 Challengers open qualifier, Sentinels were knocked out of the tournament after losses to FaZe Clan and Luminosity.
Shahzeb "ShahZaM" Khan and his men are also the only top team in North America without a Valorant coach at the moment, putting much of the burden of strategizing and studying the competition on the 28-year-old in-game leader.
---
---
Tarik thinks Sentinels players need more support from the organization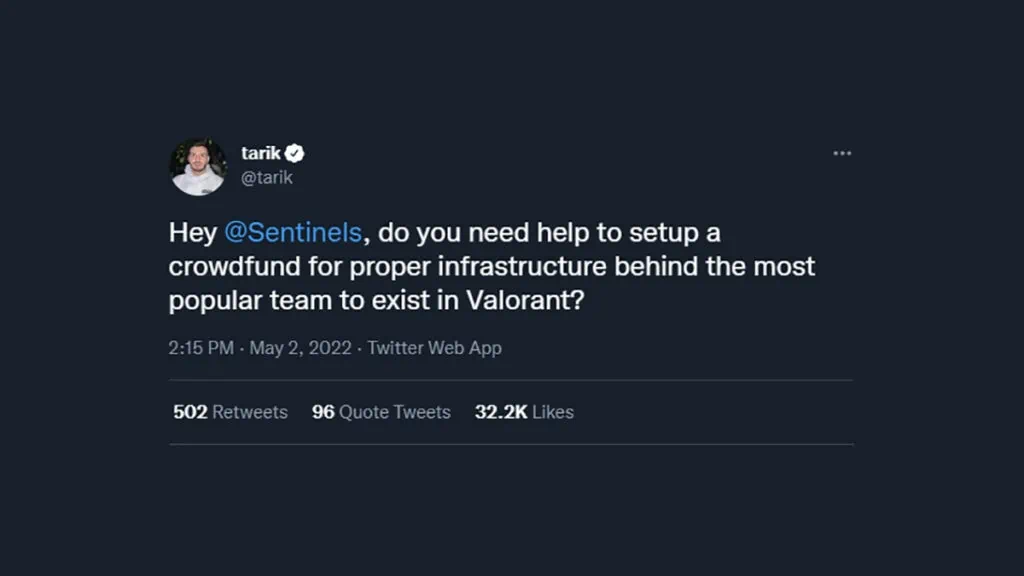 Sentinels enjoyed a brief stint with former FaZe Clan player Shane "Rawkus" Flaherty last year, where he coached the team during Champions 2021 while on loan from FaZe.
Unfortunately, buyout complications eventually led to his departure from the organization in late February, leaving Sentinels without a coach behind them.
---
---
"They have the most popular Valorant team in the world. If I were the manager of this organization, or the CEO, I would be pushing to get these guys a coach right away, and they clearly want one," said tarik. "I think this is a failure on the side of the organization."
His comments came during the lower bracket qualifier match between Sentinels and Luminosity, where Tyson "TenZ" Ngo and his squad lost 2-1.
"I don't know too much about the organization, but I think they deserve some criticism as well. The players are catching all the flak, but where is the org in all this?" asked tarik.
The team was rumored to be trying out Overwatch player Luis "iRemiix" Galarza Figueroa in March, one of several candidates, but they have yet to announce a Valorant coach signing.
Sentinels will get one more shot at qualifying for the VCT NA Stage 2 Challengers Main Event during the second qualifier from May 6 to 9.
READ MORE: Chamber could get nerfed to the ground in next Valorant patch