T1 Valorant has moved Johann "seven" Hernandez to its inactive roster, just two months after adding him to the team. Seven had been a substitute player for 100 Thieves before reuniting with former 100 Thieves in-game leader Joshua "steel" Nissan on T1.
In a statement posted by T1 on Twitter, the organization said that the decision was made "mutually between both parties". Seven is now officially a restricted free agent and is looking for new opportunities on another team.
T1 is out of VCT NA until May, when the team will have to compete in the open qualifiers for a berth at the Stage 2 Challengers Main Event. In the meantime, the roster is taking part in smaller, open tournaments like the Knights Monthly Gauntlet and YFP Winter Classic.
---
---
T1 Valorant have been practicing without seven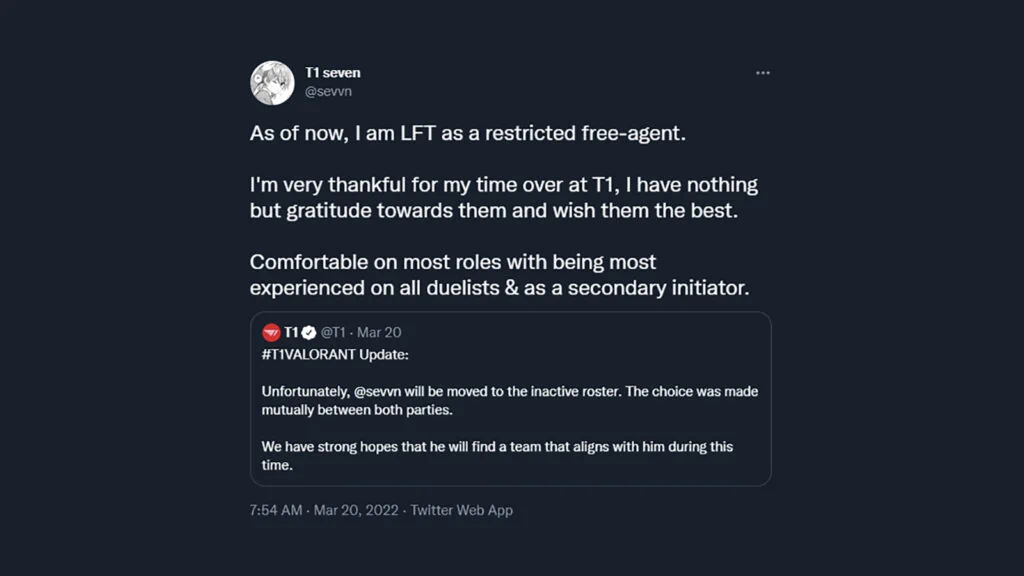 T1 had already been practicing without seven before the roster change was made official, according to Dot Esports. The Mexican player had filled the role of flex player for the team, stepping into both the duelist and initiator roles on agents like Jett and Skye.
In a tweet announcing his free agency, seven said that he was comfortable on most roles, but had the most experience playing duelists and acting as the secondary initiator.
Steel expressed support for the 16-year-old on Twitter, saying that he was "one of the best mechanically" that he had ever seen.
T1's most recent tournament was February's Knights Monthly Gauntlet, where they fell to Renegades in the quarterfinals. They are slated to play Fenrir in the March iteration of the same tournament, but it's not yet clear who will be stepping in as their fifth player.
READ MORE: Why Sentinels' TenZ believes KAY/O has the best flash in Valorant