Update as of April 18: Riot Games has retracted a previous email sent by a member of its team that stated that a mandatory component of a competitive ruling issued to sinatraa was not necessary. Sinatraa will now be required to undergo professional conduct training before he is allowed to compete again.
North American juggernaut Sentinels may finally be exploring changes to their Valorant roster. The team is practicing without controller player Jared "zombs" Gitlin, according to a report from Dot Esports' George Geddes and Max Katz.
The team notably stayed together despite lackluster finishes at Masters Berlin and Champions 2021 last year. However, they failed to turn things around in this year's VCT NA Stage 1 Challengers, ending the stage without qualifying for Masters Reykjavik.
Zombs could be benched if the team finds a suitable replacement before Stage 2 begins in May. And in an interesting turn of events, one of the possible candidates is thought to be former player Jay "sinatraa" Won, who recently announced his return to pro play after a year away.
---
---
Sentinels may be exploring a replacement for zombs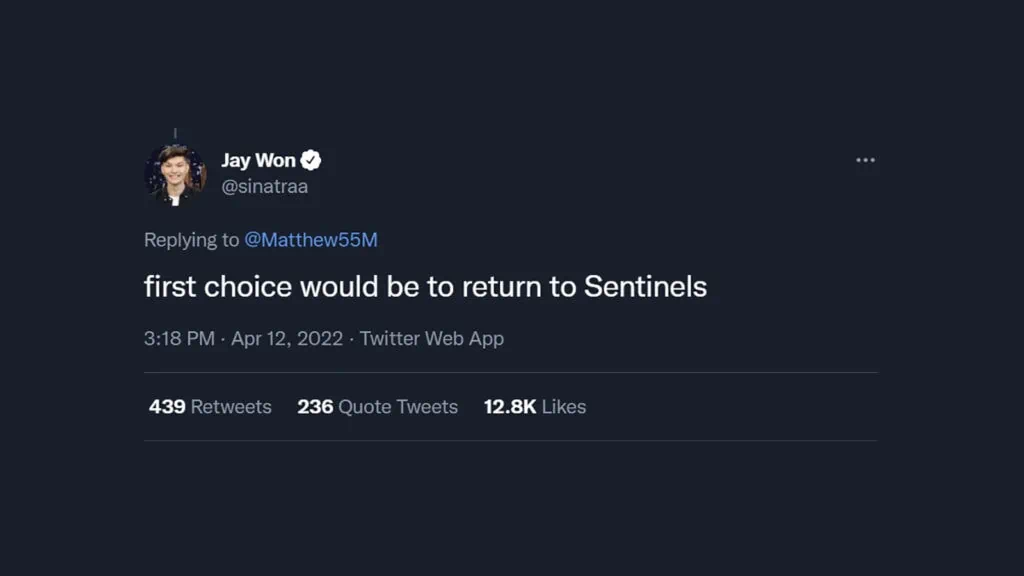 Sinatraa has made no secret of the fact that he wants to return to his old team to compete. In a follow-up tweet confirming his decision to compete again, he said that his first choice was still Sentinels.
The organization will try out multiple hopefuls, according to Dot Esports, with the goal of signing a flex player.
The Overwatch superstar was known for playing Sova and Raze during his time on Sentinels. However, he has recently been playing KAY/O in his ranked games, possibly adding the robotic initiator to his agent pool.
Having said that, Sinatraa's return would likely also be met with significant controversy, after he was suspended for six months for not cooperating with investigations in the wake of sexual harassment allegations last year.
Following his suspension, he was replaced by former Cloud9 star Tyson "TenZ" Ngo, who helped the team to a historic flawless run at Masters Reykjavik 2021.
READ MORE: Team Liquid L1NK: 'OpTic Gaming didn't give XERXIA the respect they deserved'