Jay "sinatraa" Won has announced that he is ready to return to pro Valorant, after a year away from the competitive scene.
As one of the most talented players in the game, his return to pro play has been hotly anticipated, ever since Riot Game's six-month ban ended last September.
The 22-year-old had been forced to step back from Sentinels' active roster in March 2021, after ex-girlfriend Cleo Hernandez came forward with sexual assault allegations.
But the Overwatch superstar appears ready to open a new chapter in his competitive career, citing significant personal growth. He will be starting tryouts this week with unspecified teams, and fans will be closely watching to see where he ends up.
---
---
Sinatraa is finally ready to return to pro Valorant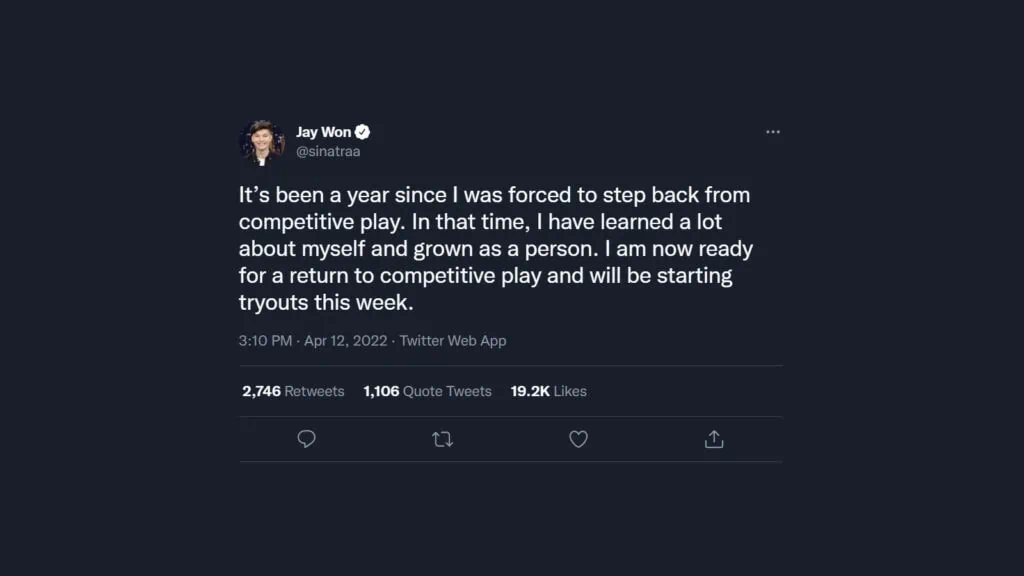 "It's been a year since I was forced to step back from competitive play," he wrote on Twitter.
"In that time, I have learned a lot about myself and grown as a person. I am now ready for a return to competitive play and will be starting tryouts this week."
The two-time Overwatch MVP has spent the past year as a content creator with Sentinels. He has previously talked about the possibility of competing again, but also appeared to be enjoying life as a streamer, which freed him from obligations like daily practice and scrims.
But as Masters Reykjavik 2022 kicks off in Iceland, it seems that he has not been able to shake off the desire to compete. After winning it all in Overwatch, he now looks ready to try his hand at Riot's tactical first-person shooter again.
We never got to see sinatraa fully develop as a pro Valorant player. As North American teams rebuild ahead of VCT NA Stage 2 Challengers in May, there look to be plenty of opportunities for a player of his caliber.
However, the former Sentinels player may still have an eye on his old team, which has been struggling to produce results of late. "[My] first choice would be to return to Sentinels," he said, after a fan asked which teams he was looking to join.
This raises the exciting prospect of a new look for Sentinels' Valorant roster. Could we actually see sinatraa play alongside star duelist Tyson "TenZ" Ngo?
READ MORE: OpTic Gaming Chet: 'Any region can come up with a cringey comp and execute it'