Rex Regum Qeon is parting ways with Nathaniel "Nexi" Cabero and Kelly "kellyS" Sedillo, two longstanding players from its original Filipino roster.
RRQ said it came to the decision after an "extended trial period," with both management and the coaching team deciding to move forward with a six-man roster.
The Indonesian organization has been the unfortunate target of considerable ire from fans in recent weeks. Its initial roster comprised just one Indonesian player in BOOM Esports' David "tehbotoL" Monangin, while appearing to pass over other more accomplished players from BOOM and ONIC G in favor of its original Filipino squad.
---
---
RRQ now has three Indonesian players on board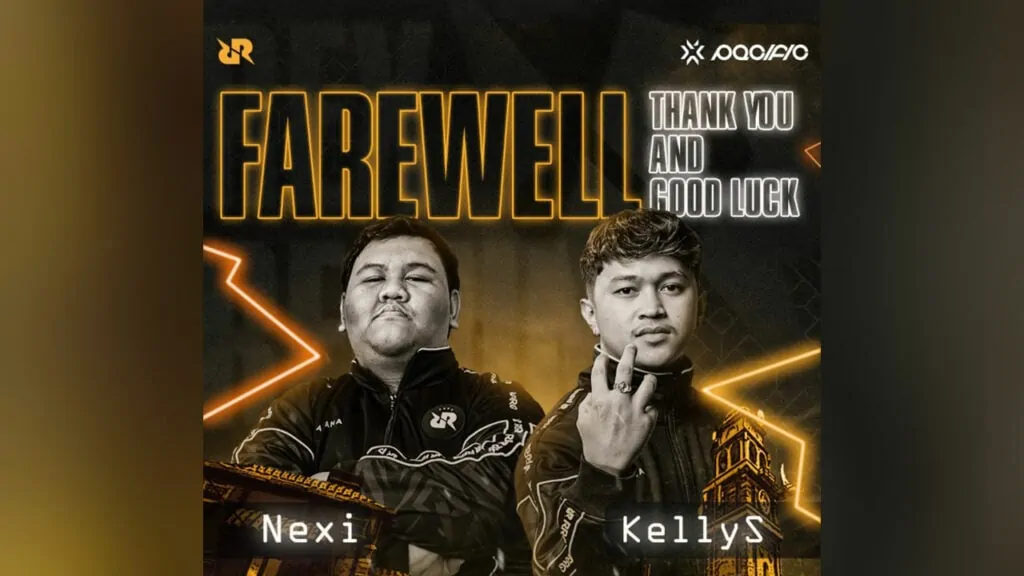 Since then, RRQ has pivoted to appease its fans. It brought on two more Indonesian players in Saibani "fl1pzjder" Rahmad and Hagai "Lmemore" Kristen Yesyurun, from BOOM and ONIC G respectively.
BOOM and ONIC were the top two squads in Indonesia last season, eventually facing off in the grand final in the VCT APAC Last Chance Qualifier.
"This was not an easy decision from the coaching team to exclude Nexi and kellyS. They both have been such an integral part of the Valorant team and the RRQ family," the organization said on Twitter.
RRQ Valorant roster
David "tehbotoL" Monangin
James "2ge" Goopio
Eroll "EJAY" Jule Delfin
Hagai "Lmemore" Kristen Yesyurun
Emmanuel "Emman" Morales
Saibani "fl1pzjder" Rahmad
New addition Lmemore was a versatile flex player on ONIC, playing everything from Cypher and Chamber to Sova and Viper. He was a star for his team during the APAC LCQ, topping the scoreboard in most matches on a wide range of agents.
He reunites with former ONIC G coach Marthinus "Ewok" Jacobus Van Der Walt, now the head coach of RRQ.
With tehbotoL as captain and in-game leader, the organization will be hoping its Indonesia core can help propel the team to new heights.
They will make their international debut in February at the 30-team kickoff tournament in São Paulo, Brazil.
READ MORE: Zeta Division finalize its Valorant roster for VCT 2023 season