DRX have proven yet again that they are head and shoulders above the rest in their region after winning VCT Korea Stage 2 Challengers. To achieve this feat, their members, including Yu "BuZz" Byung-chul, had to make agent adjustments to get an advantage over the competition.
Their efforts paid off, for they ended up winning 21 straight maps in VCT Korea, and are now set to face their international competition at VCT Stage 2 Masters Copenhagen.
In an exclusive interview with ONE Esports, DRX BuZz talked about how playing Chamber has led to great success in competitive play, and how the teleporting sentinel agent has one of the best abilities in Valorant.
---
---
DRX BuZz switched from duelist to sentinel role, specializing in Chamber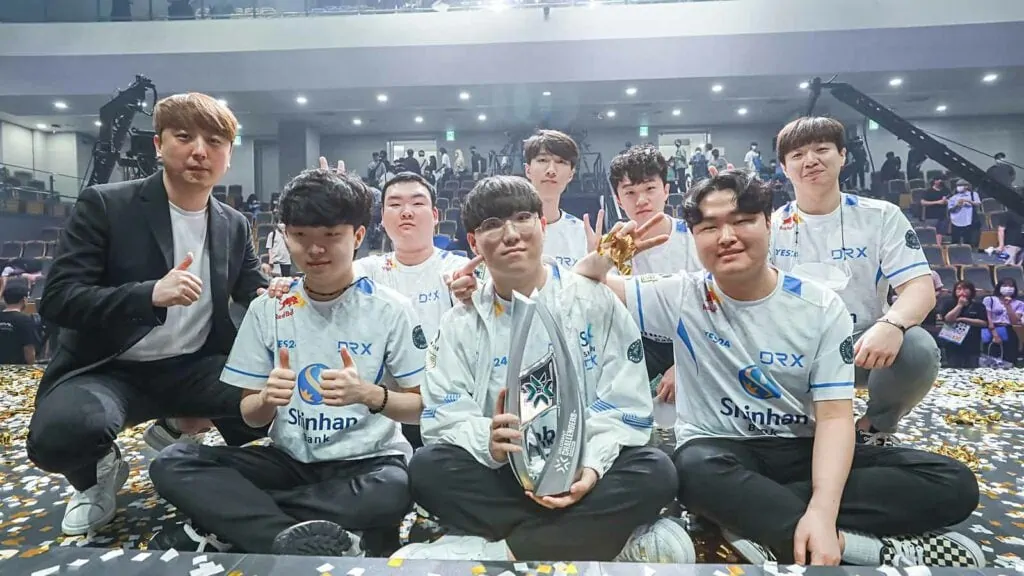 The 19-year-old stalwart has played many different roles in his young esports career. BuZz started his pro Valorant journey as a controller main with Cloud9 Korea in 2020, but really came into his own when he made the switch to the duelist role, racking up even more kills the following year.
Vision Strikers recognized BuZz's talents as a Jett main and added him to their active roster after they weren't able to qualify for Masters Reykjavik 2021. The decision to bring him in quickly paid off, as Vision Strikers won VCT Korea Stage 3 Challengers and qualified for Masters Berlin.
When DRX decided to return to a traditional five-man roster after Valorant Champions 2021, BuZz chose the sentinel role even though was considered one of the best duelist players in Korea.
BuZz continued playing the sentinel role at the start of the VCT 2022 season. As a newly minted sentinel main, BuZz picked up Chamber, whom he feels he has had the most impact out of all the agents he's played in his Valorant career.
There have only been a few players in the VCT who successfully transitioned from playing Jett to Chamber. OpTic Gaming's Jaccob "Yay" Whiteaker, like Buzz, is still his team's top fragger despite changing agent roles.
During VCT Korea Stage 2 Challengers, BuZz had the highest kill-to-death average with 1.59 and had the most kills per round average with 0.93, according to vlr.gg.
---
---
"I feel like I made myself known more with Chamber than any other agent that I have played in my career," he said. "I personally feel more powerful when I play Chamber."
The French weapons specialist became a leading agent in the Korean region after Jett was nerfed in Valorant patch 4.08. Even after his Trademark ability was subsequently nerfed in Valorant patch 4.09, lessening his traps from two to one, BuZz still believes that chamber is overpowered as he has one of the best kits in Valorant, for Rendezvous is what makes him an amazing agent on practically every map.
"The teleport mechanism on Chamber is one of the best skills in the game to give you a chance to kill an opponent and retreat safely," he said. "I think this merits the high pick rate for Chamber."
---
---
Since Jett's Tailwind dash mechanics were changed, Chamber became the top choice for playing risky angles because of his Rendezvous teleport.
BuZz also explained that while the Korean region currently prefers playing Jett on most maps, DRX have a different duelist in mind. "For us, we prefer to play Neon over Jett and Raze, because it seems to fit our playstyle more," he said.
DRX have shown in their VCT Stage 2 Challengers run that Neon is an exceptional entry agent, especially when they are able to coordinate their agent abilities.
DRX will be able to showcase their new Valorant agent meta once they compete on the international stage at VCT Stage 2 Masters Copenhagen on July 10.
READ MORE: XSET are the new champions of North America after VCT NA Stage 2 victory