After spending a month away from home competing at Worlds 2022, the League of Legends T1 squad are back in South Korea fulfilling their livestream obligations.
On a recent November stream, top laner Choi "Zeus" Woo-je was goofing around in ARAM and Summoner's Rift, then Overwatch 2, before switching to Valorant — where his teammates joined him for two unranked games on Haven and Ascent.
The five-man stack unexpectedly won the first map even though they were down 4-8 because the opposing team abruptly surrendered before swapping sides.
It was on the second map, Ascent, where they were pushed to their limits, and where the oldest player on the squad, Lee "Faker" Sang-hyeok, proved that he's still the GOAT — at least among the LoL squad — in more than one Riot Games title.
---
---
T1 League of Legends team unlikely to switch pro player careers to Valorant anytime soon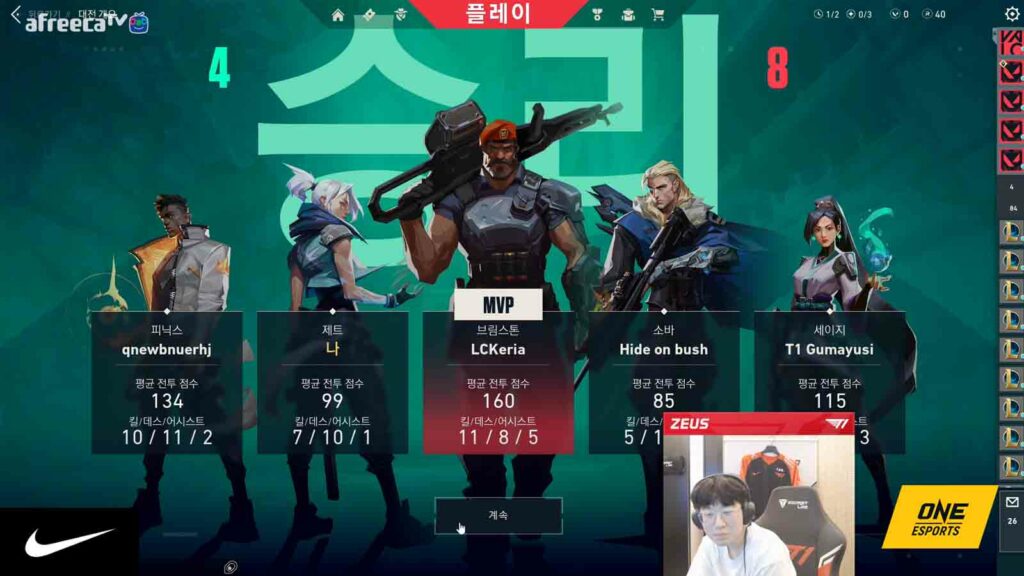 Unlike MOBA game League of Legends, FPS is all about reaction time that requires a completely different set of mechanics, so their pro player skills weren't exactly transferrable.
Trailing 2-7 on first map Haven, Faker was heard exclaiming after that round, "Kids! I killed three on my own!"
To which Zeus replied, "Hyung (older brother in Korean), you have a lot of money. Can you buy me a gun? Buy it for me! Buy it for me!"
"I'll spot you," said Faker, which made Zeus happy.
The LoL team then picked three duelists on Ascent: Phoenix, Neon, and Jett, and rounded off their agent composition with initiator Sova and controller Brimstone.
What they completely lacked was a sentinel, someone who could anchor site, flank, and delay pushes with abilities — which was highly significant because they started off on defense.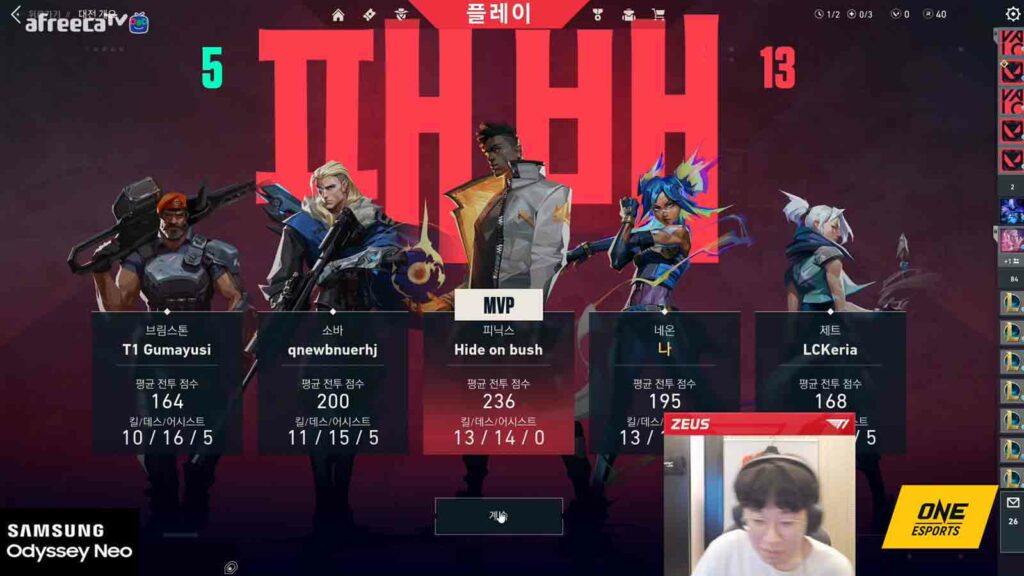 After struggling on defense, the squad couldn't make up for the rounds on offense, and eventually lost 5-13. Despite everyone ending with a negative KDA, Faker's ACS was the highest at 236, which is probably why the system named him team MVP.
What's even more interesting is that Faker on Phoenix had zero assists over 18 rounds, which is pretty rare in a 5v5 team-based game.
Not bad for a 26-year-old, the eldest on the team.
Watch the full November 22 VOD on Zeus' AfreecaTV channel here. Follow ONE Esports on Facebook and Twitter for more LoL news, guides, and highlights.
READ MORE: Former SKT top laner MaRin is Team Liquid's head coach for LCS 2023