Four years after he retired as a pro player, Jang "MaRin" Gyeong-hwan is back in the League of Legends esports scene, this time with Team Liquid for the LCS 2023 season.
The former top laner won the Worlds 2015 championship with SK Telecom T1, where they defeated KOO Tigers 3-1 in the finals. Alongside Bae "Bengi" Seong-woong, Lee "Faker" Sang-hyeok, Lee "Easyhoon" Ji-hoon, Bae "Bang" Jun-sik, and Lee "Wolf" Jae-wan, they were led by head coach Kim "kkOma" Jeong-gyun.
Out of this famed lineup, Faker is the only active player still competing. Easyhoon joined Suning's coaching staff in 2019, and is still contracted to the rebranded Weibo Gaming, while Bengi has been coaching T1's academy team and main roster since 2018. Now, MaRin joins the lot in a leadership role.
---
---
A wild MaRin appears across the Pacific Ocean, enters LCS 2023 with Team Liquid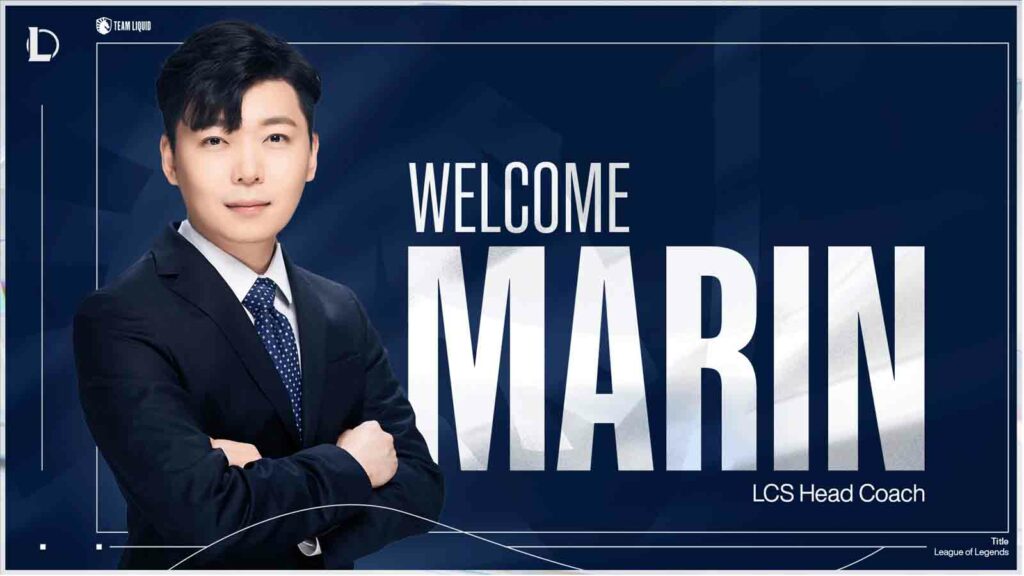 During his six-year League of Legends pro career, he competed in two regions, LCK and LPL. After winning the 2015 world championship, he moved to LGD Gaming for one year in 2016, before returning to the LCK in 2017 to join Afreeca Freecs.
In 2018, he went back to the LPL to compete with Topesports Gaming (now Top Esports). He played 30 games that year, five in Summer, before retiring.
Since then, MaRin has gotten married, and occasionally streams on AfreecaTV. For 2023, he'll be competing in the LCS for the first time, stepping into a new role as head coach.
"I want to become the hardest working coach to create the best team. I will give my all for the team, the organization, and the fans," the 31-year-old said in tweet.
According to Riot Games' official Global Contract Database, he signed a two-year contract that expires one day after Worlds 2024.
As a top laner, he was best known for his play-making abilities on Kennen, Rumble, Gnar, and Lissandra.
Follow ONE Esports on Facebook and Twitter for more LoL news, guides, and highlights.
READ MORE: Arcane was inspired by these anime shows that only 90s kids will know