On day two of Worlds 2022 Play-Ins stage, there was a delay early on during the match between Evil Geniuses and LOUD.
After drafts concluded, a game pause was called by official referees. It took a few minutes to resolve, and no explanation was given at that point in time.
During the post-match broadcast interview with the winning team, host Laure Valée's first question to EG jungler Kacper "Inspired" Słoma was about the pause, which was caused by a wardrobe violation by mid laner Joseph Joon "jojopyun" Pyun.
---
---
Riot doesn't allow pro players to wear Crocs at Worlds 2022, which is different from Valorant Champions 2022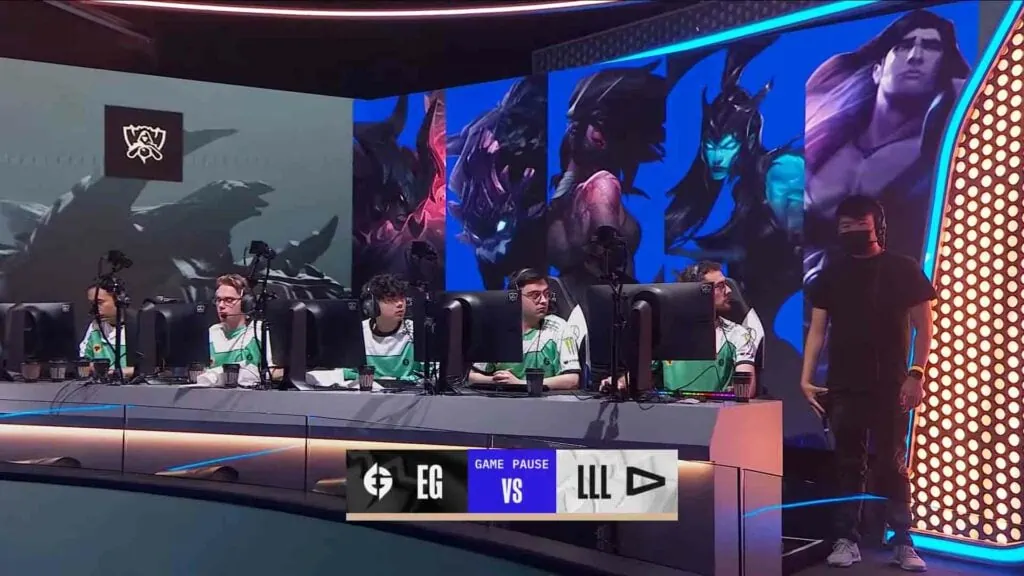 "Basically Riot forbids us from wearing Crocs on stage. They said that we can either play with shoes or without shoes, but not with Crocs," Inspired told Laure.
"I don't know what's the rule there, but we have to follow it and jojo was obviously wearing Crocs on stage," he said, shrugging his shoulders. "A bit annoying… pretty weird rule if you ask me."
The referee had come on stage with a pair of shoes and told jojopyun to change into those instead, Inspired added.
According to the official Worlds 2022 rulebook under section 4.5 "Player and Coach Apparel", besides wearing their official team uniforms during matches and related interviews, players "must wear pants and closed-toe shoes."
On top of this, their uniforms must match and only pants are allowed:
"All starting players must wear matching apparel during the player introductions. The matching apparel includes shirts, jerseys, jackets, and pants. During matches, players must wear jerseys and may individually choose to wear jackets. All jackets, jerseys, and pants must match."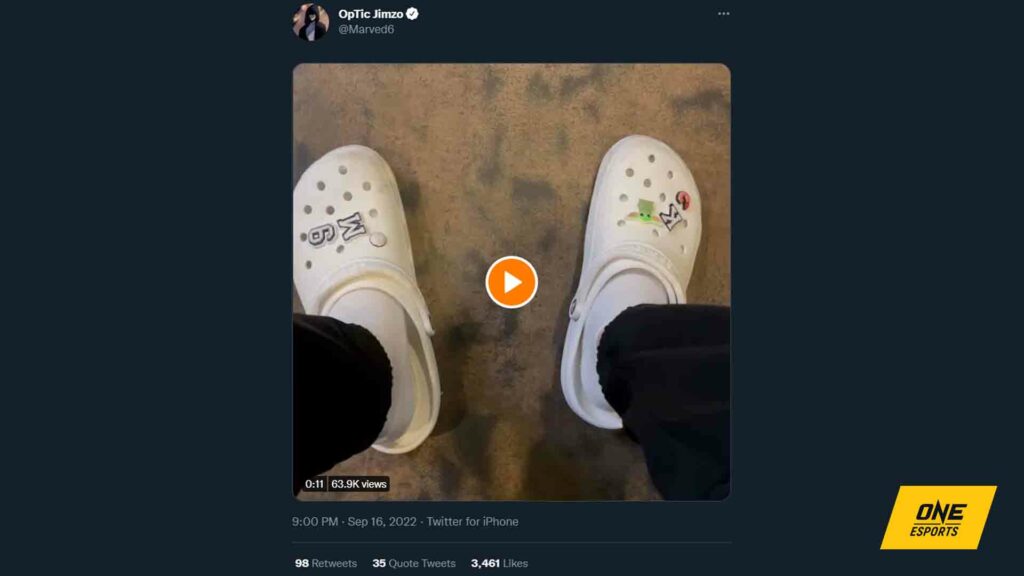 Crocs is an American footwear company that makes a variety of shoes and sandals, but their name has become synonymous with its classic design that's half shoe, half sandal. Open at the back with just a single strap, it is covered at the front but with holes, which may not fit Riot's definition of "closed-toe shoes."
Riot's approach in League of Legends esports is completely different from the recently concluded Valorant world championship held in Istanbul, Turkey last month. During Champions 2022, OpTic Gaming's Jimmy "Marved" Nguyen wore Crocs to the venue, during walkouts, and on stage for official matches, even during the final against LOUD.
On top of that, pro players are allowed to wear shorts and bottoms that do not match — something that is unseen and unheard of in League of Legends esports. FunPlus Phoenix's Dmitry "SUYGETSU" Ilyushin was the talk of the tournament due to his unique pant choices with loud prints.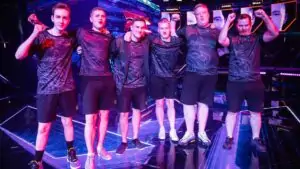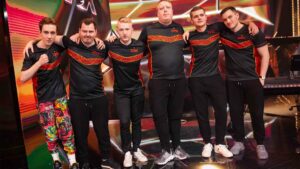 League of Legends esports is in its 12th year, while Valorant is only in its second. Developed by a different team, ONE Esports learned from Riot Games Executive Producer of Valorant Esports Events, Jean-Baptiste Blot in an interview that Valorant esports' branding and style went in a different direction, one that represents what the game is all about: celebrating individuality and diversity.
Worlds started on September 29 and will conclude on November 5. The tournament will tour parts of North America from Mexico to California. View the full Worlds 2022 schedule and results here.
READ MORE: Meet the women behind Valorant's super cool VCT clothing collection