Updated on February 27,6:13 p.m. (GMT+8): Improved relevancy.
Before I flew to Istanbul for the final days of Valorant Champions 2022, I watched the group stage and playoffs matches live on Twitch with a friend.
"Do you see that vest the caster is wearing? I want that VCT clothing. Can you buy it when you get to Turkey?" he asked.
Squinting at the screen, I saw a reflective VCT logo on the caster's vest. The official Valorant Champions 2022 collection was already on sale, but none of the branded pieces that the talent wore were included.
On the very first day I arrived in Istanbul, I accidentally uncovered the story behind the outfits.
I had joined a sizeable group of Rioters, influencers, and talent in touring the historic city. During dinner at the famous Salt Bae restaurant, Nusr-Et, I happened to sit next to a lady wearing a cute light green summer dress and trendy boots — only to discover that she and her best friend were the very people responsible for dressing Valorant's broadcast talent and creating one-of-a-kind VCT clothing and accessories.
---
---
Valorant Champions 2022 was extra special because of its unique VCT clothing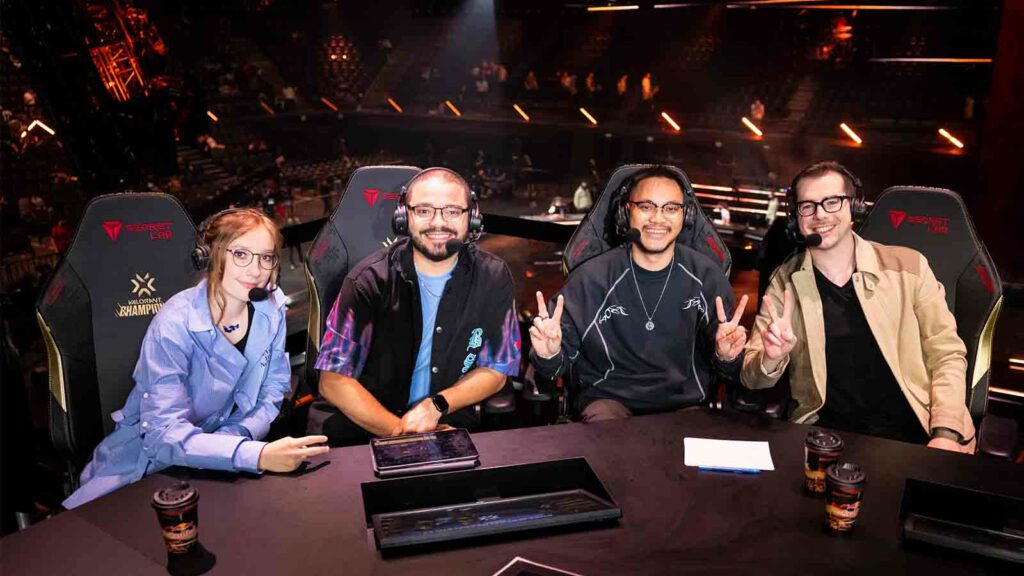 Mina and Christina, the power duo who empowers talent through wardrobe
For the first time in Riot Games history, Valorant Champions 2022 featured its very own mini VCT clothing collection.
In fact, every outfit on broadcast worn by casters, hosts, and pro players on the desk were styled, fitted, modified, and sometimes even made from scratch by Christina Greiner and Mina Katharina Muraschkin.
Based in Berlin, Germany, they were first involved in the VCT one year ago during Masters Berlin. Just days before the event, the original stylist wasn't able to fly in, so Riot Games Executive Producer of Valorant Esports Events, Jean-Baptiste (JB) Blot had to find a replacement, and fast.
He already knew Mina beforehand as they had both worked in the entertainment industry, and she agreed to come on board. Three days later, Masters Berlin started.
"I never had anything to do with esports. It was so new for me. I was only in fashion, music videos, styling, editorial," Mina told ONE Esports.
A fashion designer who used to dance professionally on the side, she has created costumes for shows on cruise ships and hotels, in addition to custom pieces for artistes. Christina, too, had previously worked with local artistes, as well as brands like Nike. At Masters Berlin, however, their only job was to dress the talent and ensure that they were broadcast-ready.
"I had no idea what was going to happen and I was shocked when I realized how big this whole event was. It's a whole different world," Mina recalled.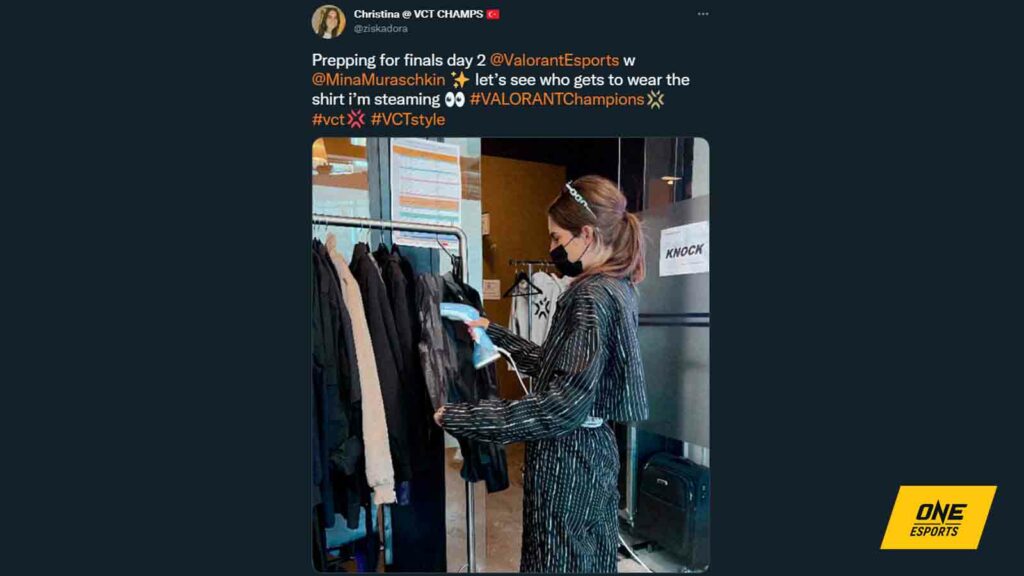 ---
How VCT style evolved from Masters Berlin 2021 to Valorant Champions 2022
Fast-forward one year, and she and Christina were coming up with their own prints and designs for VCT clothing and accessories.
They had mostly bought clothes for the first few events, but they soon went on to share original concepts with the production team at Riot, who loved their work. Mina especially could not hold back because she was a fashion designer who liked to create, "cut up stuff," and "make new things out of them."
"I remember in the beginning we were so shy. But they were so receptive to everything we did, and after a while, we got a bit more confident. They gave us creative freedom," said Christina.
The dynamic duo were already planting the seeds for Champions in Berlin. Christina had suggested that Mina lend the broadcast some of the original designs from her archive, so they could have more options on top of store-bought clothing.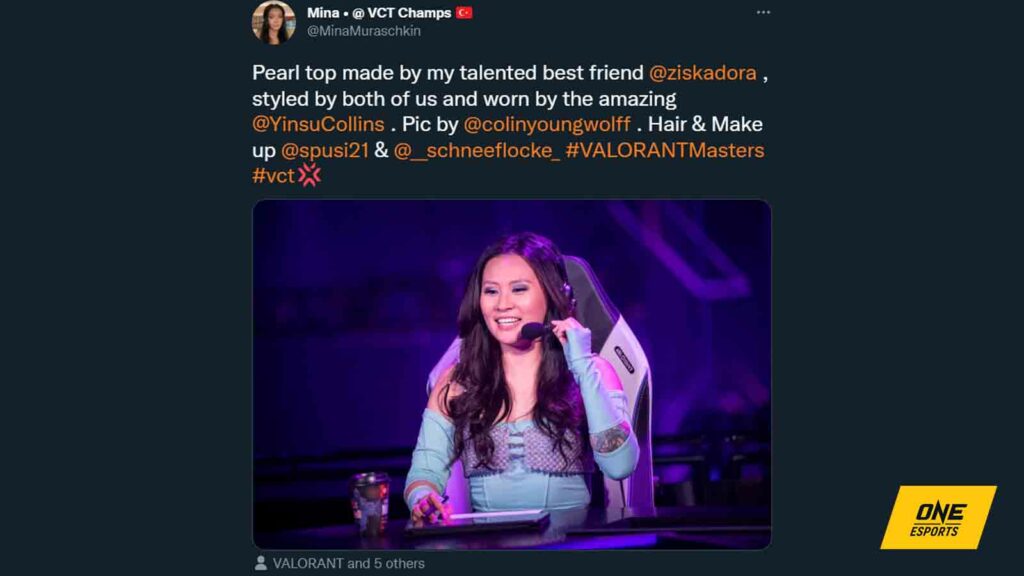 The freedom they received stems from Riot's governing philosophy for Valorant: self-expression. Executive producer JB describes it as a game where "style meets sport," conveyed through music, lighting, stage design, clothing, and even the individuals wearing them.
"I feel that makes our events really special because we're able to bring together a very eclectic group of individuals who are really good at their craft, and who bring their own special ingredients to VCT," JB told ONE Esports.
This style permeates every piece of VCT clothing on broadcast, which Christina and Mina described as elevated streetwear — cool streetwear that's not too casual and fits the branding of the entire show. On Riot's end, JB was specifically looking for artistes who shared this same approach, someone like Mina who was "fashion forward."
"You want to bring in people with a certain expertise, and you want to let them express themselves," JB explained. "We're looking for people that we can inspire, then use their art to create what they are supposed to create."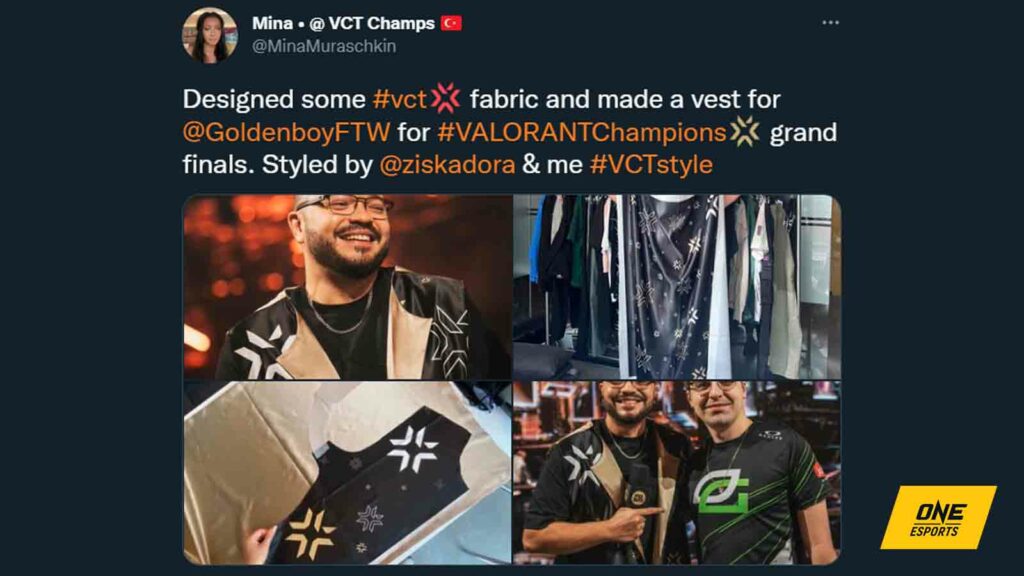 ---
VCT clothing collection previously debuted at Valorant Champions 2022
Masters Copenhagen concluded at the end of July 2022. Just over a month later, Valorant Champions kicked off in September 2022. The exclusive VCT clothing collection was first seen during Champions, and the fabrics were printed just one and a half weeks before the start of the tournament.
Mina and Christina didn't even know if the designs would be approved, but they decided to take a risk and brought them to Istanbul anyway in eight suitcases and four road cases.
"Sometimes I just do it and then show them. We come from fashion, so when I explain something, we can imagine what we mean, but other people who are not from the industry may not be able to," said Mina. Fortunately, Riot loved all of the prints, and within that short time frame, a mini collection was born.
Working with the same talents over the past year, they had also gotten to know them a lot better. Some of the women possessed more discerning tastes and already owned fashionable clothes and jewelry, which Mina and Christina took care to incorporate.
However, others did not feel comfortable in anything oversized, so elevated streetwear would not necessarily work for them. At the end of the day, it was important that talent felt comfortable because nothing was more gratifying for Christina and Mina than seeing them happy with the prepared wardrobe.
"On broadcast, you see hands a lot. Sometimes they're sitting, sometimes they're standing, so you have to make different adjustments," said Christina. "It's a little challenging, but fun!"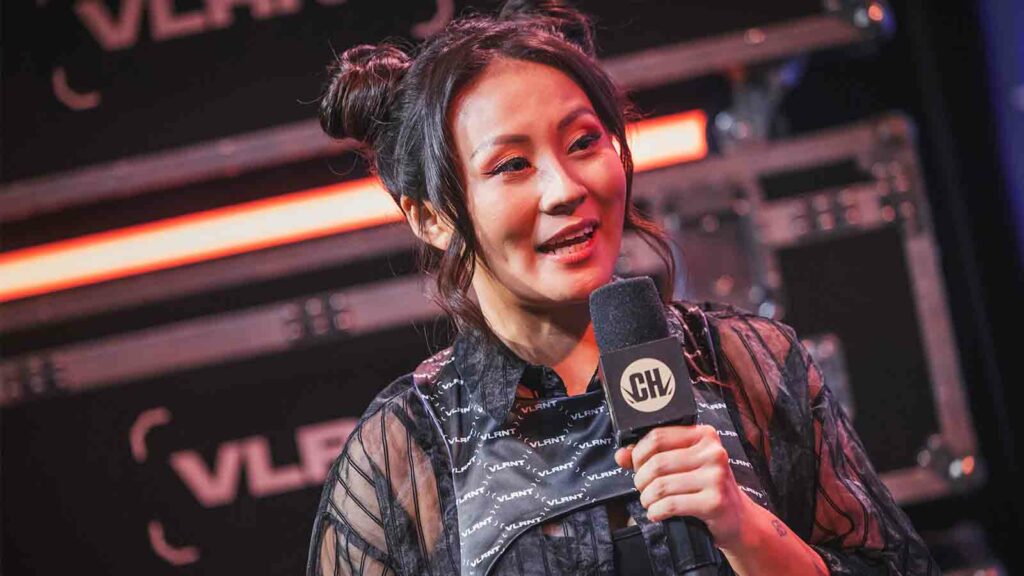 Host Yinsu "Yinsu" Collins has worn many custom-made garments on broadcast. Not only does she share the same personal style as them, she also entrusts them with total creative freedom.
"It's very easy to shop for her outfits. She's so open-minded and so excited about everything," said Christina. "She's super fun to work with and I think she enjoys it as much as we do."
2022 marked the first time that the duo worked with pro players. At Copenhagen, they first met with Paper Rex's Benedict "Benkai" Tan, and they collaborated with Riot's video team at Champions to shoot a scene with the players in streetwear.
"Some of the players had very strong opinions. We showed them this and they were like, no, no, no," Mina laughed.
"It's not a bad thing because they have a certain brand to represent, they have style, and we couldn't bring all the clothes we usually have for the talent, so we had limited options," Christina added.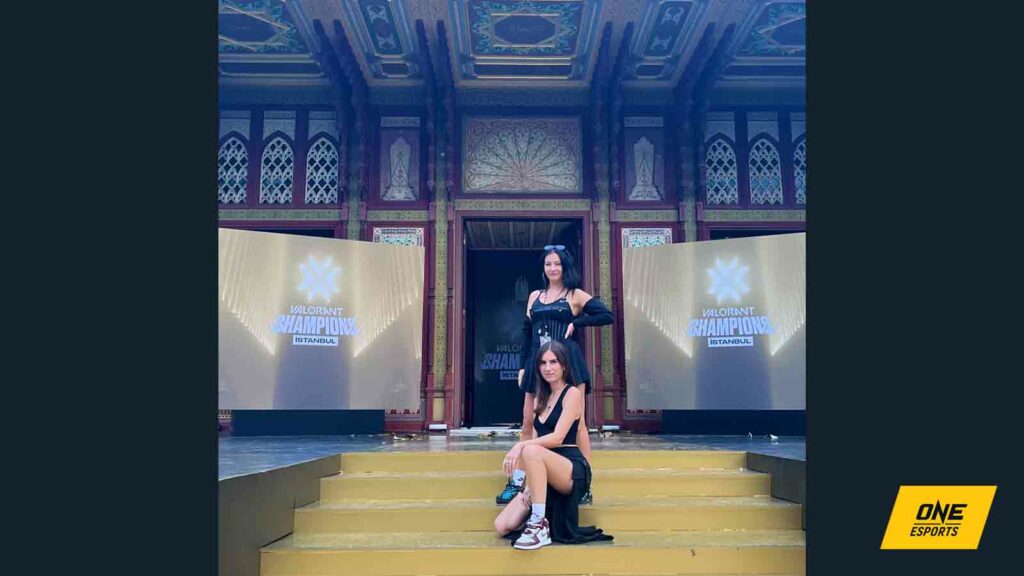 Coming from the fashion industry, they could not be more grateful for the opportunity to work in the VCT. Mina shared that there were times in the past when the artiste she dressed did not greet or acknowledge her, but this had never happened in esports.
"Obviously it's a lot of work," said Christina. "It's a long event and we put a lot of hours in. But when you come in and dress somebody, their eyes brighten up, they're so excited, and they give you a hug. It doesn't matter what their job is — we all have the same amount of respect for each other and we appreciate their work."
---
Follow Mina and Christina on Twitter to journey with them in Valorant esports.
READ MORE: Exclusive: How Riot prepares Valorant pro players for their epic walkouts