Long-time League of Legends player and support for Dignitas Vincent "Biofrost" Wang has come out as gay.
The 25-year-old Canadian player took to social media with his coming-out story, sharing how he was "bombarded with homophobic and sexist remarks" back when he was still living in China and when he was already working in the video game industry.
"I'm at a point in my life where I've accepted who I am," he said. "And it's taken me a long time to get there."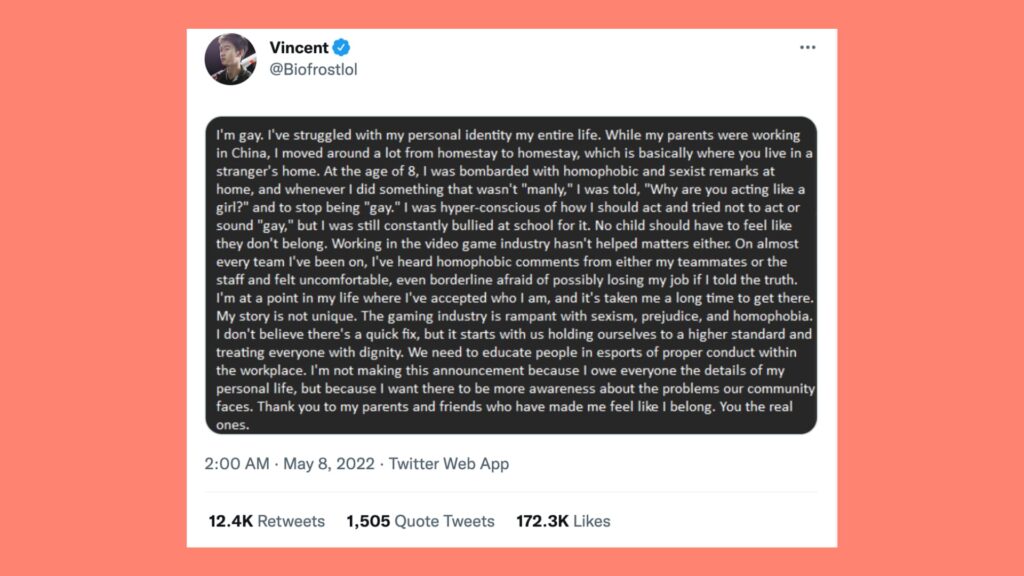 With his announcement, he aims to bring more awareness to the esports and gaming community which is "rampant with sexism, prejudice, and homophobia".
Fellow LoL players, Riot Games employees, and esports personalities responded to his tweet, showing their acceptance and full support of his sexual orientation.
After coming out as gay, Biofrost receives love and support from the League of Legends and esports communities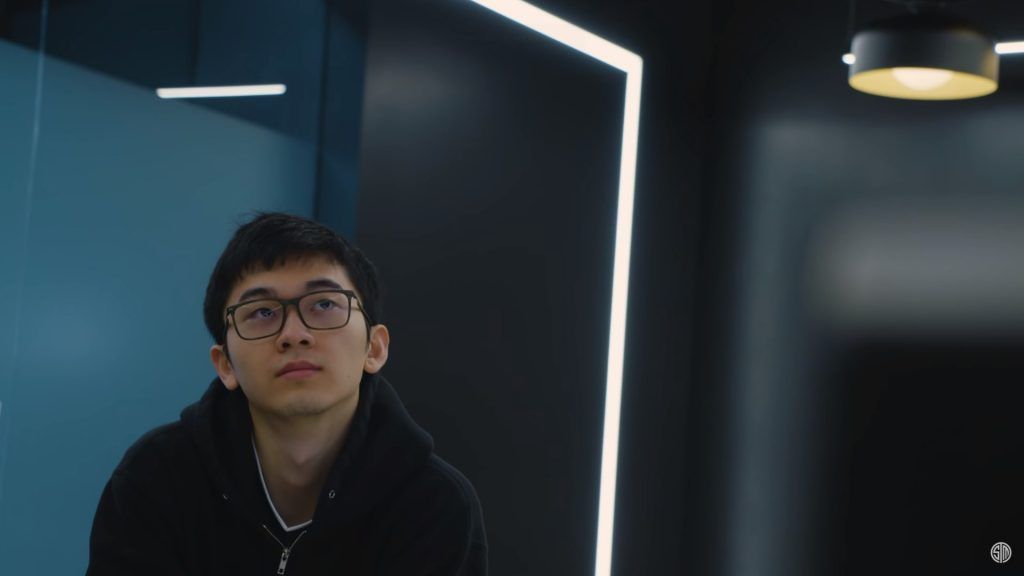 Esports hosts Eefje "Sjokz" Depoortere and Frankie "Frankie" Ward sent out heart emojis to show their love and admiration for Biofrost's announcement. Another LoL pro player, KCorp bot laner Martin "Rekkles" Larsson, replied to his tweet with a heart exclamation emoji.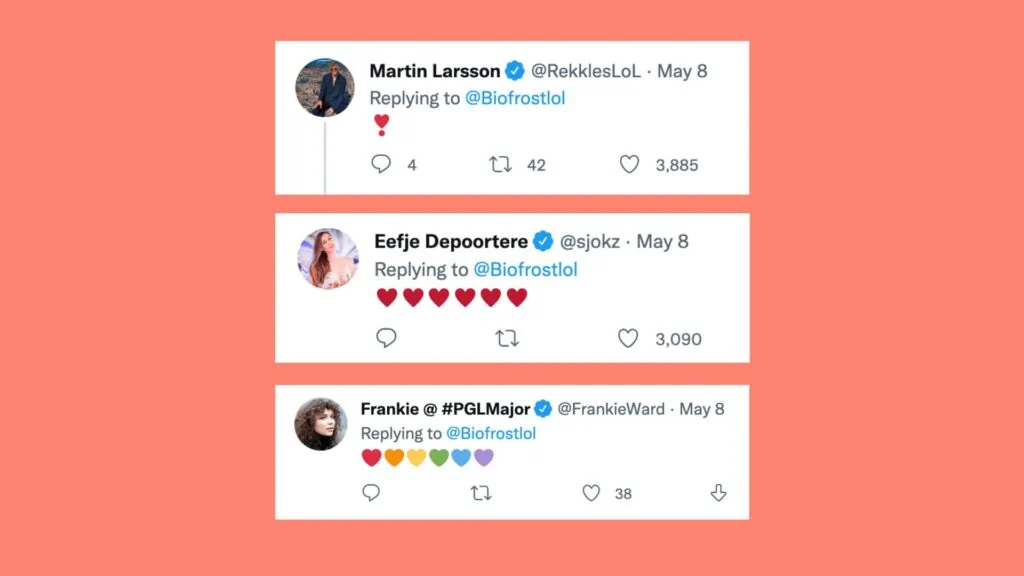 ---
---
Of course, his closest friends in the scene, esports couple Leena Xu and Yiliang "Doublelift" Peng, gave him words of encouragement.
Doublelift and Biofrost were an iconic bot lane duo on TSM, and have been friends since 2016.
The LCS Players Association quoted his tweet and promised to make an effort to ensure that every player in the league feels accepted and "comfortable to be in their own skin."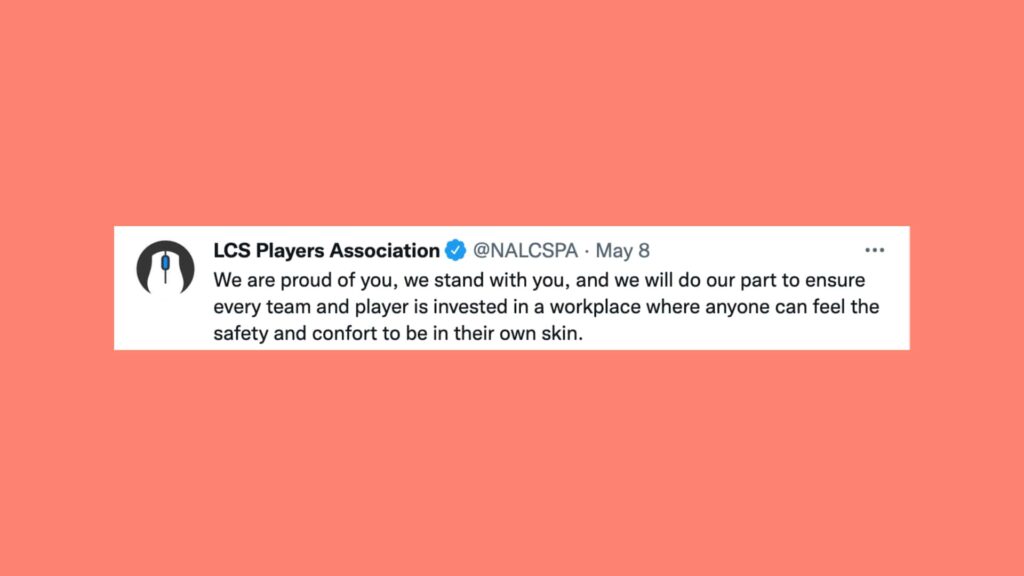 Team Liquid co-CEO Steve Arhancet expressed his admiration for Biofrost's courage to share his story and hopes that it will inspire the industry to be more aware of their language and behavior.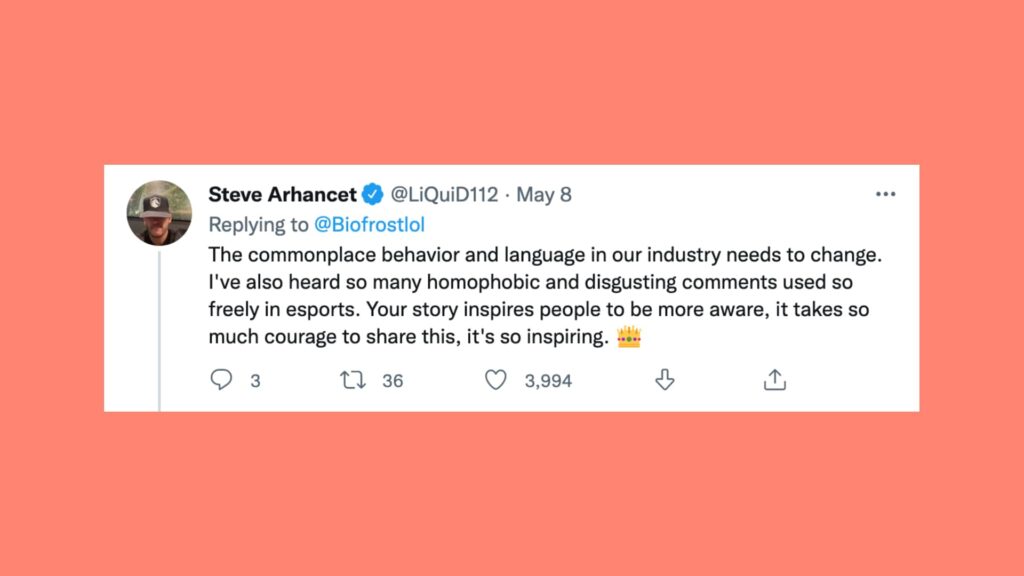 In an additional tweet, Biofrost gave his gratitude to everyone who showed their support for his coming-out announcement.
"It makes me feel hopeful for the change that we can make in this community," he said.
READ MORE: A North American mid laner has won the LCS for the first time since 2018