Tier One Entertainment's CEO Tryke Gutierrez has officially announced that his organization will be participating in the upcoming DPC season.
According to his tweet, Blacklist International has acquired RSG's spot in the DPC Southeast Asia's Division I regional league.
The Filipino organization will be competing against Fnatic, BOOM Esports, Talon Esports, Team SMG, Execration, Lilgun, and the organization that will be taking over T1's spot.
---
---
Blacklist International is officially expanding to Dota 2 next year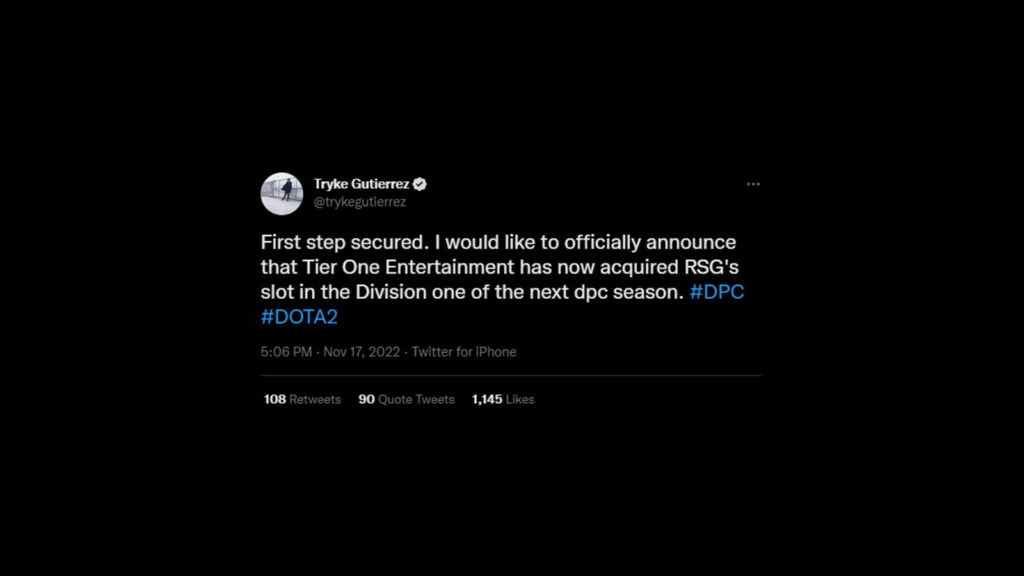 Tier One has been looking to get into the competitive Dota 2 scene since last year when Gutierrez said that he dreamt of having a Blacklist Dota 2 team after TI10.
He then restated the sentiment after TI11. "My dream for Blacklist Dota 2 is to build a Philippine redeem team," he tweeted.
Blacklist International established itself as one of the top teams in Mobile Legends: Bang Bang. The organization has won three MPL PH championships in the last two years. Their MLBB team was also crowned the M3 World Champions last year when they swept ONIC Philippines 4-0 in the grand final.
The next step for the organization is to put together a competitive Dota 2 roster that could rival the top teams in the region.
At the time of writing, former T1 captain Carlo "Kuku" Palad and Karl "Karl" Baldovino are still looking for a new team. Karl previously played for Tier One's esports development squad called Team Amplfy in 2019. The talented midlaner could reunite with Tryke if the organization pushes through with its new roster.
There's also BOOM Esports' Erin "Yopaj" Ferrer, Timothy "TIMS" Randrup, and Rolen "skem" Ong, who announced that they are looking for new opportunities during the DPC's offseason period.
READ MORE: Former Evil Geniuses captain Fly and his new team will stay in North America