There's going to be a roster rumble in Southeast Asia.
T1 parted ways with their carry player Kim "Gabbi" Villafuerte and midlaner Karl "Karl" Baldovino right before The International 2022's (TI11) regional qualifiers, the organization announced today.
Gabbi first joined T1 at the start of the year before the DPC SEA 2021/2022 Tour 1 Regional Final, replacing Nuengnara "23savage" Teeramahanon. Karl, on the other hand, was the first player to join T1 since Park "March" Tae-won reworked the roster in 2020.
However, the decision was made after the team's middling DPC SEA 2021/2022 Tour 3 Division I run. T1 finished with a 3-4 record, which left them out of the PGL Arlington Major.
---
---
T1 is looking for a new carry and midlaner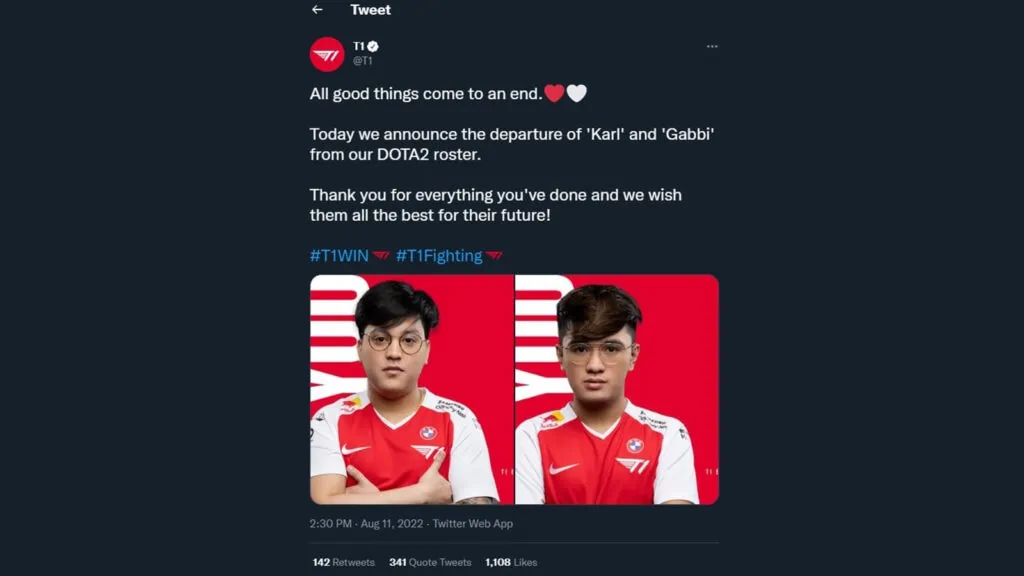 With the Southeast Asian region gearing up for a stacked regional qualifier, T1 is looking to bolster its roster to improve their chances to make it to TI11.
The team only accumulated 273.31 DPC points through the DPC 2021/2022 season,
"All good things come to an end," the organization tweeted. "Today we announce the departure of Karl and Gabbi from our Dota 2 roster. Thank you for everything you've done and we wish them all the best for their future."
Gabbi and Karl have yet to announce what their next move will be. Both players will have to look for new teams ahead of the TI11 qualifiers.
T1's Dota 2 roster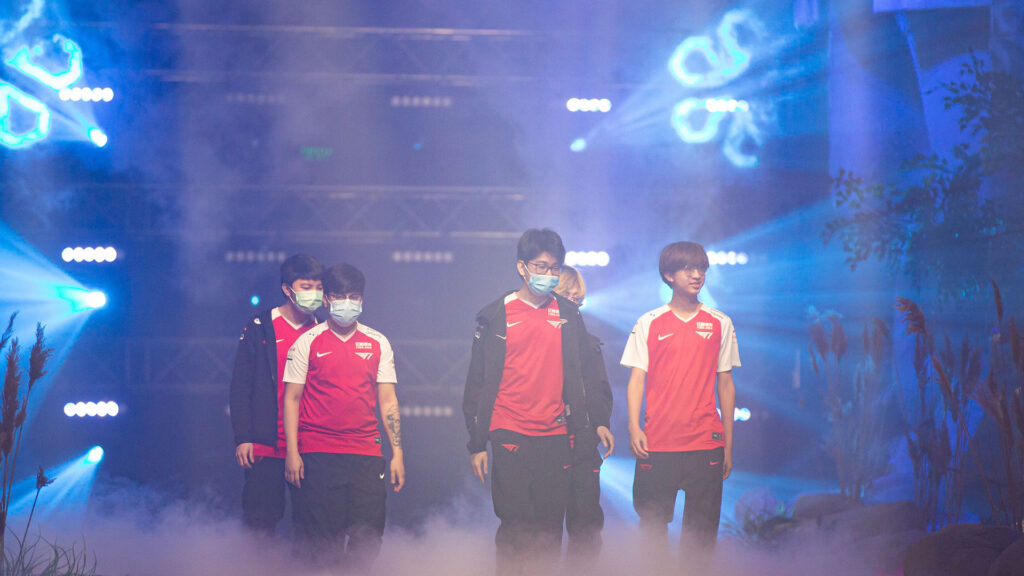 (3) Carlo "Kuku" Palad
(4) Kenny "Xepher" Deo
(5) Matthew "Whitemon" Filemon
Park "March" Tae-won (coach)
Kim "QO" Sun Yeob (analyst)
Top-tier Dota 2 players recently announced their availability ahead of the TI11 qualifiers.
TI8 and TI9 champion and former OG midlaner Topias "Topson" Taavitsainen has currently become a free agent. And his ex-teammate Anathan "ana" Pham has just played back-to-back events as a stand-in for Team Liquid in the Riyadh Masters and for Royal Never Give Up during the PGL Arlington Major.
TI11's regional qualifier is set to begin in September. The winner will directly qualify for TI11, while the second and third place finishers must battle their way through the Last Chance Qualifiers.
READ MORE: Everybody's playing Dawnbreaker: Why she is Dota 2's do-it-all