Since its release in 2020, HoYoverse's role-playing game, Genshin Impact, has released countless weekly bosses, but nothing has been as terrifying as the Raiden Shogun boss.
Found in the End of the Oneiric Euthymia trounce domain, this weekly boss features the Electro Archon's puppet, the Raiden Shogun. In this domain, players can relive the wrath of Raiden Ei's puppet as it transforms into a killing machine, programmed to destroy anyone who opposes its master's idea of eternity.
Because of its deadly skills and abilities, which can kill players in one slash, many fear facing the Electro weekly boss, and have trouble clearing it.
One brave traveler admired the puppet so much, she dared to portray its most menacing form in this epic Raiden Shogun boss cosplay.
---
---
Astonishing Raiden Shogun boss cosplay will give you Genshin Impact nightmares
Zouluyao wowed Genshin fans with her jaw-dropping cosplay of Magatsu Mitake Narukami no Mikoto, commonly known as the Raiden Shogun boss.
The Chinese cosplayer, with the help of her team, wore the character's purple battlesuit and jointed legs, emphasizing the NPC's puppet identity.
She took her cosplay to the next level and transformed into the Raiden Shogun's Baleful Shadowlord form for an indoor photoshoot, complete with its colossal arm. It's almost as if we've been teleported inside the trounce domain in real life — quick, activate the shield!
You can check out Zouluyao's cosplay in action on her Douyin account, which shows her and her team hard at work in bringing the End of the Oneiric Euthymia trounce boss to reality.
She has also cosplayed Raiden Ei, as well as other Inazuman characters like Kamisato Ayaka.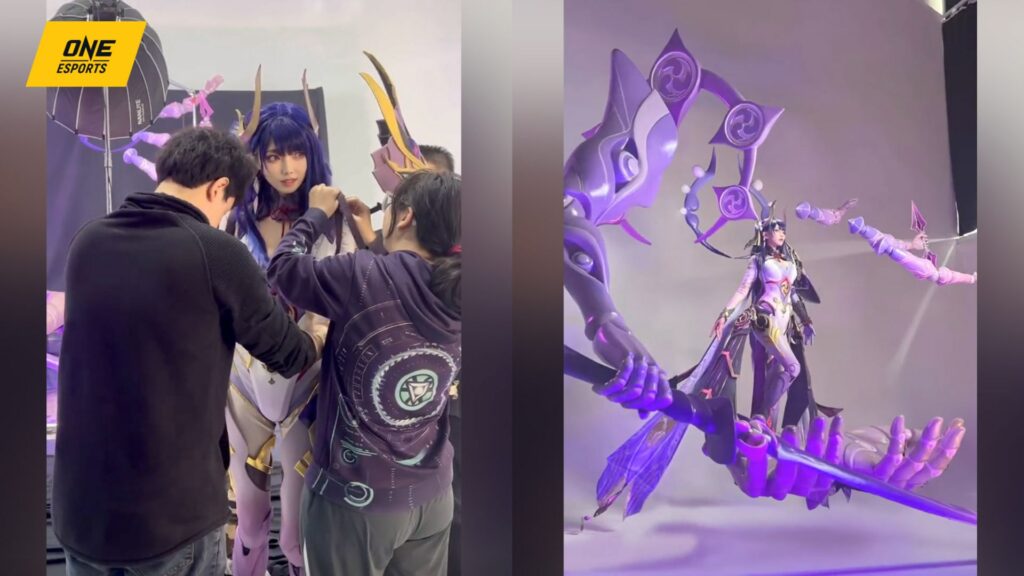 Follow her on her Douyin and Weibo accounts (@走路摇zly) for more Genshin Impact cosplays.
Find out how you can make your own Genshin player card, what Yae Miko's fox form looks like, and why Razor is the perfect character to use in the Raiden Shogun domain.
---
Follow ONE Esports on Facebook for more Genshin news, guides, and highlights.
READ MORE: Girl goes to cosplay event as Genshin bride, marries every Zhongli in sight