Genshin Impact is home to good-looking waifus and husbandos that makes your heart skip a beat, but what happens you see them in real life? One Filipina fan knew exactly what to do.
Cosplayer Psyche Elise recently attended Cosplay Carnival as a Genshin bride, pairing the iconic purple hairstyle of Raiden Shogun with an elegant wedding dress, bridal gloves, and a veil.
Users from the Genshin Impact Philippines Facebook group were quick to nickname Elise as the "Briden Shogun".
---
---
Genshin bride takes cute couple photos with Zhongli cosplayers at Cosplay Carnival event
The cosplayer combed through the crowds of anime and video game enthusiasts in search of Zhongli, the proclaimed Geo daddy of Genshin Impact.
On top of his mannerly ways, the Wangsheng Parlor consultant's long brown hair and hazel eyes could make even the coldest hearts melt.
The Raiden Shogun bride managed to snap a few wedding photos with every Geo gentleman she laid eyes on. One Zhongli wore the character's original outfit and stood like a pillar next to the bride, while another Geo Archon wore a fashionable suit and made heart signs with her.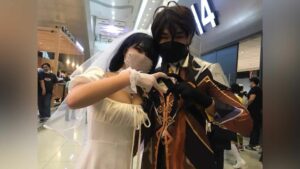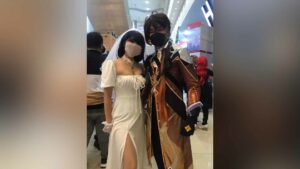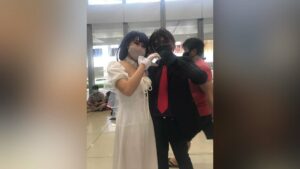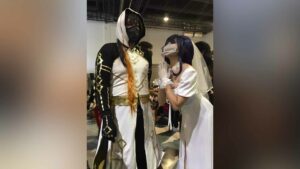 The best husbando by far was one who cosplayed as Rex Lapis, Zhongli's Archon persona. Dressed in a regal robe with a hood over his head, the man kept a straight face as Briden Shogun begged for his attention.
Elise was loud and proud about her love for the Geo character, mentioning in her post that she'll "simp" and "say yes" to anyone who cosplays as him.
Considering that both Raiden and Zhongli are both Archons, the Genshin bride further proves that the ZhongEi ship is a match made in heaven.
Follow ONE Esports on Facebook and Twitter for more Genshin news, guides, and stories.
READ MORE: 3-time Dota Major winner MidOne secretly whales for Genshin waifu Kamisato Ayaka