Updated on November 28, 5:31 p.m. (GMT+8): Formatting changes.
Want to flaunt your favorite Genshin Impact characters in the gaming community? Now you can with GameWith's Genshin Player Card.
This feature generates a photo of everything in your Genshin Impact account, such as your Adventure Rank, playstyle, and even your preferred weapons in the game.
Join the trend with this handy Genshin Impact Player Card guide, which includes the link to the generator.
---
---
How to create your own Genshin Player Card: Link, tips and tricks to get you started
Here is a step-by-step guide on how to create your own Genshin Player Card.
Visit the Genshin Player Card Creator website. The link will redirect you to GameWith's page.
Scroll down a bit until you see the "Player Card Generator" section.
Fill in the information needed, including your favorite characters, their constellation level, your player name, and your best weapons.
The last section of the generator allows you to upload any photo to your liking — a screenshot of your favorite Teyvat region, a meme, or even your very own selfie — you decide!
Hit on the "Preview" button to generate your player card.
Click "Download" to save the photo. For mobile users, you can long press on the image to save it.
You can share the photo on Twitter or on other social media platforms with the hashtag #GenshinPlayerCard.
---
---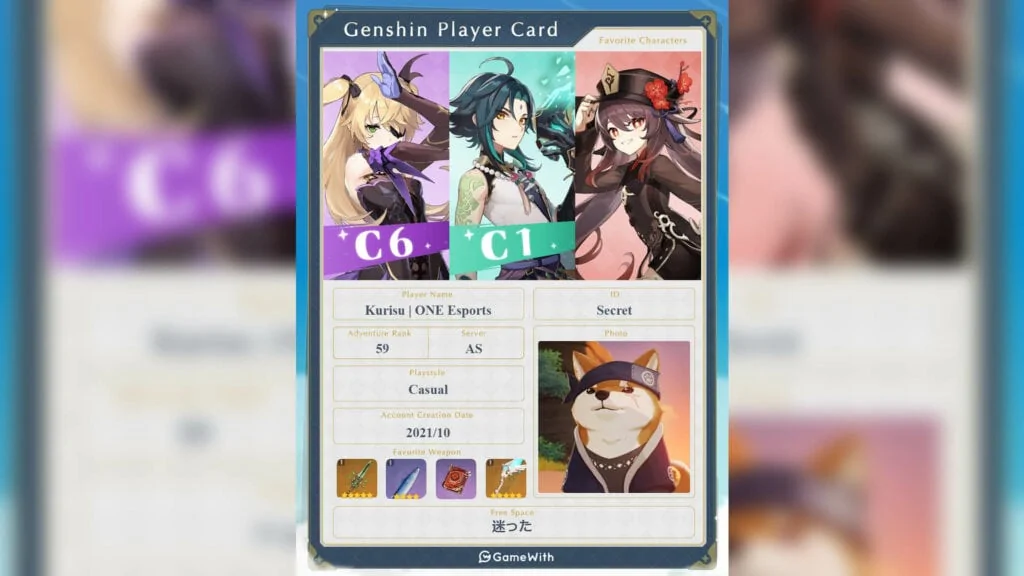 Should you opt to skip entering your player ID, the generator will automatically put "Secret" on the space.
There is also a "Free Space" section where you can put any text you wish to feature. Go ahead, tell the world about your Genshin Impact husband!
Click on this link to start customizing your player card!
Find out what's the Genshin National Team composition, what to do if you're stuck at AR25, and why Elemental Mastery matters.
---
Follow ONE Esports on Facebook for more Genshin news, guides, and highlights.
READ MORE: 'Will you be my waifu?' Guy pulls off marriage proposal in Genshin Impact