Updated on March 21, 6:04 p.m. (GMT+8): Improved relevancy.
When Genshin Impact collaborated with fast food chain KFC back in 2021, it completely took China by storm. The limited collaboration got so crazy that, at one point, Genshin fans hired other customers to eat KFC for them just so they could bring home the free merchandise.
The Genshin Impact x KFC collab reimagined two Mondstadt characters, Noelle and Diluc, as restaurant employees of KFC. Dressed for the occasion, the two ditched their Teyvat costumes and wore KFC uniforms seen in official art and merch.
Unsurprisingly, a diehard fan was spotted dining inside a KFC restaurant in China dressed as Noelle in her KFC maid uniform.
---
---
For dine-in or takeaway? KFC Noelle cosplayer is ready to serve you
Cosplayer 小稚稚稚酱 (Xiao zhi zhi zhi jiang) had posted photos of her KFC Noelle cosplay, showing off the character's black-and-white uniform paired with some accessories like a KFC patch, a short red necktie, and a cute black beret.
The photo set tells the story of Noelle becoming your personal KFC shopper, where she greets you from outside the restaurant, places an order for you through one of the digital kiosks, and finally sits down with you to eat delicious fried chicken and ice cream.
Xiao zhi zhi zhi jiang seems to be a big fan of Genshin Impact, for she has cosplayed other characters before like Ganyu and Klee.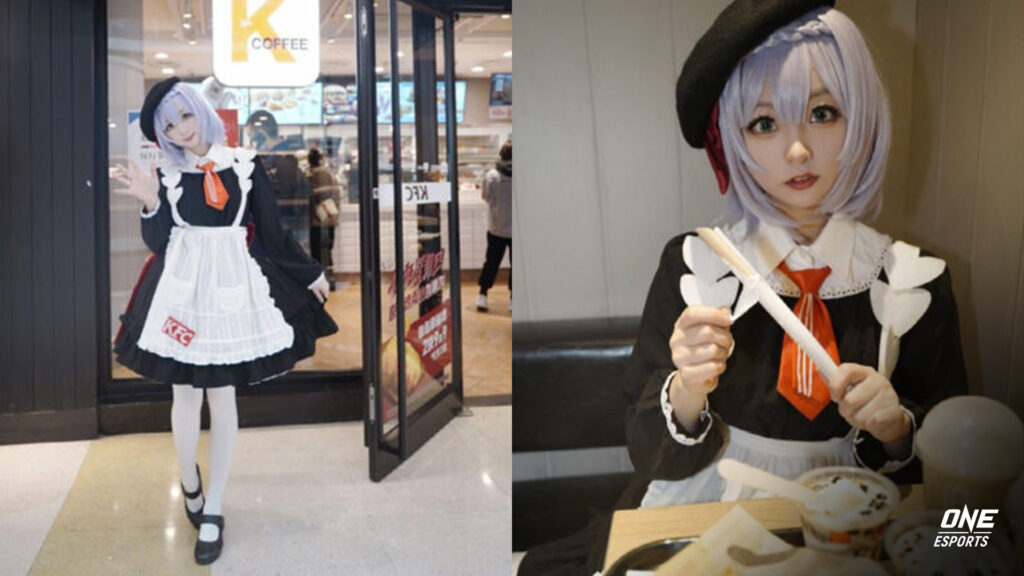 Follow Xiao zhi zhi zhi jiang on their Weibo account for more Genshin cosplays.