Updated on February 6, 5:04 p.m. (GMT+8): Improved relevancy.
Dendro supremacy!
Travelers continue to harness the power of Dendro, especially with the introduction of Sumeru. One of the major updates in Genshin Impact, the Sumeru patch ushered in the first playable characters wielding the power of this element.
Before Collei and Tighnari, travelers met Bubu Pharmacy's Baizhu. He is the pharmacy's owner from Liyue and is the guardian of the 5-star Cryo character, Qiqi.
In their latest cosplay, Genshin Impact fan Weilanran brings the herb expert to life.
---
---
Weilanran's Baizhu cosplay will heal your aching Dendro heart
Their cosplay showcased the charm of the NPC in their blue crop top and purple pants. Wrapped around their neck is a white snake prop to portray Changsheng, the character's pet snake.
We're absolutely in love with the Baizhu cosplayer's gentle facial expression, which we believe can cure any sickness, just like the character's traditional herbs.
Baizhu first appeared in the Archon Quest Chapter 1, Act 2, "Guizhong," and was described by Paimon as "a wacko who wears medicinal ingredients around his neck," referring to Changsheng. He possesses a Dendro vision that dangles from his waist. While his appearance may be brief, his sweet and mysterious nature left travelers wanting more.
Players are hoping Baizhu will soon become a playable character and will be released as one of the new Dendro characters in future Sumeru updates. With Baizhu leaks posted all over social media, it's possible that the Bubu Pharmacy owner will soon be playable.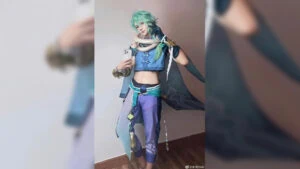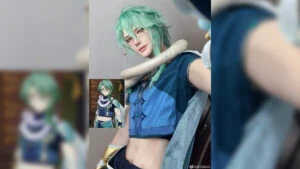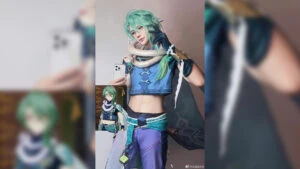 Aside from the Liyue doctor, the Chinese cosplayer has also portrayed other characters such as Thoma and Zhongli.
For more amazing cosplays, follow Weilanran on Twitter (@RAN41382579) and Instagram (@weilanran).
READ MORE: All Fatui Harbingers, their ranks, and voice actors in Genshin Impact