Genshin Impact developers miHoYo and KFC have launched a collaboration that sees the fast-food chain's stores in China decorated with posters and standees of the traveler twins, the Mondstadt gang, and artwork from the Dragonspine patch.
In addition, customers who purchase Genshin Impact x KFC buckets of fried chicken will receive a code for a new glider design featuring the restaurant's signature colors red and white.
---
---
Limited-edition merch is also up for grabs in the form of KFC Noelle and Diluc button pins that come with every purchase of specific KFC set meals.
Fans that want to claim their merchandise have to channel their inner Fischl and loudly proclaim the phrase "异世相遇,尽享美味" to KFC staff when ordering, which roughly translates to "Meet at another world, enjoy all the delicious."
All participating KFC branches only have a limited number of these pins, and each customer can only claim a pair of these each day. A Genshin Impact x KFC postcard is also available but has limited stocks too just like the pins.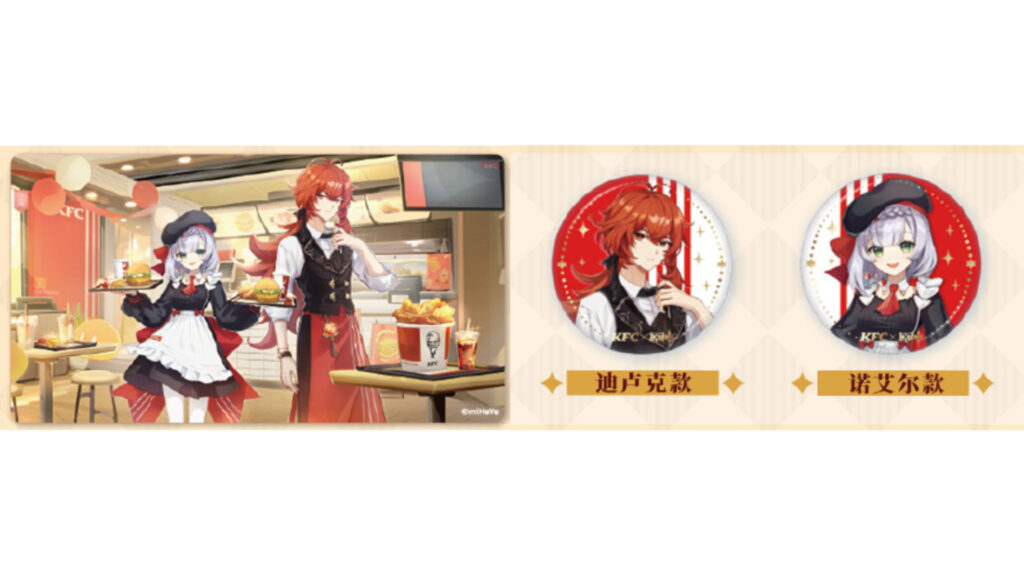 Due to the limited nature of the souvenirs, some enterprising individuals have apparently been paying other people to order and eat the KFC set meals for them, just so they can claim more than one pin and postcard set per day.
According to a thread on Chinese forum nga.cn, the pins are already re-selling for as high as US$77.
Here are more photos of the Genshin Impact x KFC collaboration from Weibo user 重庆Chika酱:
The Genshin Impact x KFC collaboration runs from March 8 to 28 and is limited to China-based branches.
READ MORE: Can a Genshin Impact gacha ritual help me pull Hu Tao? Day 1: Wangsheng Funeral Parlor