Updated on March 17, 11:10 a.m. (GMT+8): Improved relevancy.
The release of the Jujutsu Kaisen 0 movie made history, breaking box office records in Japan, Taiwan, and the US as the fourth highest-grossing anime movie of all time.
Domestically in Japan, the anime title has multiple ongoing collaborations with brands ranging from spectacles to snacks and a UT collection with Uniqlo. In 2022, it got its first ever high fashion collaboration with Italian luxury fashion house, Dolce & Gabbana — and some pieces are still available.
A testament to just how big the franchise has grown, it follows the footsteps of other mainstream anime titles that have also carved a space in the high fashion industry, such One Piece x Gucci, Naruto x Coach, and Jojo's Bizarre Adventure x Balenciaga.
---
---
Jujutsu Kaisen x Dolce & Gabbana is the anime series' first high fashion collaboration
The collection features its main characters from season one, namely protagonist Yuji Itadori, and his fellow two first year classmates, Megumi Fushiguro and Nobara Kugisaki.
Second year students Maki Zenin, Toge Inumaki, and Panda are also featured alongside teachers Kento Nanami and of course, the strongest sorcerer in town, Satoru Gojo.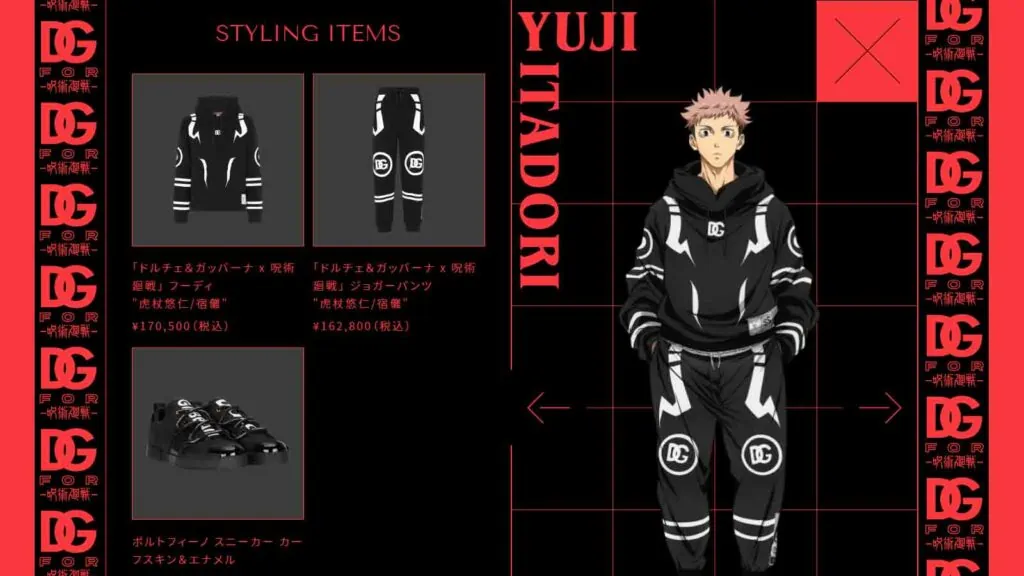 Each of these characters sports tailored looks that bring out their personality and highlight their backstory. Yuji for example, models a black and white tracksuit with a pattern that resembles Sukuna's markings.
Kento Nanami, a former nine to five office worker, is always wearing a suit in the manga and anime. This high fashion collaboration takes his style up a notch, putting him in a neutral double breasted overcoat worn over a sky blue long sleeved turtle neck.
His outfit even includes a classy, nature-themed brooch, priced at just over US$1,000.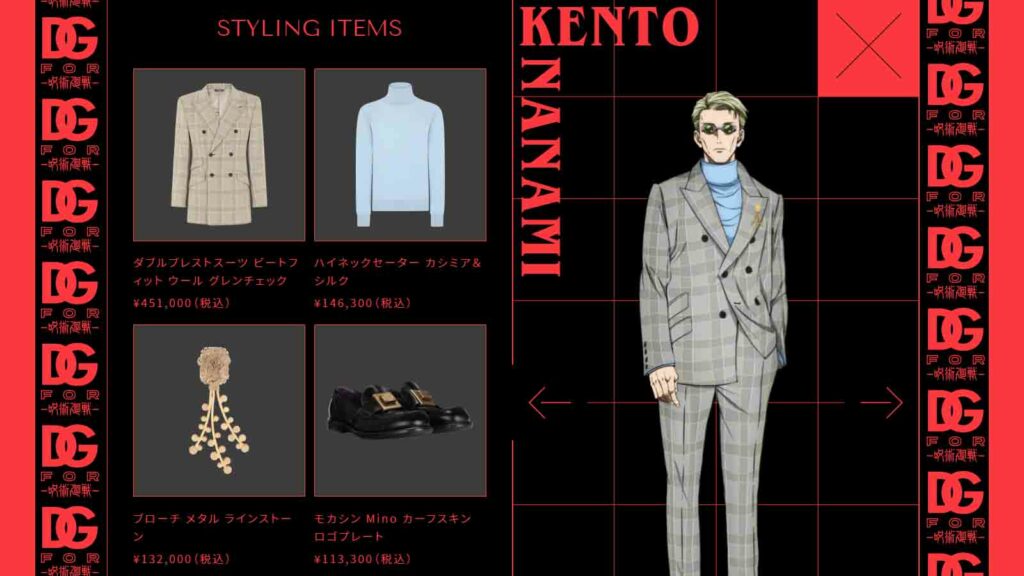 Even though Nanami's outfit looks very smart and very expensive, it only comes up to $6,650.
The priciest clothing in this collection is the one Satoru Gojo models. The black leather jacket bearing the D&G logo alone will set you back US$4,000.
To look "the coolest", pair this statement piece with a boxy D&G sunglasses for about US$2,000, and black and grey sports sneakers worth US$1,170.
If you can't afford any of the outerwear, you can always buy his basic branded white t-shirt for just over US$300.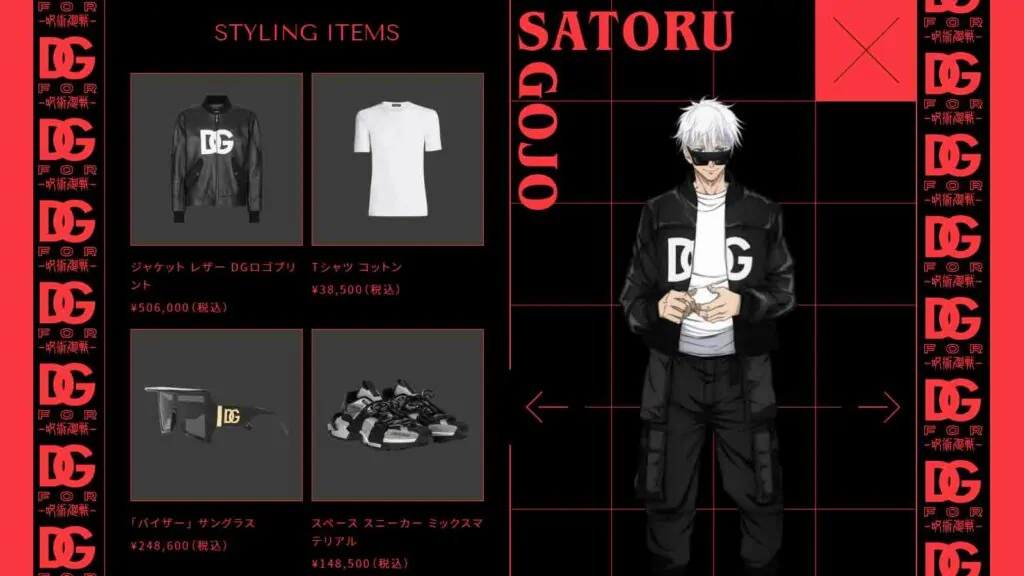 There are also other products available in the collection that capture the general JJK vibe, including hoodies, track pants, graphic t-shirts, shopping bags, card holders, phone cases, and more.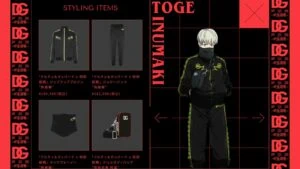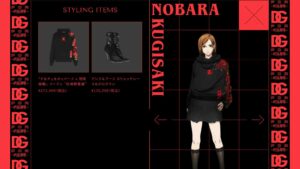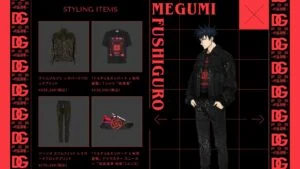 Jujutsu Kaisen character outfits and their prices
As of writing, only limited pieces are available.
| | |
| --- | --- |
| CHARACTER | D&G OUTFIT TOTAL PRICE (USD) |
| Satoru Gojo | $7,500 (¥941,600) |
| Nanami Kento | $6,650 (¥842,600) |
| Maki Zenin | $6,450 (¥817,300) |
| Toge Inumaki | $5,450 (¥689,700) |
| Megumi Fushiguro | $5,300 (¥668,800) |
| Yuji Itadori | $3,500 (¥442,200) |
| Nobara Kugisaki | $3,070 (¥389,400) |
| Panda | $2,100 (¥268,400) |
View the remaining collection on Dolce & Gabbana here.
READ MORE: The best anime YouTube channels where you can watch episodes for free