Updated on July 27, 2:03 p.m. (GMT+8): Improved relevancy.
Gone are the days when you have to watch illegally uploaded anime episodes, cut into nine parts and uploaded onto five different anime YouTube channels.
Forget about websites with thousands of pop-up ads or platforms that require you to log in first — you can now watch anime for free legally on the world's biggest video-sharing platform.
Dedicated channels have started uploading and distributing full episodes and complete shows on YouTube, making life much easier and more convenient for weeaboos (a person who is obsessed with Japanese culture, especially anime).
---
---
The best anime YouTube channels where you can watch episodes for free
Muse Asia
Ani-One Asia
Animelog
Crunchyroll Dubs
Anime Made by BiliBili
vizmedia
---
Muse Asia anime YouTube channel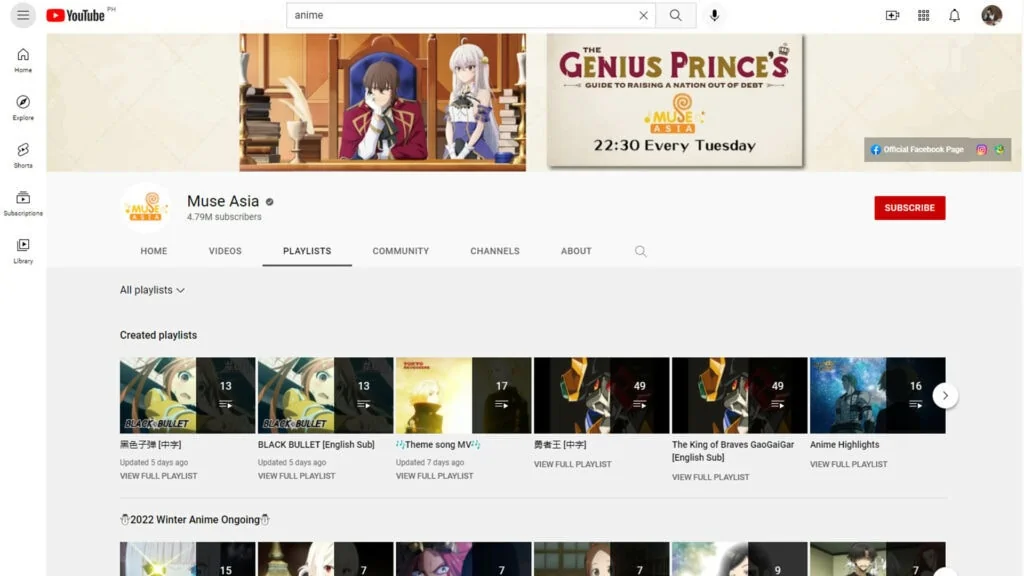 Muse Asia is the most popular channel on YouTube where you can watch anime episodes for free. It is owned by Muse Communication, a Taiwanese company that specializes in distributing anime series and movies across Asia and the rest of the world.
Since its launch in 2019, watching anime has become more accessible on YouTube with the main Muse Asia channel and its localized channels for audiences in Indonesia, Malaysia, the Philippines, Thailand, Vietnam, and India. English and Chinese subtitles are both available on the channel for general audiences to enjoy.
Beloved anime shows such as Hyouka, One Punch Man, Re:ZERO, Mushoku Tensei, JoJo's Bizarre Adventure, and Spy x Family are all available on Muse Asia's YouTube channel.
If you're a weeaboo based in Singapore, drop by their anime merchandise store, Hakken!, with branches located inside Plaza Singapura and VivoCity.
---
Ani-One Asia anime YouTube channel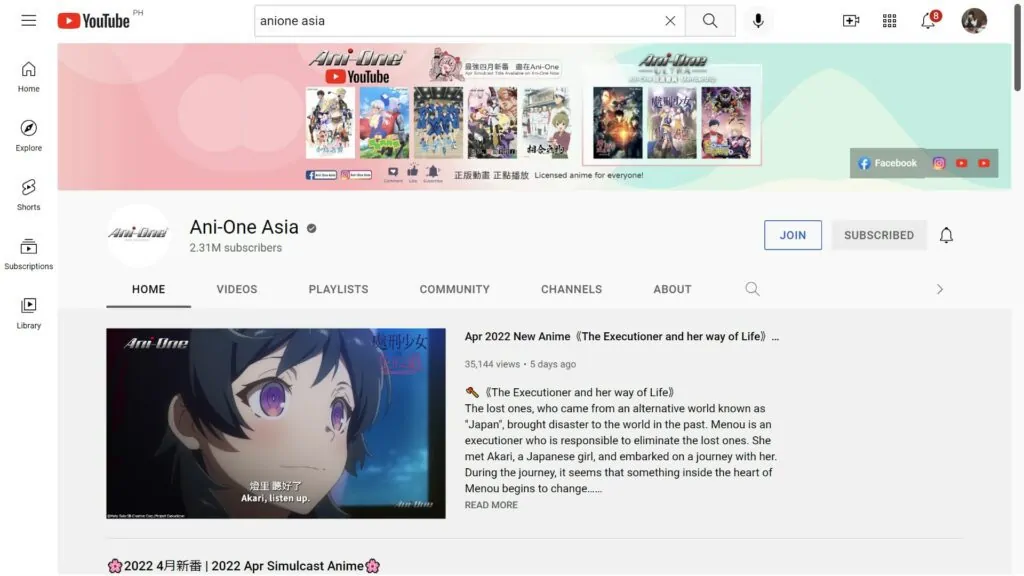 Similar to Muse Asia, Ani-One Asia is also an anime distributor, owned by MediaLink International Limited. The channel's official mascot is called Ani-Gal and even has her own playlist of anime recommendations.
Ani-One's uploads range from anime episodes, voice actor interviews, and highlights, to original content featuring their team members.
The most notable shows on the channel are Code Geass, KonoSuba, Yuru Camp, and Yamada-kun and the Seven Witches.
Ani-One ULTRA members can enjoy watching Overlord, Haikyuu!! and The Executioner and Her Way of Life for a fixed subscription price.
---
AnimeLog anime YouTube channel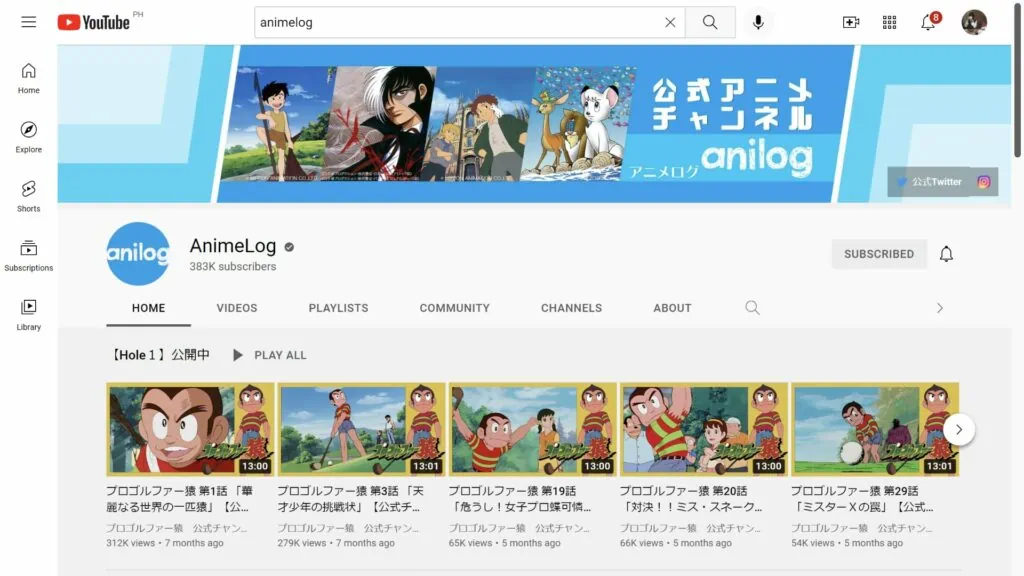 AnimeLog, or AniLog, was originally a YouTube channel dedicated to the Japan region but later expanded its market overseas. It aims to eliminate illegal anime uploads, increase the number of anime viewers, and become a global platform for anime distribution directly from Japan.
Some of the rights holders they have worked with include Kodansha Ltd., Toei Animation Co., Ltd, Nippon Animation Co., Ltd, and Shogakukan-Shueisha Productions Co., Ltd.
Some of the notable shows available on the channel are Hungry Heart, Aware! Meisakukunn, and Kon'nichiwa Anne.
---
---
Crunchyroll Dubs anime YouTube channel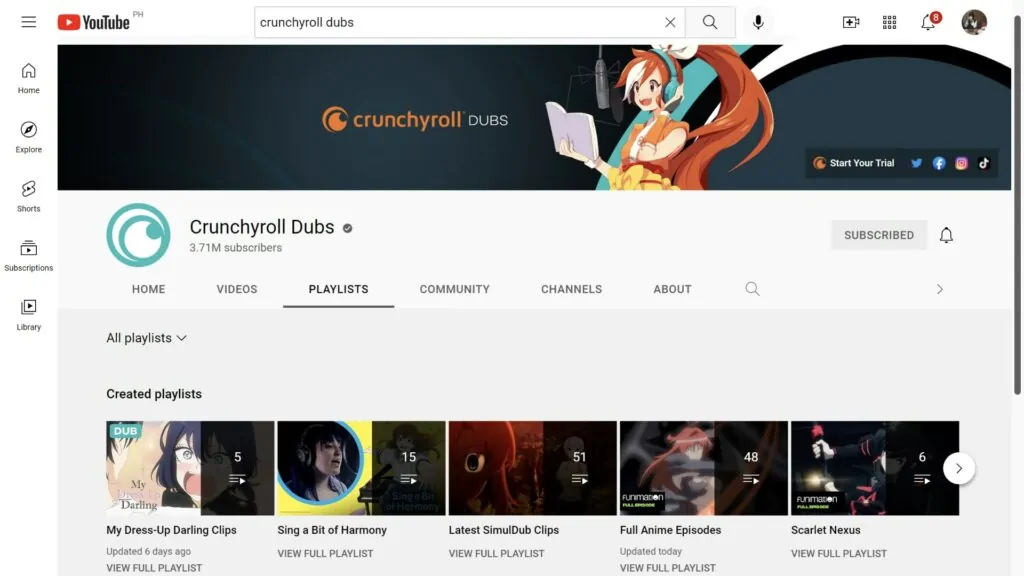 Popular anime streaming website Crunchyroll is slowly expanding its services to YouTube with the former Funimation channel, now called Crunchyroll Dubs. Funimation and Crunchyroll announced their merger in 2022, where all content from the former was made available on Crunchyroll's platform.
All clips and videos uploaded on this Crunchyroll sub-channel are dubbed in English. The channel releases a dubbed first episode every Sunday at 4 a.m. GMT+8.
---
Anime Made by BiliBili anime YouTube channel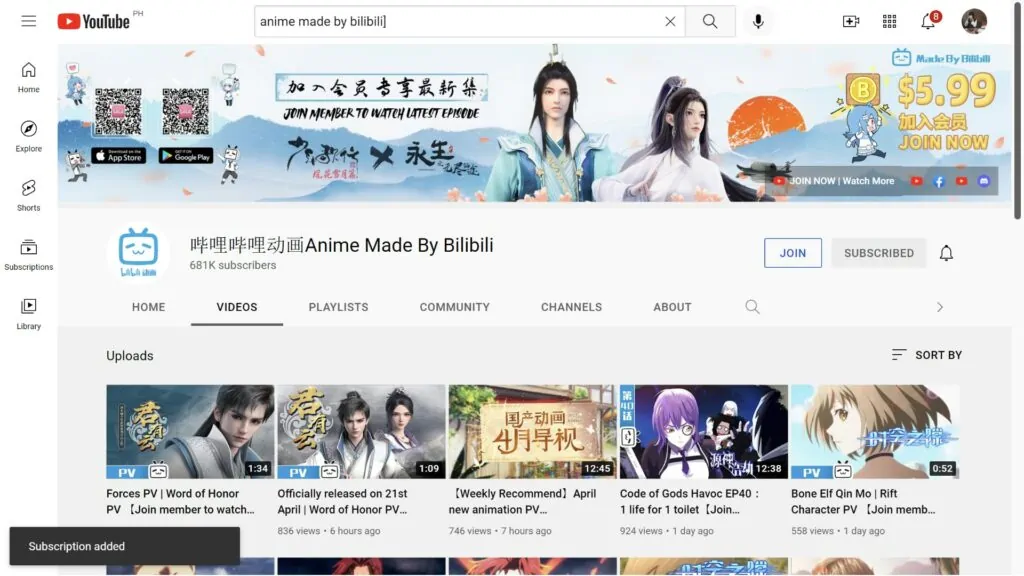 This is the official YouTube channel of the Chinese streaming platform, BiliBili, dedicated to anime content. It launched in July 2020 with the God of Deception (Shi Huang Zhi Shen) anime.
You can binge several original Chinese anime titles on this channel like Dragon's Disciple, Flower Beauty, and Heaven's Official Blessing. English subtitles are also available for non-Chinese speakers.
Their VIP Club offers over 100 Chinese anime shows which viewers can access at fixed monthly subscription rates.
---
Vizmedia anime YouTube channel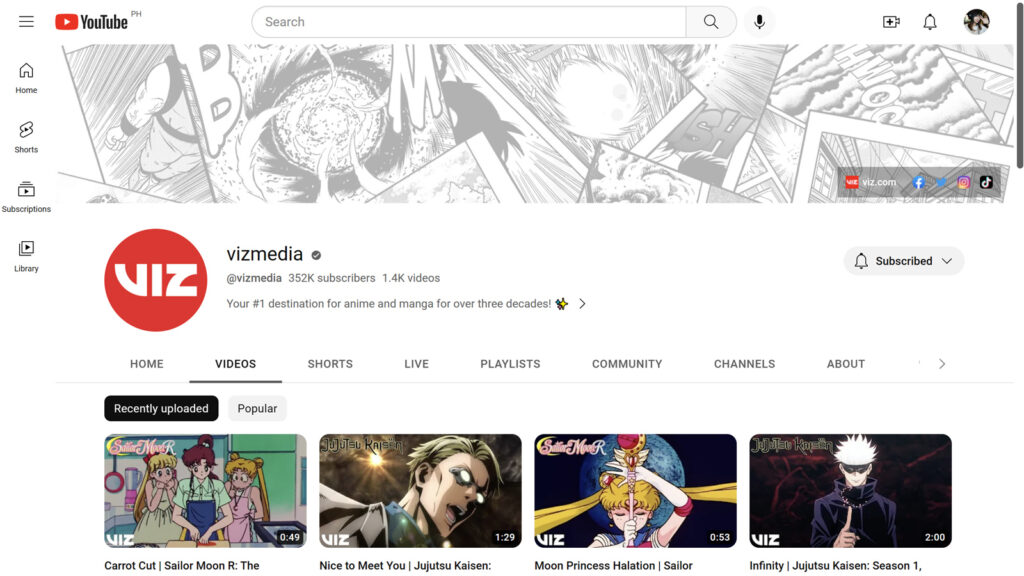 Suddenly feel the urge to watch classic anime series? Vizmedia's got your back!
The popular American manga distributor and anime licensee uploaded the complete seasons of Death Note, Inuyasha, and Sailor Moon on their YouTube channel. You can also watch the first few seasons of Hunter x Hunter, Mr. Osomatsu, and Naruto here.
However, note that some of their anime playlists are blocked in certain regions.
Discuss stories like these with us — join the ONE Esports Discord community.
READ MORE: Here are the 5 best anime bromances that prove men aren't heartless