The VCT NA Stage 2 Challengers open qualifiers was do-or-die time for several teams.
After disappointing performances in Stage 1, juggernauts Sentinels were left to battle through the qualifiers in order to reclaim their spot at the Main Event.
For teams like TSM who have spent the past year looking in from the sidelines, this was their last chance to finally make it to the big stage. The stakes were higher than ever, and teams who fail to qualify are out of the VCT circuit until 2023.
Before the group stage kicks off on May 13, here's a look back at the top 5 plays from the two open qualifiers.
---
---
Watch the top 5 plays from the VCT NA Stage 2 Challengers open qualifiers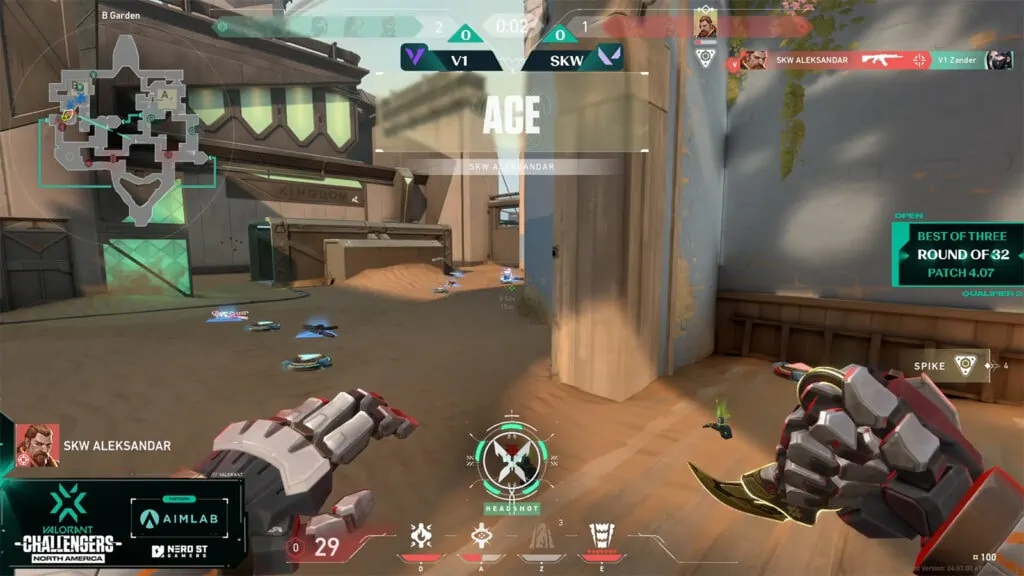 5. Skwirel Warriers' Aleksandar shows that squirrels are beasts
Aleksandar "ALEKSANDAR" Hinojosa's three-second ace against Version1 was a much-needed lifeline for his team during V1's bonus round.
Version1 had shut down Skwirel Warriers' B site execute on Bind, leaving ALEKSANDAR in a precarious 1v5 situation. The 20-year-old held his ground at B Garden, finding the heads of all five V1 players in a stunning display of crisp aim and composure.
---
---
4. Kanpeki shows why Sentinels picked him up
Eric "Kanpeki" Xu helped Sentinels take down his former team to qualify for the Main Event. Against Akrew in the lower bracket, Kanpeki found a 4K on Icebox as Chamber, stopping his opponents' retake dead in its tracks.
Holding a tight angle on B site, he peeked out to catch two Akrew players coming from Screens, before landing a sick flick on Jake "Paincakes" Hass at top site. He then teleported to Stairs and was able to secure a fourth kill on another player who swung him from Screens.
---
---
3. Bang bamboozles Akrew on Breeze
100 Thieves came out swinging on Breeze in their match against Akrew, where the rebuilt roster cruised to a dominant 13-1 victory on the tropical island. A sneaky 1v2 clutch from Sean "bang" Bezerra helped put them up 7-0, crushing Akrew's economy once again.
With the spike planted on A site, bang was up against two Akrew players who were pushing onto site from Mid Doors. Instead of holding on site, bang wrapped around from A Cave to flank the defenders from Mid, taking both players down in one fell swoop.
They never knew what hit them.
---
---
2. Ghost Gaming's brawk proves that the Odin is the best gun
Ghost Gaming is a newcomer to the Challengers Main Event, winning five straight series in the lower bracket to qualify in the second open qualifier. Up against Knights in their qualifying match, Brock "brawk" Somerhalder came up clutch with a huge 1v3 on Ascent.
The Sova player was faced with retaking the B site against three Knights players. He approached from Heaven, spraying down two players on site. He then fired a Recon Bolt to narrow down the location of the last player in Hell.
While Ashton "Frosty" Rakoske was able to destroy the dart, his shots gave his location away, allowing Brawk to get the wall bang kill from above.
---
---
1. Knights' ban saves the round with a 4K
Knights duelist Joseph "ban" Seungmin Oh was the hero of the day in Round 7 of their match against Evil Geniuses. EG's Corbin "C0M" Lee took down three Knights players as they pushed into C site on Haven, seemingly ending Knights' hopes of winning the round.
Ban stepped up to help turn the tide for his team with Jett's Blade Storm ultimate, finding the trade kill on C0M and taking down Alexander "jawgemo" Mor, who had pushed out from A Link. A risky push into A Link was rewarded by a kill on Jeffrey "Reformed" Lu, leaving ban in a 1v1 situation.
Retreating back to site to pick up the spike, he was fully prepared for Vincent "Apoth" Le, finding a crisp headshot as he walked around A Box.
---
---
The VCT NA Stage 2 Challengers Main Event begins May 13. You can check the full match schedule here. All matches will be broadcast live on the official Valorant Twitch and YouTube channels.
READ MORE: BIG round out Valorant roster with musashi and luckeRRR