They did it! Sentinels are back in the VCT.
In the first VCT NA Stage 2 Challengers open qualifier held just after Masters Reykjavik 2022, the Valorant NA powerhouse fell 2-1 to FaZe Clan in the upper bracket, and were subsequently eliminated by Luminosity Gaming 2-1 in the lower bracket, finishing 7th-8th place.
This put them in a tough spot because they had to win the second VCT NA Stage 2 Challengers open qualifier and finish top four to qualify for the Valorant Champions Tour Main Event — or sit out the rest of the VCT NA season.
After the return of coach Shane "Rawkus" Flaherty, Sentinels did indeed reach their goal, and qualified for the Main Event after an incredible 10-0 perfect run in the lower bracket.
---
---
Sentinels are back in form, and have qualified for the VCT NA Stage 2 Main Event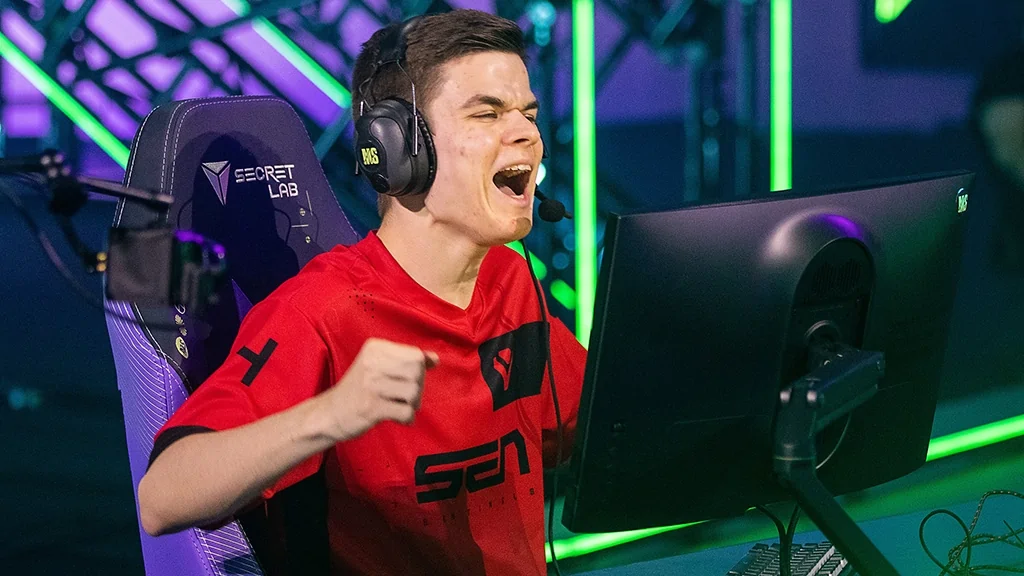 In the Upper Bracket Round of 16, Sentinels lost to Akrew 2-0, and fell to the lower bracket.
Staring from Lower Bracket Round 2, they went on to sweep PUGSTARS, Cosmic Divide, DarkZero Esports, SoaR, and Akrew to finish top four and qualify for the Main Event.
In the semifinals rematch against Akrew, Tyson "TenZ" Ngo and the squad looked absolutely dominant on Haven, which they won 13-1. TenZ popped off on Jett and finished with a 15/7/3 KDA and 291 ACS.
In round 14 on defense, he even pulled off a cheesy Judge play in the corner of A Short for a double kill.
On the second map, Icebox, it was a much closer game. Akrew fought for their tournament lives, but TenZ on Jett continued to step up to the plate, finishing with a 27/15/3 KDA and whopping 349 ACS.
Newcomer Eric "Kanpeki" Xu on Chamber, however, stole the spotlight and won the award for "flick of the day," as casters called it.
Tied 7-7 on round 15, Sentinels were on the attack. Taking a huge risk, Kanpeki snuck past Viper's Wall and tucked himself in a corner at A Site's default box. The moment Akrew pushed in, they got caught completely off guard by his position.
Swiftly, he killed two before flicking up to heaven for an unbelievable 3K.
This one round gave Sentinels enough momentum to take the lead, winning Icebox 13-9 to complete the 2-0 sweep over Akrew to qualify for VCT NA Main Event.
TenZ tweeted after the match that he felt that the team "finally looked like we were playing as Sentinels", and gave their coach all the credit.
IGL Shahzeb "ShahZaM" Khan also tweeted, assuring fans that they will "be prepared when groups start".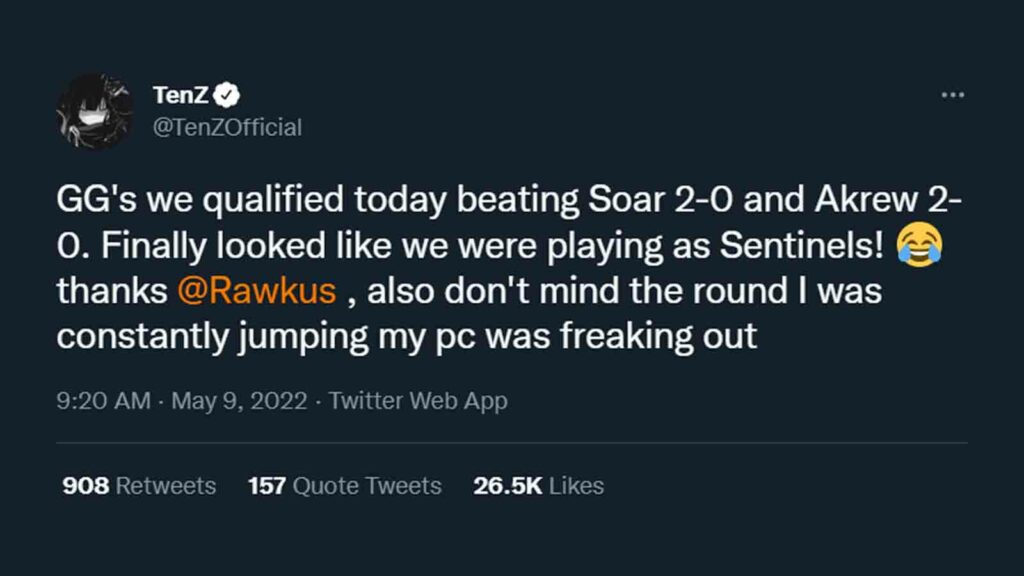 Sentinels were competing without a coach prior to this, for Rawkus had to depart the team on January 1 due to buyout complications from FaZe Clan.
Former CS:GO pro Tarik "tarik" Celik also criticized their management for the lack of a coach, as it gravely affected their performance.
Now that Rawkus is back, however, Sentinels appear to be on track once again. They join 100 Thieves, Evil Geniuses, and Ghost Gaming from VCT NA Stage 2 in the Main Event, which will begin on May 13.
Follow ONE Esports on Twitter for more Valorant news, updates, guides, and more.
READ MORE: NRG Ethan almost joined SEN's Valorant roster, says TenZ