After starting the VCT NA Stage 1 Challengers Group Stage with two match losses to both Cloud9 and The Guard, 100 Thieves' Valorant roster is undergoing some abrupt changes.
The organization has released Hunter "BabyJ" Schline and Adam "ec1s" Eccles, after playing just two matches with them. The duo will be replaced by Sean "bang" Bezerra and Noah "jcStani" Smith in the upcoming games.
Bang and jcStani join the 100 Thieves Valorant roster on loan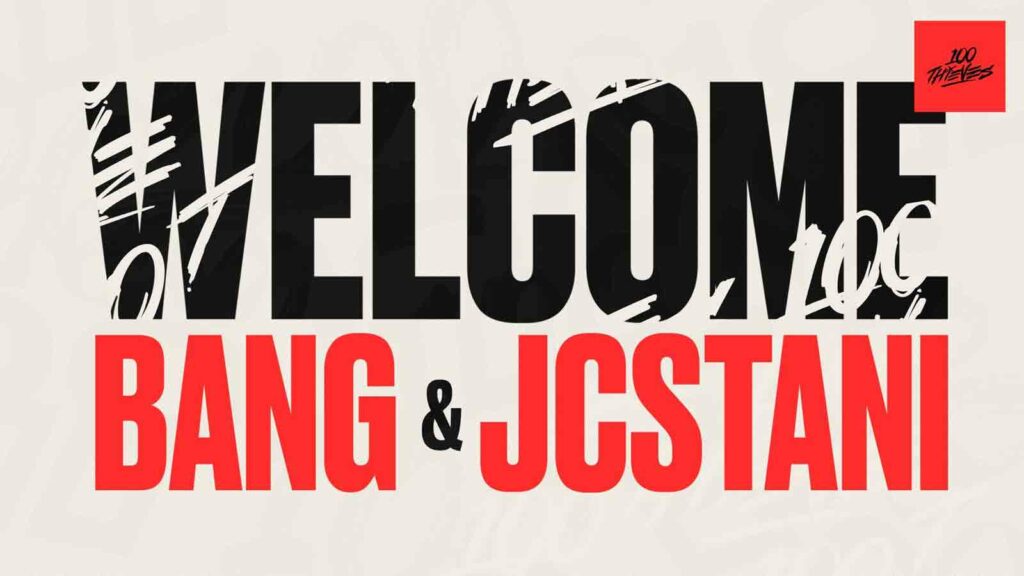 Both BabyJ and ec1s played a total of two VCT matches for 100T and were with the organization for less than 40 days. The two players first signed with the team on January 27, after the squad parted ways with Nicholas "Nitr0" Cannella and Aaron "b0i" Thao at the end of the VCT 2021 season.
The organization then moved its new roster to its AT&T gaming house in Dallas, Texas to bootcamp for the VCT NA Stage 1 Challengers Group Stage. Despite the preparations, 100T opened the Group Stage with losses to Cloud9 and The Guard to go 0-2 in their group.
Their last map as a team was a 0-13 loss to The Guard on Ascent, where their unorthodox zero duelist composition backfired.
---
---
After the game, 100 Thieves' founder Matthew "Nadeshot" Haag tweeted that the team's performance was "unacceptable". Just a day later, the organization announced that it was releasing BabyJ and ec1s, replacing them with Bang and jcStani in 100T's upcoming matches. Both players are on loan, with Bang still under contract with TSM, and jcStani signed with Pioneers.
Bang put on solid performances during his short stint with TSM, and he's regarded as one of the bright sparks in North American Valorant.
With the departure of ec1s from the roster, 100T's Ethan "Ethan" Arnold will be taking over in-game leader duties. In yet another change of roles, Spencer "Hiko" Martin said on Twitter that he would be "hangin' up the bow and arrow", hinting that he might be dropping his signature Sova to play another agent.
100 Thieves Valorant roster
Ethan Arnold (IGL)
Noah "jcStani" Smith
Jovanni "Jovi" Vera (Coach)
David "Rocket" Spencer (Assistant Coach)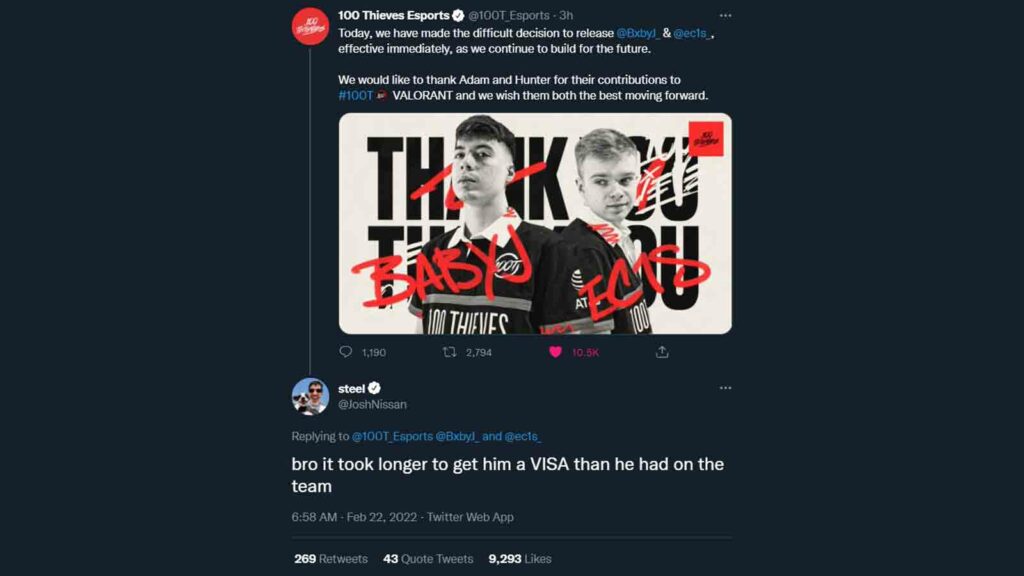 The move comes as a shock to the North American Valorant community. Players like Tyson "TenZ" Ngo, Joshua "steel" Nissan, and Tarik "tarik" Celik reacted with surprise, particularly as it seemed like the team had barely been given any opportunity to evolve or grow together.
100 Thieves' next VCT NA Stage 1 Challengers Group Stage match will be against Luminosity Gaming on February 28 at 5:00 a.m. GMT+8 | 1:00 p.m. PT | 9:00 p.m. GMT. You can watch the match live on Riot Games' official Valorant Twitch channel.
READ MORE: Valorant Masters 2022 may return to Iceland, according to deleted Weibo post