The revamped 100 Thieves Valorant roster is now complete with the addition of Derrek "Derrek" Ha, Brenden "stellar" McGrath, and William "Will" Cheng, the North American organization announced on April 15.
Following the retirement of 100 Thieves' first Valorant pro player and team captain Spencer "Hiko" Martin, along with the departure of Ethan "Ethan" Arnold, 100 Thieves is finally ready to start fresh with a roster built around its star player, Peter "Asuna" Mazuryk.
100 Thieves Valorant roster adds Derrek, stellar, and Will, who will play alongside Asuna and bang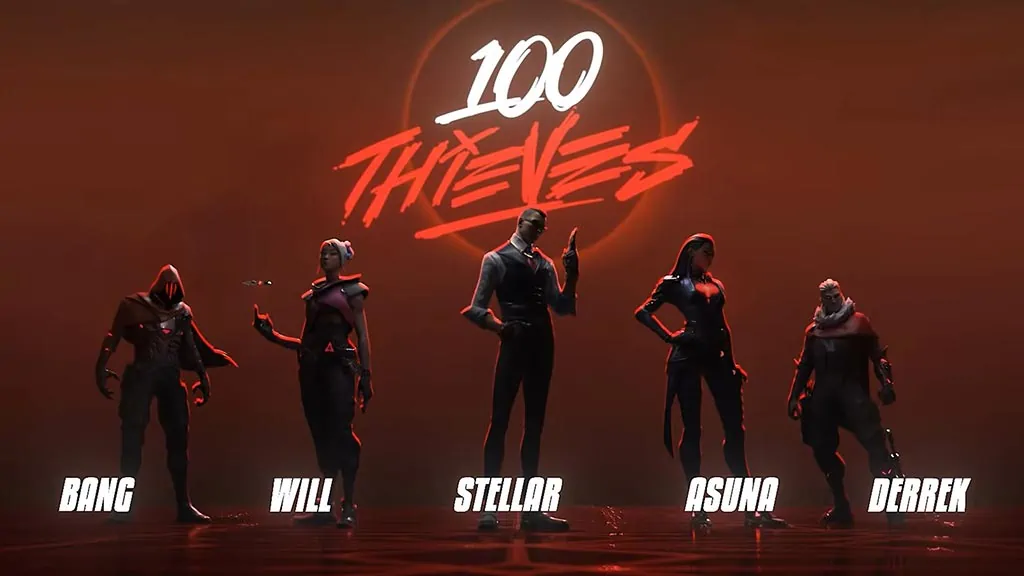 After falling short at the start of the VCT 2022 season, 100 Thieves recruited new head coach, Sean "sgares" Gares, and general manager, Daniel "ddk" Kapadia, and revamped their roster.
In 100 Thieves' announcement video, the ex-caster duo shared how the team was formed and what fans can expect.
Asuna will move to the flex role, which allows Will to take over as the team's new Jett main. Bang is comfortable in the controller role, while Derrek will be the team's Sova main.
It was also decided that Stellar, formerly from SoaR, will be the team's new in-game leader after he impressed ddk and sgares with his in-game decision-making.
Bang first joined 100 Thieves on loan from Built by Gamers during the VCT NA Stage 1 Challengers Main Event. With Noah "jcStani" Smith, they replaced Hunter "BabyJ" Schline and Adam "ec1s" Eccles, who were abruptly released during the second week of the group stage.
100 Thieves' new Valorant roster
Derrek "Derrek" Ha
Brenden "stellar" McGrath
Sean "bang Bezerra
William "Will" Cheng
Peter "Asuna" Mazuryk
---
---
100 Thieves was not able to retain Ethan, explained 100 Thieves' CEO Matthew "nadeshot" Haag.
"We had a really productive conversation about Ethan waiting while we tried to put the right players around him, and he agreed to that," nadeshot stated in his Twitch stream. "A couple of weeks later, he decided to explore other options for himself."
100 Thieves' CEO also stated that the organization had no intentions of working with Jay "Sinatraa" Won.
The 100 Thieves' revamped roster have their sights set on the upcoming VCT NA Stage 2 Challengers' open qualifiers with hopes of returning to international Valorant tournaments.
READ MORE: How Zeta Division pulled off their fairytale comeback at Masters Reykjavik 2022