Valorant may have finally fixed the problem of map repetition, according to a new developer update blog. If you've ever had to play four games of Breeze in a row, you'll know that the lack of map diversity can be extremely frustrating.
The new deterministic map system introduced in March's patch 4.04 appears to have successfully addressed the issue. Instead of promoting more "random" map selection, Riot worked on making it more diverse, deliberately selecting a map that would minimize consecutive maps for all players in a lobby.
Data from April tracking map streaks showed that the percentage of players encountering the same map three times in a row has dropped to a mere 0.06 percent, with zero negative impact on queue times or match balance.
However, it took a long time to get to the point where we are at today. In fact, when Valorant launched in June 2020, map selection followed a completely random system.
---
---
Map diversity has evolved over the past couple of years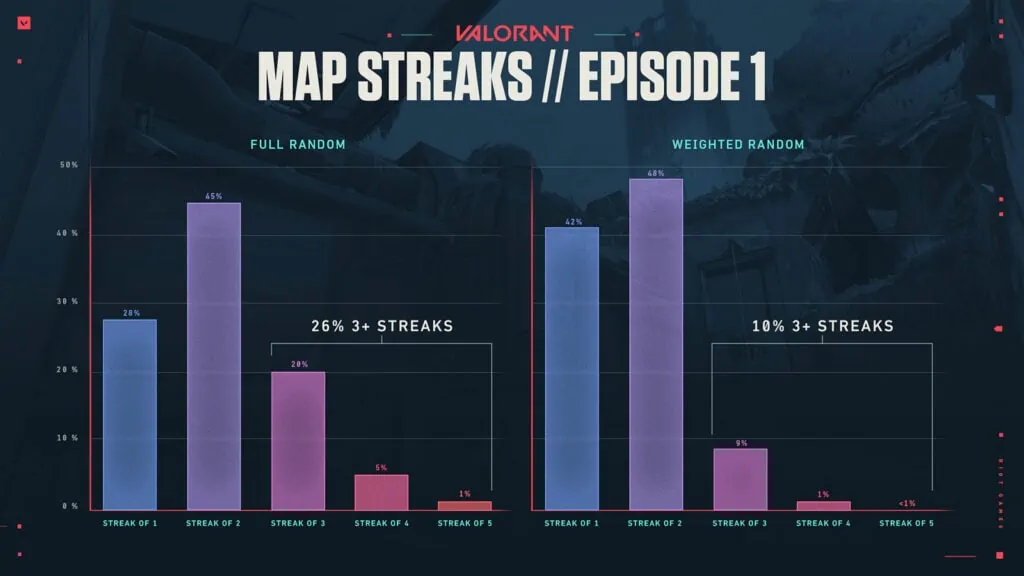 Up until patch 1.08, the map selector was as random as it could be. There were only four maps available back then – Ascent, Split, Haven, and Bind – with a 25 percent chance of getting each map. It did not matter whether a player had played that map recently, so with just four maps, repeated maps were quite a common occurrence.
Over the course of five games, 26 percent of players would see the same map three or more times, according to Riot.
The developer knew that something had to change. It implemented a "pseudo-random" selection system starting in patch 1.08, which aimed to select maps a player had not seen in recent games. This method favored maps that, on a whole, had not been seen by the 10 players in a lobby.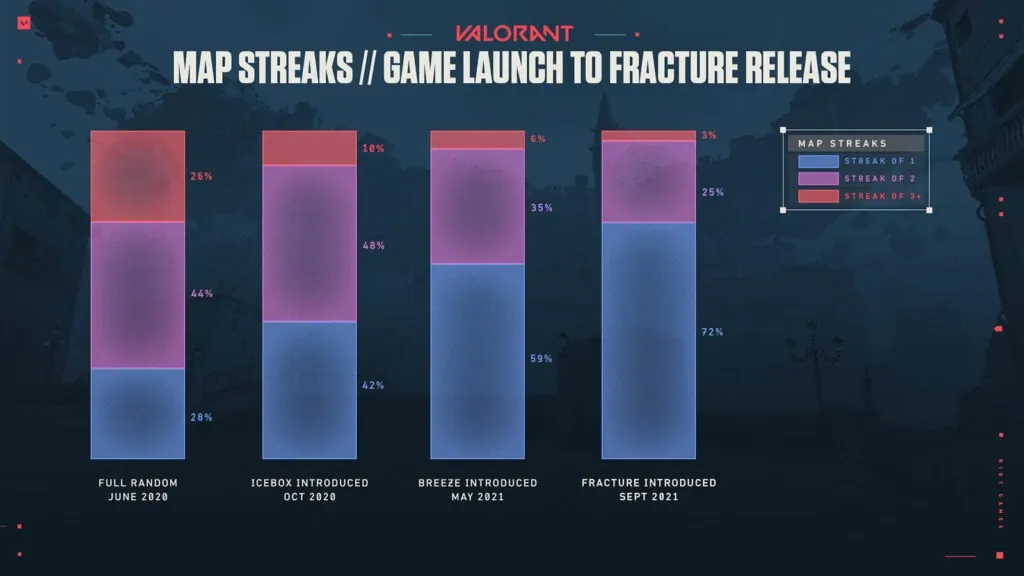 If any player had encountered a map more than once, that map was then heavily deprioritized. But while Riot wanted to reduce the number of map streaks, the selection itself was still a "weighted random" choice. This meant that while the probability of a repeated map might be lower, the system still lacked any way to exclude a certain map completely.
However, the number of players experiencing three-map streaks or more still went down significantly, from 26 percent to 10 percent.
The introduction of new maps naturally helped as well. Icebox was added in October 2020, followed by Breeze in May 2021 and Fracture in September. Between the addition of Icebox and Fracture, the percentage of three-map streaks or more decreased further from 10 percent to just 3 percent.
The final improvement was the deterministic map system rolled out in patch 4.04. In March this year, 67 percent of players said in a survey that they were still encountering the same map multiple times "Often" or "Very Often."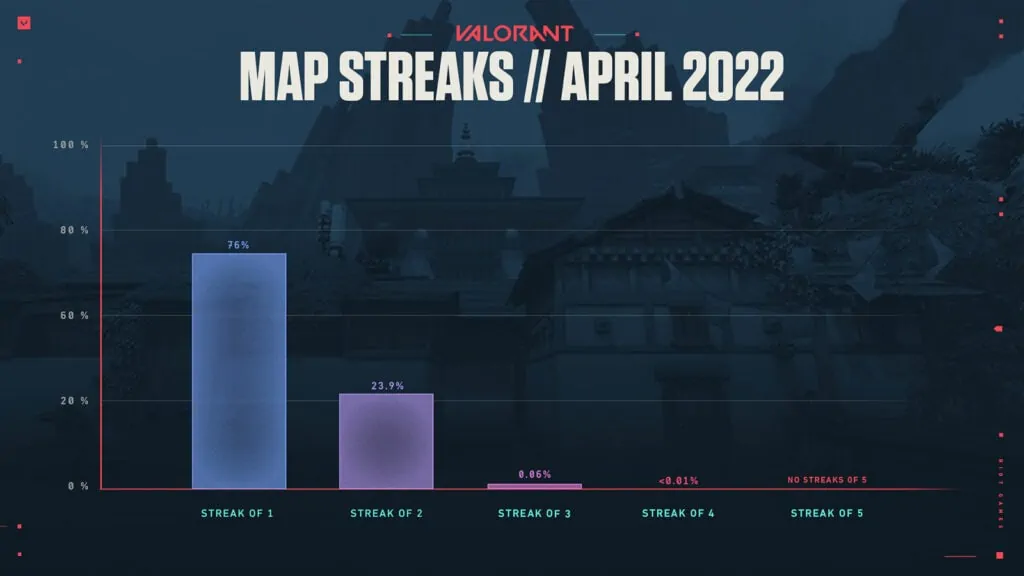 That alarmed Riot, which then decided to implement measures that would actively seek to prevent repeated maps. If a certain map showed up too often in your recent history, it would be removed from the selection pool entirely.
After that criterion had been applied for all 10 players in the lobby, the system would then select the map that everyone had seen the least.
The system has proved to be incredibly effective so far. Exactly eight out of several million players played the same map four times in a row in the first week of April, two of which were apparently serial queue dodgers, according to Riot. A total of zero players saw the same map five or more times in a row.
With results like that, Riot is now feeling extremely confident about its system to ensure map diversity, but it will continue to monitor the data to check if any changes need to be made.
You can read the full blog here.
READ MORE: Dubstep confesses to his crush after Team Secret win VCT Philippines Stage 2