We were treated to yet another flurry of non-stop Valorant action this past weekend with Riot Games' VCT NA Stage 1 Challengers Open Qualifier 2, where the remaining teams competed for the last four spots in the Stage 1 Challengers main event.
With their places already locked in at the main event, Sentinels, Team Envy, 100 Thieves, and Cloud9 did not have to play the open qualifiers.
In Open Qualifier 2, Evil Geniuses, Knights, Luminosity Gaming, and Rise advanced to the Stage 1 Challengers main event, joining Version1, XSET, The Guard, and NRG who go through from the first open qualifier.
The Stage 1 main event begins February 11, where all 12 teams will vie for a spot in the playoffs, and the highly coveted berths at the first Masters of the VCT 2022 season.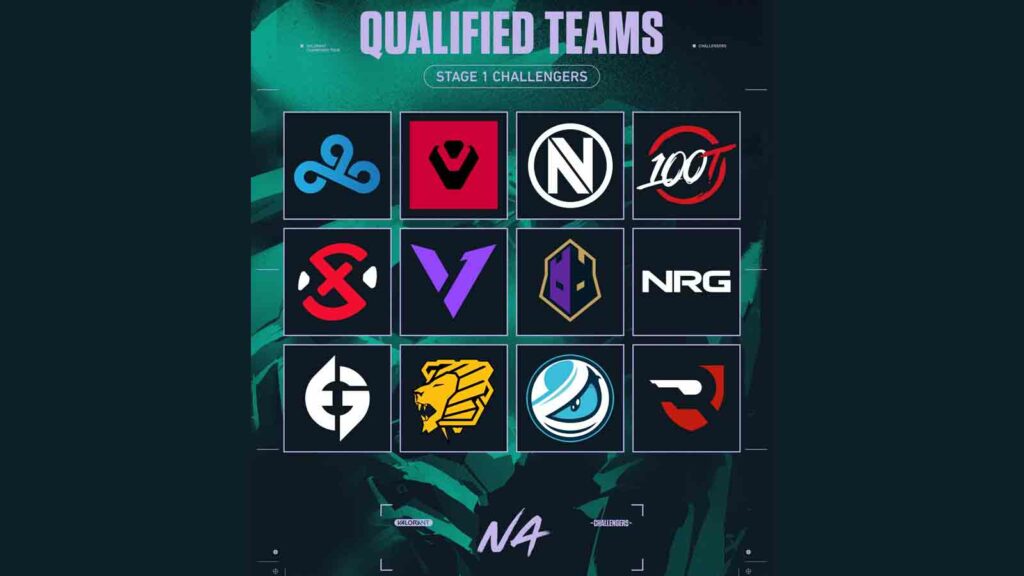 Here are the best plays from the second open qualifier, featuring daring aces, clever lurk plays, and individual heroics.
---
Top 5 highlights from the VCT NA Stage 1 Challengers Open Qualifier 2
5. Akrew's C0M aces SoaR on Haven
Akrew is an up-and-coming Valorant team that has earned wins over TSM, Pioneers, and Renegades in the open qualifiers. The team also went on a hot 34-game win streak across the Nerd Street Gamers Winter Championship Opens, Knights Monthly Gauntlet, and the Nerd Street Gamers Winter Championship Regional LAN Philadelphia, catching the attention of many observers.
During the VCT 2022 circuit, they came close to qualifying for the group stage, before falling to The Guard and Built by Gamers.
Corbin "C0M" Lee has shown that he has the mechanical talent to match his ability to read the game as the team's in-game leader. In the upper bracket Round of 16 match against SoaR, C0M stopped a C-site push on Haven from Garage with two quick kills on the Sheriff.
Knowing SoaR would try to rotate, he then pushed out of Garage to Mid Window to cut them off, spraying down the remaining three players with a Spectre and earning himself a well-deserved ace.
---
4. Team Rocket's Awkua gets behind enemy lines
Team Rocket reaped the rewards of an incredibly risky play in the Round of 64 match against DarkZero in the second open qualifier. While on attack on Icebox, Marco "Awkua" Li walked up Snowpile between two DarkZero defenders, displaying commendable trigger discipline before clearing up three of them to take B-site on Icebox.
The highlight has echoes of Virtus.pro's Janusz "Snax" Pogorzelski's sneaky beaky-like play from ESL One Katowice 2014, where he surprised Ninjas in Pyjamas on Mirage in the grand final.
---
---
3. Knights' Frosty is a demon on the Sheriff
Ashton "Frosty" Rakoske showed yet again why B-site's boathouse on Ascent is one of the most difficult positions to clear for attackers. Built by Gamers was up against Knights in the upper bracket quarterfinals when they decided to storm the B-site with 30 seconds left on the clock.
Armed with only a Sheriff, Frosty dismantled BBG's attack and even landed a rare collateral Sheriff headshot on two opponents, adding another clip to his next highlight reel.
---
2. Evil Geniuses' Boostio is a one-man army
Kelden "Boostio" Pupello single-handedly dismantled Rise's post-plant setup for Evil Geniuses' in the upper bracket semifinals match. Most players would wait to regroup before executing a retake, except Boostio, who made it his personal mission to root out every last Rise member on Bind's A-site.
This unexpected play worked beautifully for the 21-year-old Skye main, who ran straight into U-hall and took out four Rise attackers with crisp Vandal headshots. Evil Geniuses eventually beat Rise 2-1 and secured their spot at the Stage 1 Challengers main event.
---
1. A 3-second ace by Built by Gamers' b0i
It all happened in the blink of an eye. In three quick seconds, Aaron "b0i" Thao had wiped five enemy players from the server, securing one of the fastest aces in VCT history in the lower bracket semifinal against Rise.
The former 100 Thieves analyst and player was holding A Tree from in front of generator, and was about to get pincered by Rise from both A Main and Tree. Instead of retreating, b0i held his ground and challenged them head-on, eliminating three attackers at short with the Phantom before spinning 180-degrees to lock onto the heads of the remaining two players at A main.
READ MORE: EG pho: 'Cloud9 is playing close to optimal Valorant right now'