Many popular esports players are being sponsored by big brands, who assist them with travel, equipment, and other pro player gaming essentials.
However, this is not the case for Italian pro player Joshua "Ghirlanda" Bianchi, who made it to top 8 of the Tekken World Tour Global Finals 2022 (TWT Global Finals 2022).
In a Facebook post, Ghirlanda shared how he squeezes in online Tekken training into his schedule. Despite being a family man with two full-time jobs, he was still able to win the East Europe Regional Finals to represent his region in the world championship in Amsterdam, Netherlands.
His TWT run was no walk in the park either. In the group stage, he faced the reigning EVO champion Jae-Min "Knee" Bae from Korea, the reigning TWT champion Yuta "Chikurin" Take from Japan, and the only unified EVO champion Arslan "Arslan Ash" Siddique from Pakistan.
Even though he was put in a lions' pit, the 31-year-old player still managed to get out of the round robin group stage and qualify for the final bracket after an incredible 2-0 win against Arslan Ash.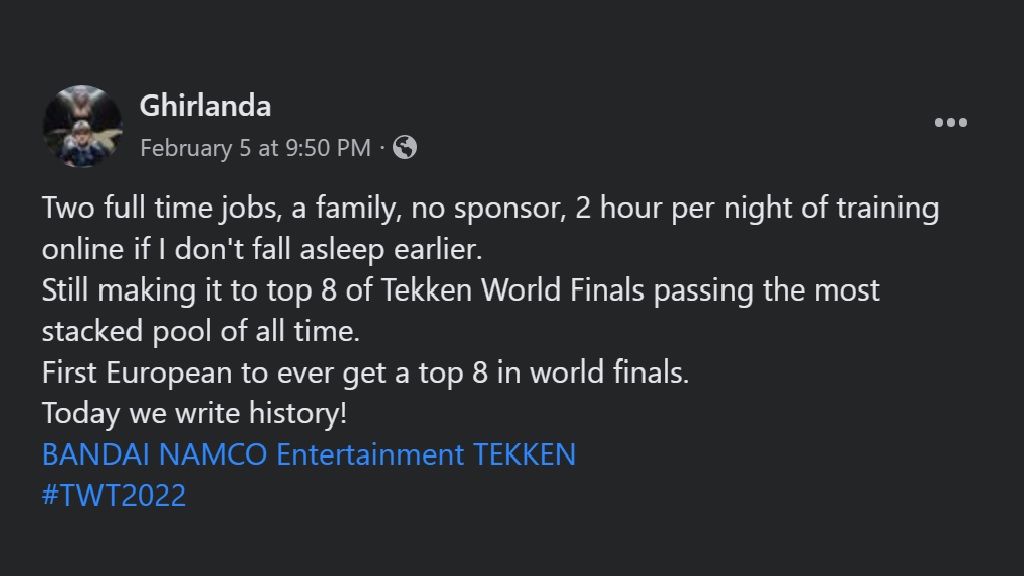 ---
---
Ghirlanda beats Arslan Ash in TWT Global Finals 2022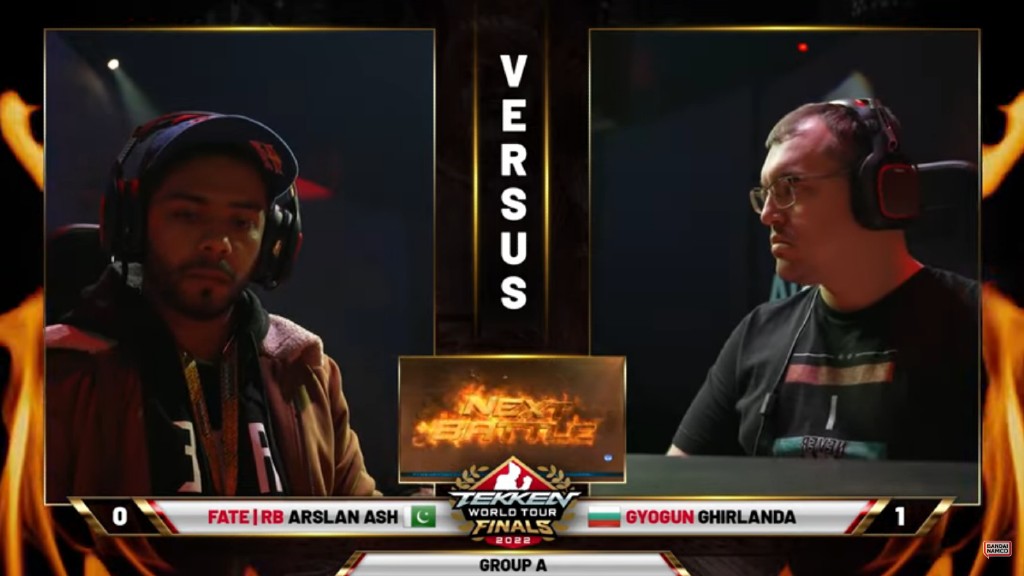 In their match in Group A, Ghirlanda's Katarina faced the Kunimitsu of Arslan in the small confines of Dragon's Nest.
Using the small space to his advantage, the Italian representative managed to outplay the Pakistani champion with counter attacks and proper wall positioning.
With a Greater Rhea (d/f+4) connecting on counter hit, he was able to perform a combo taking the first game with a Double Slap (1,1) pressure against the wall.
---
---
Sticking with Kunimitsu, Arslan decided to bring the fight to a wider stage and chose Infinite Azure 2, but this did not stop Ghirlanda at all. Pokes and counter hits interrupted most of Arslan's offense making it difficult for him to take a round.
The East European champion took the match 2-0 to advance to the final bracket, sealing Arslan's fate in the process.
Ghirlanda ended his TWT run in 4th place after he lost to Sang-hyun "Jeondding" Jeon, but not before eliminating Joseph "Joey Fury" Bennett and Daichi "Nobi" Nakayama.
Follow ONE Esports on Facebook for more esports news, guides and updates.
READ MORE: How to utilize the Korean backdash, according to JDCR