Updated on April 5, 10:57 a.m. (GMT+8): Added table with additional guides.
A big part of what makes Mobile Legends: Bang Bang great is it's progression system. It takes hundreds or even thousands of matches to reach the top of the rankings.
It also has unique in-game skins and cosmetics. Recalls and spawn effects are valued by players in the game, as they cost real money to purchase.
Some are time-limited, meaning you won't be able to buy them again after the sale period ends . All of these things can be flaunted on your MLBB profile, which shows the countless hours and diamonds you have spent in the game.
But what if all that hard work goes down the drain because of hackers and scammers who have infiltrated your account? Fortunately, there are ways to protect your account, and it only takes a few steps to set up.
---
How to protect your MLBB account
Use an official Moonton account
First off, make sure to use your Moonton account whenever you are linking your account.
It has the highest authority level and can easily be retrieved if your account gets hacked. It's also recommended that you enter a recovery email to further strengthen your account.
You can only create an official Moonton account in-game located in the account settings panel.
Take precautionary measures when your account is at risk
If you think your account is compromised, go to account settings and change your Moonton password. You can also sign out of all devices you've previously logged into. There is a record of where and when your device was logged into.
You can also disconnect any third-party platforms such as Facebook and Game Center by clicking the 3rd party account disconnect self-service button and reconnecting your own social media account.
---
---
Add secondary verification to your account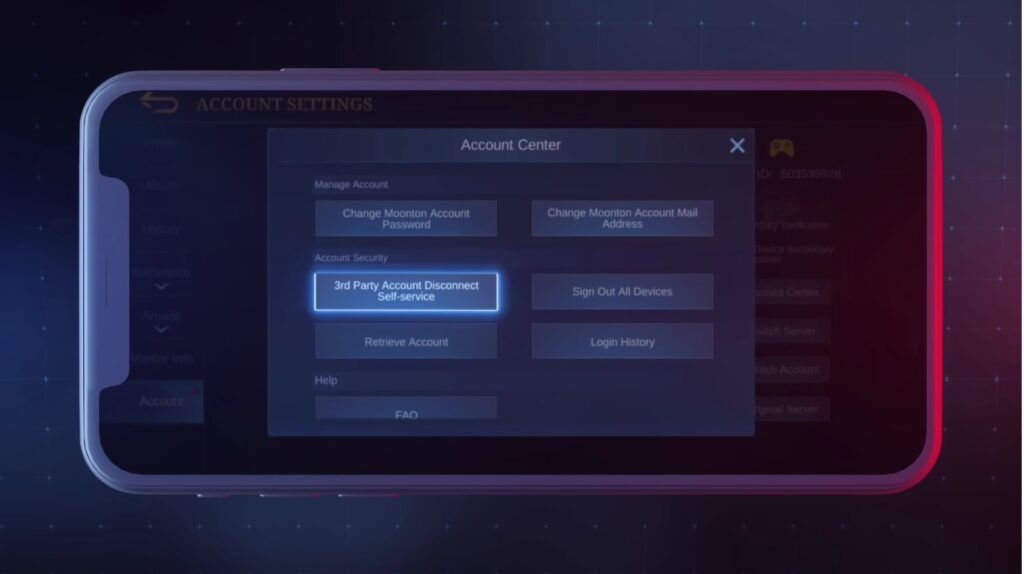 Adding another layer of protection to your account in the form of secondary verification further protects it from malicious threats. This will allow you to add a separate password for activities such as gifting and connecting.
To check how protected your account is, go to account settings and check the account security rating on the right side of the screen.
Tap on the number and follow all the steps, which involves turning on new device verification, secondary password, and new device secondary password verification. The higher the number is the better, with 100 being the most secured.
Check out Mobile Legends: Bang Bang's official Facebook page for more updates.
READ MORE: The best Balmond build right now in Mobile Legends: Bang Bang