Bren Esports has clinched a coveted playoffs spot after an intense best-of-three match against defending champions RSG PH in Week 7 of the Mobile Legends: Bang Bang Professional League Philippines Season 10 (MPL PH Season 10).
With both teams tied at one apiece, Bren Esports' Angelo "Pheww" Arcangel locked in Bane.
This is the first time the hero was picked in MPL PH and MPL ID this season. It was a risky choice against RSG's tanky lineup of Akai, Paquito, and Franco, but the M2 champions more than made it work.
Unlike the previous seasons where Bane was played in the jungle, Bren Esports took a gamble and fielded him in the midlane with magic items. Pheww put on an incredible performance on the off-meta hero, and even won MVP of the match.
---
Pheww dominates in decider with an off-meta magic build Bane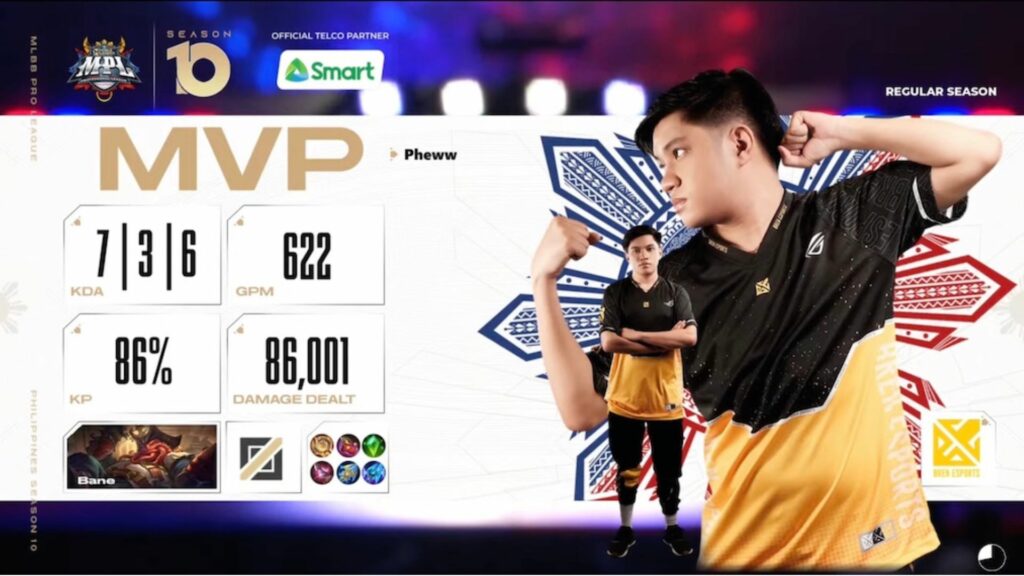 Bren Esports' team captain made his presence felt in the early game after securing first blood just two minutes in. Rowgien "Owgwen" Unigo's Atlas also played a huge role in setting up team fights by dragging enemies with Fatal Links into the Frozen King's ultimate.
The Deadly Catch-Fatal Links wombo combo was very effective, as Pheww secured kills left and right from the early to mid-game.
Bren Esports eventually took the insurmountable lead at the 16-minute mark after they secured the Enhanced Lord, which pushed the midlane. When the Lord was at RSG's base, Bren ignored everything and went straight for the crystal for the 2-1 victory.
---
---
---
Why has magic damage Bane resurfaced?
In the post-game press conference, Pheww explained why out of all the midlane heroes that were available in that match, he went for a fighter hero who has fallen off the meta for the longest time.
"I don't play him as much," the 23-year-old veteran explained. "Then just this week, he was buffed in a recent patch so I wanted to try him out."
Mobile Legends: Bang Bang Patch 1.7.20 focused on nerfing heroes who have been dominating the current meta, but also buffed some less popular heroes such as Bane. He received a small buff on his second skill, Ale. It now deals more damage, and its base HP regeneration was increased as well.
This small, but impactful buff was similar to his rework in patch 1.5.62 last year where he received magic scaling on Ale and Deadly Catch, along with massive improvements to his stats.
The Frozen King was considered overpowered at that time, and was quickly nerfed in the following patches until he was nowhere to be seen again in ranked and pro play.
Pheww's Mage Bane build
Clock of Destiny
Magic Shoes
Lightning Truncheon
Holy Crystal
Winter Truncheon
Divine Glaive
Follow ONE Esports on Facebook for more Mobile Legends: Bang Bang esports news and updates.
READ MORE: EVOS Legends VP on losing streak: 'We don't deserve to qualify for playoffs'