No one expected sidelane Kimmy in a professional game until Mobile Legends: Bang Bang patch 1.6.18 rolled out a few days ago.
Backlist International's Kiel "OHEB" Soriano brought out the hero in Week 5 of the Mobile Legends: Bang Bang Professional League Philippines Season 8 (MPL PH Season 8), extending their win streak after defeating RSG PH.
Blacklist International OHEB's sidelane Kimmy MVP performance
In the second game of the series, Blacklist International's gold laner locked in sidelane Kimmy to the surprise of many. Kimmy was once a strong pick in pro play until numerous nerfs to her kit made her unplayable.
Now, the hero is back in the hands of one of the best gold laners in the region. It was a solid performance, as Blacklist International won in a dominating fashion.
OHEB's sidelane Kimmy finished with a whopping 6/1/2 KDA, earning him MVP honors for the second game.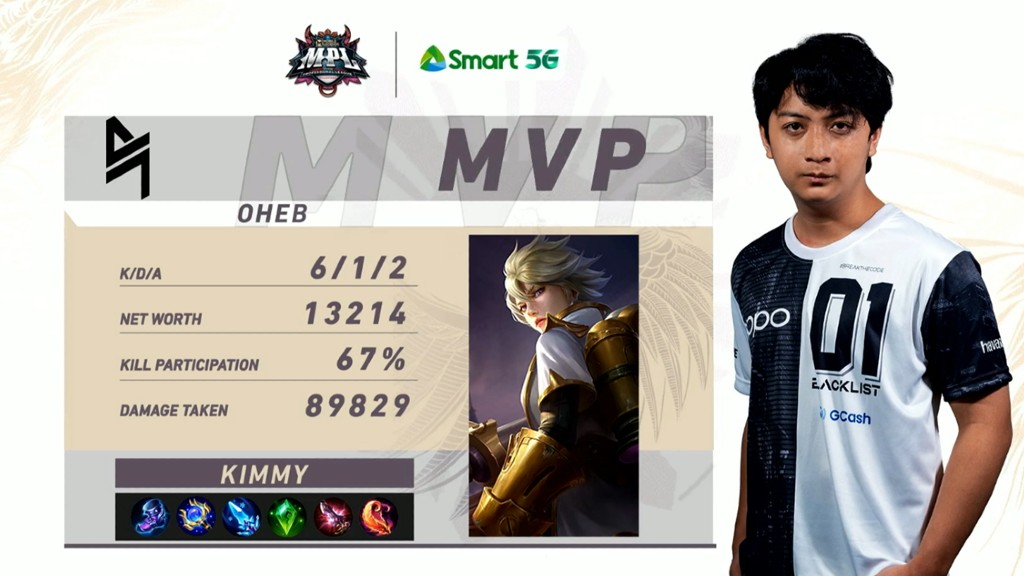 He also was the largest contributor in team fights, dishing out 89,829 damage in total in this one game alone.
Blacklist International's OHEB best build for sidelane Kimmy in MPL PH Season 8
Arcane Boots
Genius Wand
Ice Queen Wand
Holy Crystal
Divine Glaive
Blood Wings
---
---
Coach BON CHAN reflects on their Kimmy pick in MPL PH Season 8
According to Blacklist International coach Kristoffer Ed "BON CHAN" Ricaplaza, they decided to lock in this pick after the latest patch 1.6.18, which favored marksmen heroes.
"The game just got more exciting," he said. "Marksmen heroes who were rarely used are now being picked again."
Even though the team has been successfully experimenting with these picks, BON CHAN admitted, "The patch is not favored for us as there are more teams who can take advantage of the strength of marksmen heroes."
READ MORE: Aura Fire's High on the tank jungle meta: 'Don't try it in rank!'