Legendary T1 mid laner Lee "Faker" Sang-hyeok may have his own building and two BMWs at the age of 25, but he doesn't always have it easy.
On top of preparing for MSI 2022, which runs from May 10 to 29 in Busan, his time during the offseason is occupied by ad photoshoots, fan meets, live streams, and Korea's Asian Games team selection in Gwangju.
As part of their contract with live stream platform Douyu and previously Twitch, T1 players usually have to stream a set number of days even during the offseason, and it's taking a toll on Faker.
On his stream Sunday, the 25-year-old opened up about being unable to focus on playing League of Legends because of the sheer number of obligations he has to fulfill.
Concerned about the players' well-being, fans took to social media to express their unhappiness toward T1's management. In response, T1 canceled the players' scheduled live broadcasts on Sunday.
---
---
Sunday's T1 streams were canceled after Faker said he was overwhelmed by his schedule
While he was streaming on Sunday, Faker revealed that his "living pattern is seriously broken" due to his schedule.
"Schedules are really rough, and stream schedules are really bad," he said, according to a translation by Rumorman on Twitter.
"This week has been exhausting [because of my schedule], it's really hard to concentrate on playing League of Legends."
The 25-year-old also apologized to fans for not being able to stream in his best condition.
The stream VOD, which is usually uploaded on T1's YouTube channel, has yet to be published at the time of writing.
Support Ryu "Keria" Min-seok was asked to comment on what Faker said, and he agreed that it would be difficult for anyone, not just Faker, to focus on the game with such a packed timetable.
"I think that if you are able to play with this condition, it's honestly weird," said Keria, according to a translation by Twitter user @bugguenga.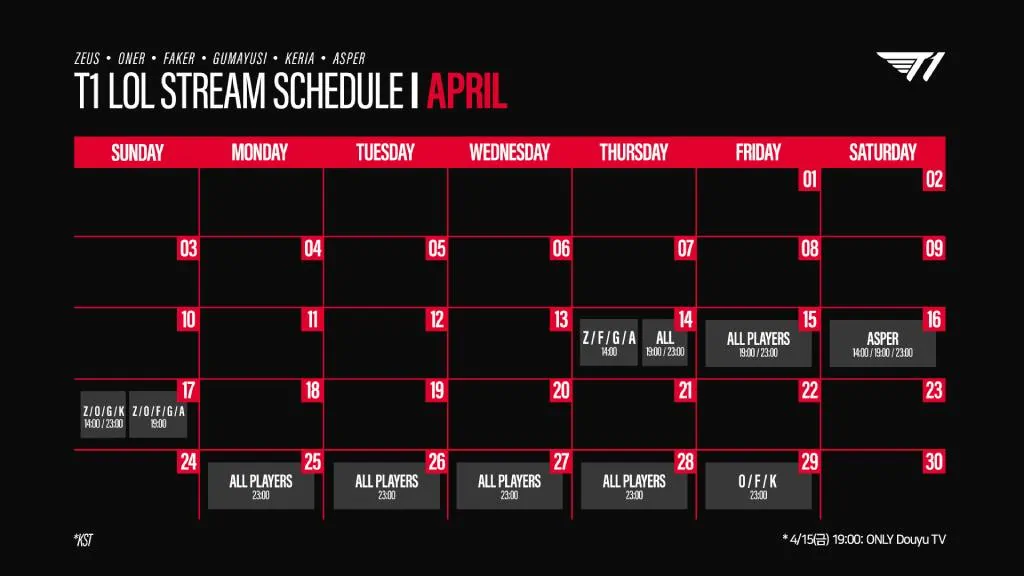 T1 players have been streaming on YouTube and Douyu since Thursday, sometimes broadcasting three sessions in a single day.
The situation is further compounded by Korea's Asian Games team selection, which is also taking place this week. Tryouts are scheduled on April 23 with the 10 shortlisted players, including all five T1 starters.
Six players will then be selected to represent South Korea at the Asian Games in Hangzhou, China, from September 10 to 25.
According to a report by Kukmin Ilbo, KeSPA sent teams the Asian Games preparation schedule only after the LCK Spring final on April 2. Initially, the players were supposed to take a two-week break, but they were called up for the national team selection on April 18.
This is the same week that the players were supposed to fulfill their offseason obligations after returning from their vacation. As a result, the team had to bring forward their live broadcast schedule, cutting into their vacation time.
Faker and his teammates are currently in Gwangju for Korea's Asian Games team training camp until April 24, before they resume streaming from April 25 onwards.
READ MORE: Pantheon trades girth for length, buffs may not be as big as you think