After months of waiting, esports fans have finally caught a glimpse of the highly anticipated DRX Worlds skins. This exclusive line of skins pays tribute to the League of Legends Champions Korea (LCK) team's remarkable victory at Worlds 2022, which took place from September 29 to November 5, 2022 in North America.
The official splash art showcases a selection of six champions meticulously chosen by DRX's triumphant roster. Each skin exudes a mesmerizing celestial dragon theme, intricately crafted with captivating blue and indigo color schemes.
This design choice draws inspiration from DRX's colors, creating a seamless fusion of aesthetics. The dragon theme also incorporates elements from DRX's previous team name, DragonX, adding a nostalgic touch to the collection.
---
---
Riot Games reveals DRX Worlds skins and the first-ever Worlds prestige skin
The collection incorporates the inclusion of substitute jungler Lee "Juhan" Ju-han, who made two appearances during the Play-In Stage, fulfilling the criteria set by Riot Games.
The unveiling of the DRX Worlds skins was accompanied by a special video showcase, featuring all six players depicted in anime-style art alongside their chosen champions from the line. The captivating short clip also showcased memorable moments from the final series, in which DRX emerged triumphant with a hard-fought 3-2 victory over T1, securing their position as the 2022 champions.
It is worth highlighting that Hwang "Kingen" Seong-hoon, who played a pivotal role in DRX's success, was awarded the prestigious DRX Worlds 2022 Prestige Aatrox skin as a testament to his outstanding performance as the most valuable player (MVP) of the tournament.
Full list of 2022 DRX Worlds skins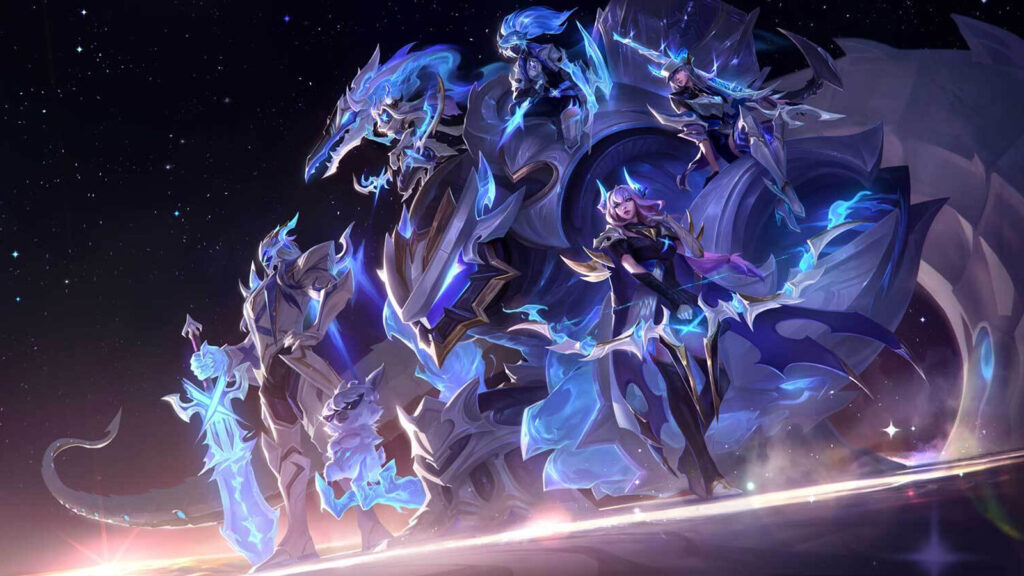 | | | |
| --- | --- | --- |
| ROLE | PLAYER | SKIN |
| Top laner | Hwang "Kingen" Seong-hoon | Aatrox, Prestige Aatrox |
| Jungler | Hong "Pyosik" Chang-hyeon | Kindred |
| Substitute player (jungler) | Lee "Juhan" Ju-han | Maokai |
| Mid | Kim "Zeka" Geon-woo | Akali |
| Bot laner | Kim "Deft" Hyuk-kyu | Caitlyn |
| Support | Cho "BeryL" Geon-hee | Ashe |
The six skins are currently on the Public Beta Environment (PBE). Fans can look forward to their release on the League of Legends client sometime in June when patch 13.11 drops.
Taking into account past releases of Worlds skins, each of the DRX Worlds skins will be priced at 1,350 Riot Points. Furthermore, the highly sought-after prestige skin will be obtainable for 125 Mythic Essence through the Mythic Shop.
Watch the full Worlds 2022 skin animation below:
---
---
Prior to finalizing the designs of these skins, BeryL personally asked the Riot Games team to model his DRX Worlds Ashe skin after a character from Honkai Impact 3, to which they said yes.
"I shyly showed them a picture of Elysia. Every time I see her design, it looks so nice," he wrote. "I got publicly executed."
Here's our exclusive interview with the DRX support player, where he shares his love for gacha games and anime.
Follow ONE Esports on Facebook and Twitter for more LoL news, guides, and highlights.
READ MORE: Exclusive: The mindset of a champion — G2 Caps shares his self-reflective method