Many League of Legends esports fans expected the all-Korean LCK winter Worlds 2022 final to go 3-1 in T1's favor, but DRX, against all odds, edged them out 3-2 in a thrilling best-of-five series.
The fourth seed LCK underdogs, who started their journey in the Play-Ins (where they changed their cash to the wrong currency), added another shocking upset to their streak. After qualifying for the Knockout Stage, they then went on to defeat Worlds 2021 champions Edward Gaming 3-2 in the quarterfinals, and LCK Summer champion Gen.G 3-1 in the semifinals.
In the final, the anime arc saw former Mapo High School mates Lee "Faker" Sang-hyeok and Kim "Deft" Hyuk-kyu on opposite sides of the Rift. They debuted at the same time in 2013, but almost 10 years later, Faker had three championship titles to his name while the other had none.
Today, Deft finally achieved his lifelong dream, winning his first-ever world championship with DRX.
---
---
DRX are your Worlds 2022 champions! They beat T1 3-2 in intense series that went the distance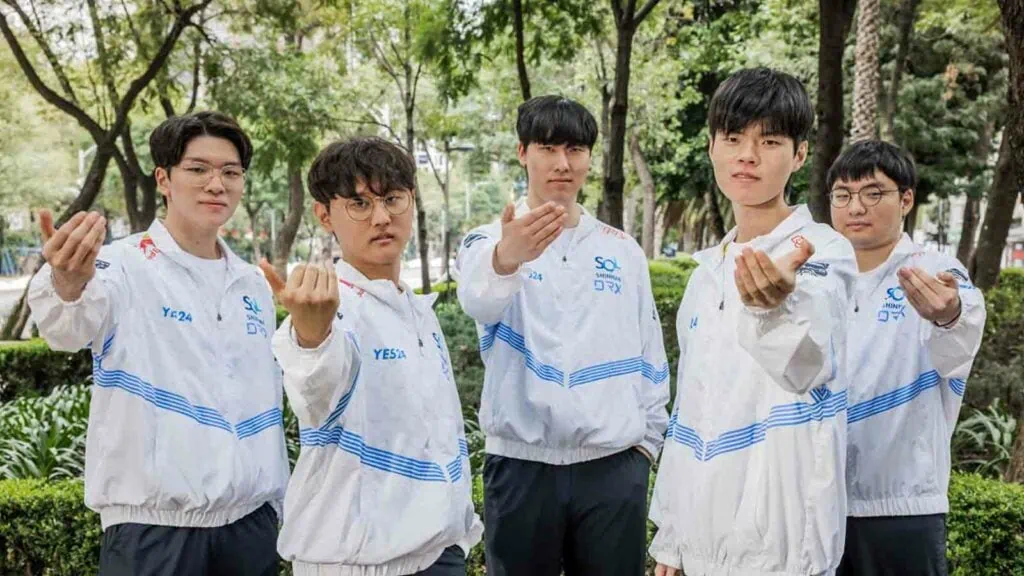 T1 dominated game one with Faker leading the way on his signature champion, Azir. Top laner Choi "Zeus" Woo-je was also having a good time on comfort champion, Yone, while Lee "Gumayusi" Min-hyeong poked on Varus. These three champions were key in helping them push past JD Gaming in the semifinals one week ago.
Undeterred, DRX drafted Heimerdinger support a second time for Cho "BeryL" Geon-hee and continued to empower mid laner Kim "Zeka" Geon-woo on Sylas in game two. The key difference was that they were on blue side, which allowed them to first pick Varus. T1 responded with Ashe and Lux support to match his range at bot.
Both teams kept it competitive, with T1 even securing the Ocean Dragon Soul. At the 45-minute mark, they started Baron, but DRX were calculated in how they approached the 4v4 — Hwang "Kingen" Seong-hoon's Camille came in from top side, while Hong "Pyosik" Chang-hyeon's Viego pincered from the other.
---
---
Meanwhile, Deft's Varus positioned himself in the jungle across the river, completely untouched throughout the fight, which allowed him to deal maximum damage. Taking down four, they ran straight down mid to even out the series.
T1's game three win will go down in history books but not for the reasons one might expect. DRX were in control of the game, leading in kills, but while they were doing Baron at the 24th minute with Smite available and Kalista on their team, out of nowhere, jungler Mun "Oner" Hyeon-jun strolled into the pit and smited it.
With the buff, T1 swung the tempo and gold in their favor. Just six minutes later when DRX committed to the second Baron, Pyosik unfortunately smited early and had no coordination with Deft again. At the very last second, Lee "Gumayusi" Min-hyeong's Piercing Arrow stole it a second time.
---
---
LoL viewers wondered how tilted DRX might have felt after that, but judging from their performance, they had managed to compose themselves and play a slow and steady game four. This time, Zeka got his hands on Azir, while Deft continued playing Varus alongside BeryL's Renata Glasc.
T1 innovated with Soraka support, which was a strong pick in the laning phase. Despite shutting down DRX's bot lane early, Pysoik's Maokai, Kingen's Aatrox, and game-changing ultimates from Zeka led them to a decisive 28:44 win, the fastest game this series.
Down to silver scrapes, game five's draft went surprisingly in DRX's favor. T1 first-picked Karma, giving two power picks over to DRX on red: Azir, and for the first time this series, Caitlyn for Deft which was unbanned. The Piltover sheriff is one of his best champions, and is also the same AD carry pick that helped them overcome Gen.G in the semifinals.
Looking at T1's immobile AP carry Viktor and AD carry Varus, DRX took a risk on Hecarim jungle and Bard, two champions that provided more options to access the backline.
---
---
Unfortunately, at the 20-minute mark, history repeated itself — DRX were doing Baron with a numbers advantage when Gumayusi's Varus sneaked up to the pit at the last second, blindly stealing it with Piercing Arrow.
Both sides held their ground despite the ups and downs, knowing how important this last game was. When Elder Dragon spawned at the 40th minute, DRX, with Mountain Dragon Soul, knew that this was their ultimate win condition.
T1 made the call for Oner to stay in the pit to contest it, while their AP and AD carries teleported bot lane where a minion wave was pushing in towards the broken inhibitor in a backdoor attempt. This time around, Pyosik managed to secure the one objective that truly mattered.
Zeka and Kingen rushed back, successfully defending their base. Collectively the team killed four T1 members and together, marched down mid to claim the Worlds 2022 championship. For his contributions in this series, Kingen was awarded the MVP.
In the post-game broadcast interview, 26-year-old Deft reflected on what it meant to him to finally call himself a world champion.
"Ever since my debut, every single night I've been dreaming about myself winning the world championship. It was only a dream, but now, I've made it. I'm so happy right now," he said. "One thing I wanted to say was 'I'm the best player in the world,' but today I realized that being the best player doesn't matter. It is about our team being the best in the world."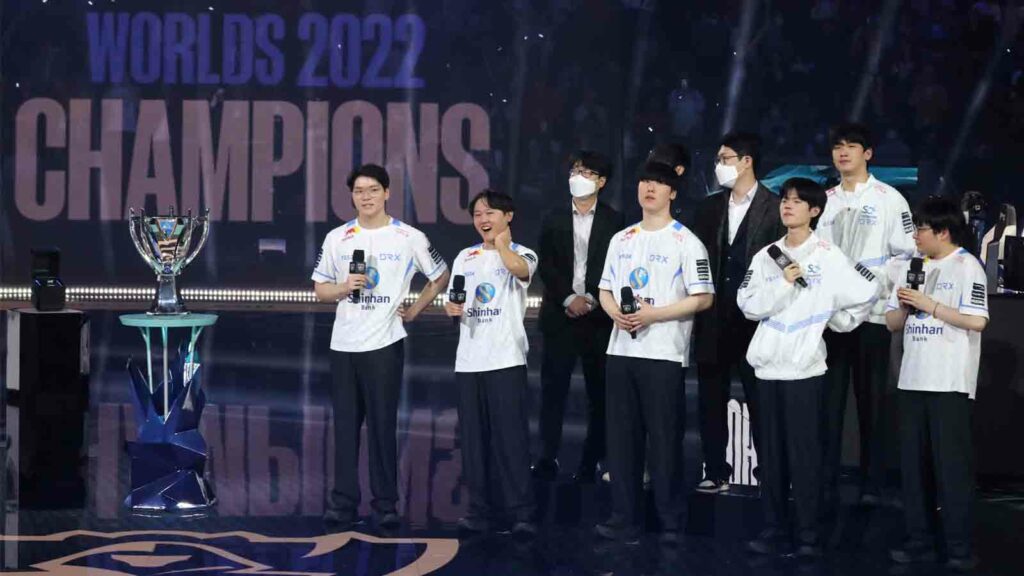 "My best talent is League of Legends. If I cannot be the best playing LoL, I told myself I won't find any success in life. That's why I didn't want to give up," Deft added.
BeryL's personal achievements are also significant. He made it to the Worlds finals in the last three years in 2020, 2021, and 2022, and won twice on two different teams, DAMWON Gaming, and now DRX.
This is the first time in LoL esports history that a Play-In team has won the championship. Past winners started their journey from the Group Stage.
Follow ONE Esports on Facebook and Twitter for more LoL news, guides, and highlights.
READ MORE: Full list of League of Legends Worlds winners throughout the years