Day 1 of the League of Legends Mid-Season Invitational (MSI 2022) Rumble Stage featured an incredible match between LEC's G2 Esports and LCK's T1.
Both teams held flawless records in the MSI Group Stage, extending their win streaks from Spring 2022. G2 garnered a 12-match win streak since the LEC playoffs while T1 held an impressive 26-match win streak after a perfect LCK season.
With MSI being held in Busan, South Korea, all eyes were on veteran Lee "Faker" Sang-hyeok and T1 to continue their win streak, but G2 Esports was ready to beat the odds with a team composition centered around Yasuo.
G2 Esports' wombo combos dismantled T1 at the MSI 2022 Rumble Stage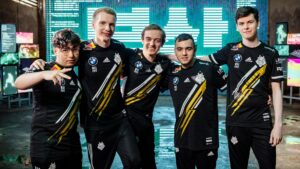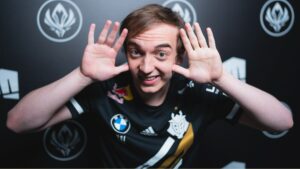 While Rasmus "caPs" Borregaard Winther had already showcased his Yasuo earlier in the tournament, G2 wanted to fully prioritize the mid lane champion against T1. The team drafted Ornn, Diana, Kalista, and Rakan to provide as many knock-ups as possible to trigger's Yasuo ultimate, Last Breath.
Despite facing a gold deficit after the laning phase, the LEC team picked up the slack by initiating team fights. At the 26-minute mark, G2 Esports's knock-up composition worked wonders during a Baron contest.
G2 Esports' bot duo of Raphaël "Targamas" Crabbé's Rakan and Victor "Flakked" Lirola Tortosa's Kalista were exceptional in delaying the Slicing Maelstrom of Choi "Zeus" Woo-je's Kennen. The two players kept Zeus airborne by using Grand Entrance and Fate's Call in quick succession.
The Kennen player flashed in to join the fight in the river, but was knocked up once again by Call of the Forge God from Sergen "Broken Blade" Çelik's Ornn. As soon as Marcin "Jankos" Jankowski's Diana came out of stasis, he quickly popped Moonfall to grab a double kill on Zeus and Ryu "Keria" Min-seok's Rell.
Despite the numerous knock-ups, caPs was still waiting for the perfect moment to use Yasuo's ultimate. Near the end of the fight, the mid laner landed a pinpoint Whirlwind on Lee "Gumayusi" Min-hyeong's Tristana and unleashed Last Breath, securing the third kill, leading his team to an uncontested Baron.
---
---
---
During their final push into T1's base, G2 Esports continued to roll out the wombo combos. Once Targamas caught out Faker's Twisted Fate and Gumayusi with Grand Entrance, caPs instantly followed with Last Breath as the rest of the G2 piled on to eliminate Faker.
Working off the 3v5 advantage, G2 marched into the base with minions to claim the Nexus and shatter T1's win streak on the international stage.
---
---
LS explains why G2's wombo combo composition worked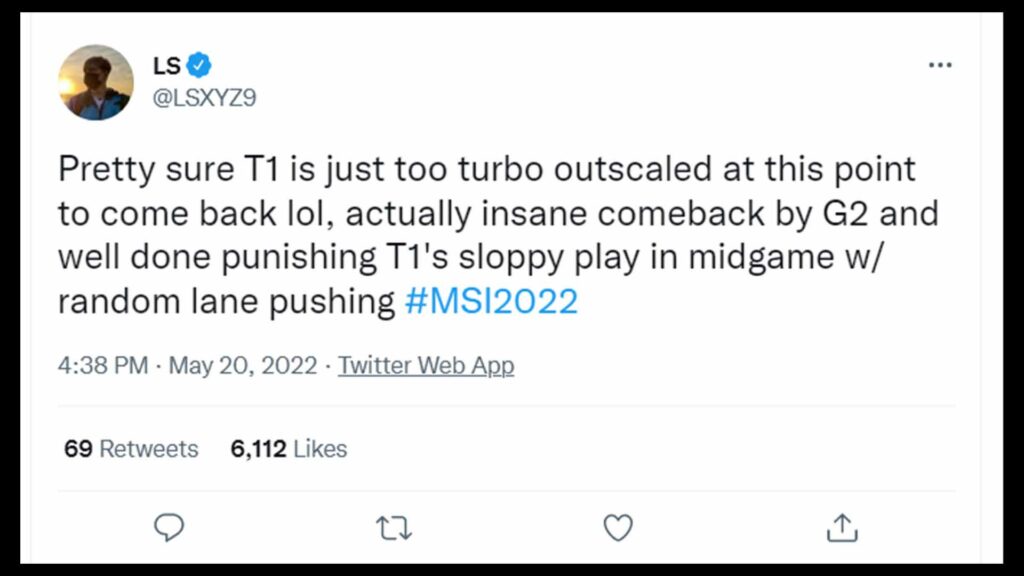 LoL personality Nick "LS" De Cesare weighed in on the insane comeback by G2 Esports.
The streamer mentioned that T1 was "just too turbo outscaled" by G2's team composition. The LEC representative had great scaling thanks to Ornn's passive, Living Forge, which provided masterwork items to the entire team.
Even with T1's initial 6,000 gold lead, LS said that it still wasn't enough to beat G2's scaling, and that the LEC team's mid game takeover was an inevitable outcome.
G2 Esports will face Evil Geniuses tomorrow at 5 p.m. GMT+9 | 4 p.m. GMT+8 | 8 p.m. GMT | 1 a.m. PST. Watch the MSI 2022 matches live on Riot Games' official Twitch and YouTube channels.
Follow ONE Esports on Facebook and Twitter for more LoL news, guides, and highlights.
READ MORE: G2 Jankos: 'I wasn't stressed about any game in the MSI 2022 Group Stage'