After three weeks of LCS Spring 2022 playoffs matches, everything came to a close over the weekend when Evil Geniuses swept 100 Thieves 3-0 in the grand final at the NRG Stadium in Houston, Texas.
For the first time in the organization's history, they were crowned LCS champions, and will represent the region at this year's Mid-Season Invitational in South Korea.
To get to the final, they first had to take on Team Liquid in the lower bracket final on Saturday. It was an explosive series right from the start that involved Baron mechanics, a steal, and a pentakill in game one.
---
---
Evil Geniuses' Danny took advantage of this Baron mechanic to clutch a steal and follow up with a pentakill
Team Liquid finished first in the LCS Spring 2022 regular season with a 14-4 game record, which put them in Round 1 of the upper bracket against Evil Geniuses, who finished fourth.
In a close series that went the distance, Team Liquid eventually edged out their opponents 3-2. They were then bested by 100 Thieves 3-2 in Round 2, and fell to the lower bracket.
Fighting for their lives in the lower bracket, Evil Geniuses went on to beat FlyQuest 3-1 and Cloud9 3-0 to meet Team Liquid a second time with no second chances.
28 minutes into game one of the best-of-five series, Team Liquid led by 1.4K gold with three elemental drakes under their belt. In a fight around Baron, they first eliminated Kyle "Danny" Sakamaki's Jinx, and the rest of the squad, leaving Philippe "Vulcan" Laflamme's Tahm Kench alive.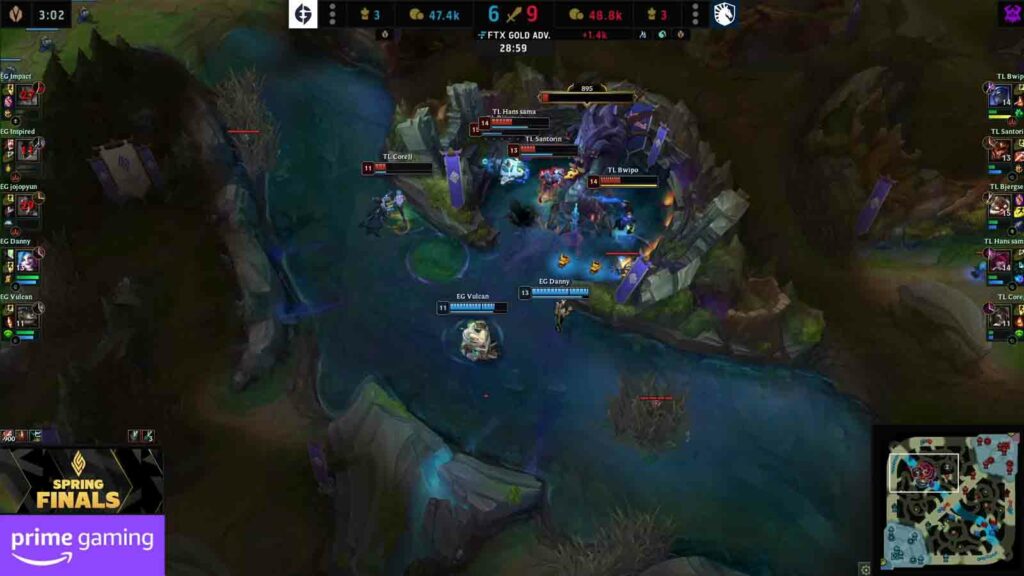 By the time TL turned to Baron and was just about to down it, Danny had respawned and walked over from base.
At this moment, timing was everything. Lucas "Santorin" Tao Kilmer Larsen had Smite up, and the moment Baron dropped to 908 HP, he used it, but did not secure the buff — because of Baron's level up mechanic.
Baron gets stronger the longer a game goes on, gaining increased attack damage, health, and health regeneration. The increase in health occurs every minute from the match's start. Starting at 9,000 HP, Baron gains an additional 180 HP per minute.
So as the game timer turned from 28:59 to 29:00, Baron levelled up, which caused Santorin to miss Smite. As a result, Danny's incoming Fishbones rocket stole the buff for his team.
---
---
Despite it being a 5v2, Team Liquid's health bars were dangerously low. Against a late game Jinx with Kraken Slayer, Infinity Edge, Phantom Dancer, and a Tahm Kench to back her up, the odds were actually against them.
Team Liquid also appeared to disagree on the call in this crucial moment, for Santorin's Jarvan and Gabriël "Bwipo" Rau's Shen were seen pacing back and forth at the back of the pit while the rest of the carries engaged.
By the time their frontline caught up, Taunt and Jarvan's EQ combo both missed their mark on Danny, which secured him the pentakill.
Evil Geniuses closed out game one three minutes later, and went on to sweep TL 3-0 to complete their revenge arc. They then carried this momentum all the way until the final where they swept 100 Thieves for the well-earned championship win.
Remember junglers, lesson learnt: always check the game clock before you Smite objectives.
---
MSI 2022 will begin on May 10 starting with the Group Stage. For more League of Legends news, updates, and more, follow ONE Esports on Twitter.
READ MORE: LS would make this surprising roster move if he was still Cloud9's coach