Many fans are looking forward to the release of Arcane season 2, the continuation of the League of Legends animated series by Riot Games and Fortiche Productions. With the sequel already in the works, viewers already have a lot of questions about the direction of the new season.
Showrunners and creators Christian "Praeco" Linke and Alex Yee held an AMA session on Reddit and answered fans' burning questions about the award-winning series.
Warning: Major spoilers if you haven't watched Arcane Act 1, 2, and 3.
---
---
---
Here's what you can expect in Arcane season 2
Viewers should get ready for war in the upcoming season, Praeco revealed in the Reddit thread.
It's possible that the city of progress, Piltover, will go to war against neighboring regions like Noxus or Zaun, which is yet to be established in the series.
Arcane writer Amanda Overton also confirmed that fans will be seeing some steamy scenes in Arcane season 2.
"They hired me back for season two, which means there will be sex," she commented. "I'm the reason it's in season one."
She was referring to Jayce and Mel Medarda's sex scene in Season 1 Act 2 Episode 5, all while Viktor was busy experimenting with the hex core in his laboratory.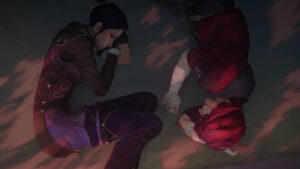 The ending of season 1 had everyone curious about the fate of the Noxian aristocrat when Jinx launched a Hextech-powered rocket toward the Piltover tower where the council was meeting. Praeco said that it's "solidly possible" for Mel to return, which means the Piltover council member might have somehow survived Jinx's Super Mega Death Rocket.
The audience greatly enjoyed Jinx and Ekko's epic bridge fight in Season 1 Act 3, and can look forward to more interactions between the two.
Alex further confirmed that "there will be magic" in Arcane season 2 in response to a fan's question about the mysterious wizard who saved Jayce and his mother.
There will also be flashbacks to Silco and Vander's younger days as confirmed by Praeco.
Check out the full Arcane Reddit AMA thread here.
Additionally, three new champions are coming to Arcane next season. Find out more about our theories for season 2, what Hideo Kojima thinks of the show, and Jackson Wang's favorite LoL champion in Arcane.
When is Arcane season 2 coming out?
Riot Games has not yet revealed the release date for Arcane Season 2, so fans would have to wait for a bit longer to find out what happens next in the League of Legends anime series.
Viewers and League of Legends fans can catch Arcane season 1 and, soon, season 2 on streaming platform Netflix.
READ MORE: Exclusive: DRX BeryL says he's a 'diehard collector' in Genshin Impact, shares anime watchlist