After the successful release of My Hero One's Justice and My Hero Academia Ultra Impact, My Hero Academia fans will be able to enjoy another new game title featuring their favorite anime, this time in an online battle royale.
My Hero Academia Ultra Rumble is currently in development, with a scheduled beta test coming up on PlayStation 4. It promises an exciting new experience where you'll be able to use heroes' quirks in a fast-paced environment!
---
What is My Hero Academia Ultra Rumble?
My Hero Academia Ultra Rumble is a free-to-play online battle royale comprising 24 players in each match.
Teaming up in a group of three, there will be eight squads competing against each other. According to the official Japanese website, cards will be available in the arena, which can be used to strengthen a hero's quirk.
Working as a team will be the key to victory. Like any battle royale, the last team standing wins.
Game publishers Bandai Namco Entertainment will be conducting an open beta test from February 2 to 6, 2022 on PlayStation 4. 10,000 players in Japan are expected to participate.
---
---
List of My Hero Academia Ultra Rumble playable characters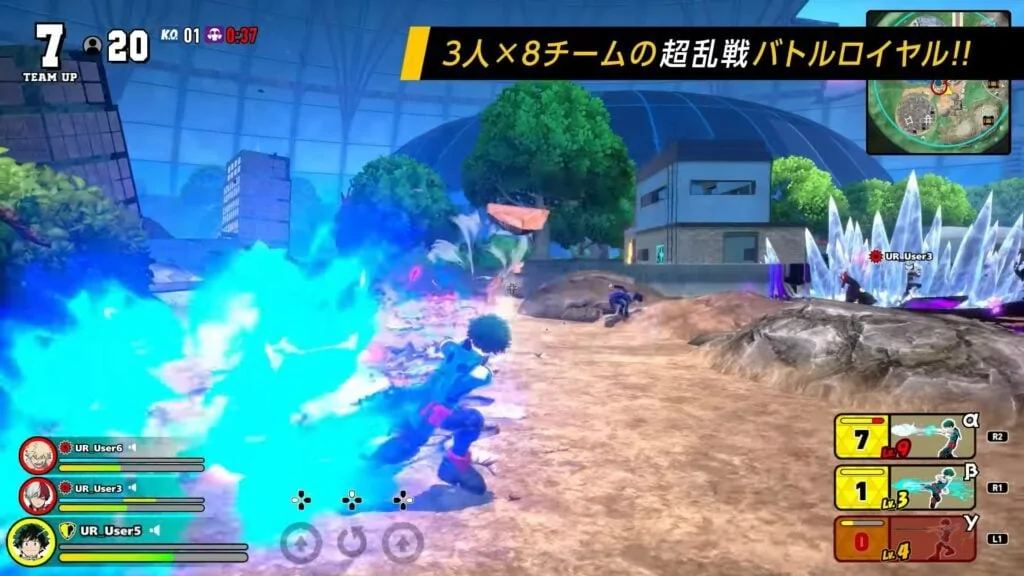 | | | |
| --- | --- | --- |
| CHARACTER | HERO/VILLAIN NAME | QUIRK |
| Izuku Midoriya | Deku | One for All: Gives him super strength and power. |
| Katsuki Bakugo (Kacchan) | Bakugo | Explosion: Creates explosions, which have destructive power. He can also use explosions to increase his own mobility. |
| Ochaco Uraraka | Uravity | Zero Gravity: Able to nullify gravity on solid targets, living and non-living, by touching them. |
| Shoto Todoroki | Shoto | Half-Cold Half-Hot: Generates ice from the right side of his body, and flames from the left side of his body. |
| Tsuyu Asui | Froppy | Frog: Gives her a frog's physiology. She can do anything a frog can. |
| Toshinori Yagi | All Might | One for All: Gives him super strength and power. |
| Ken Ishiyama | Cementoss | Cement: Manipulates cement-based material using touch. |
| Yu Takeyama | Mt. Lady | Gigantification: Allows her to increase to an enormous size. |
| Tenko Shimura | Tomura Shigaraki | Decay: Disintegrates whatever he touches. |
| Dabi | Dabi | Cremation: Generates highly destructive blue flames from his body. |
| Himiko Toga | Himiko Toga | Transform: Transforms into a physical lookalike of another person by drinking their blood. |
| Atsuhiro Sako | Mr. Compress | Compress: Compresses anything, living or non-living, into a small marble-like object, unharmed. |
So far, all we know is that these 12 heroes will be playable during the beta test. More heroes are expected to be released at launch.
(To be updated)
My Hero Academia Ultra Rumble release date
Other than the confirmed beta test, Bandai Namco Entertainment is yet to announce a release date for the battle royale. There's also still no word if it will be available in English.
(To be updated)
Platforms which My Hero Academia Ultra Rumble will be available on
PlayStation 4
Xbox One
Nintendo Switch
Steam
Bandai Namco Entertainment recently released a game trailer that shows the heroes in action. The map appears to be based on the Unforeseen Simulation Joint (USJ), where the heroes from U.A. High School learn disaster rescue training.
The original Japanese voice actors will voice their respective characters in the My Hero Academia Ultra Rumble game, exactly like in the anime.
Click here to visit the Japanese My Hero Academia Ultra Rumble website for more information.
READ MORE: Black Clover mobile game: Release date, characters, trailer