This is part of "Road to TI9", a series on the qualified Dota 2 teams for The International 2019, where we explore how they've been doing so far and why they deserve to be at Dota 2's biggest tournament.
Right behind PSG.LGD is the first Southeast Asian representative at this year's the International 2019, Fnatic.
They were unable to win a major this year, but earned enough points to claim the seventh place during this year's DPC season. Fnatic also scored wins over TI5 winners Evil Geniuses and CIS powerhouse Virtus Pro.
Here's a rundown of their 2018-2019 season.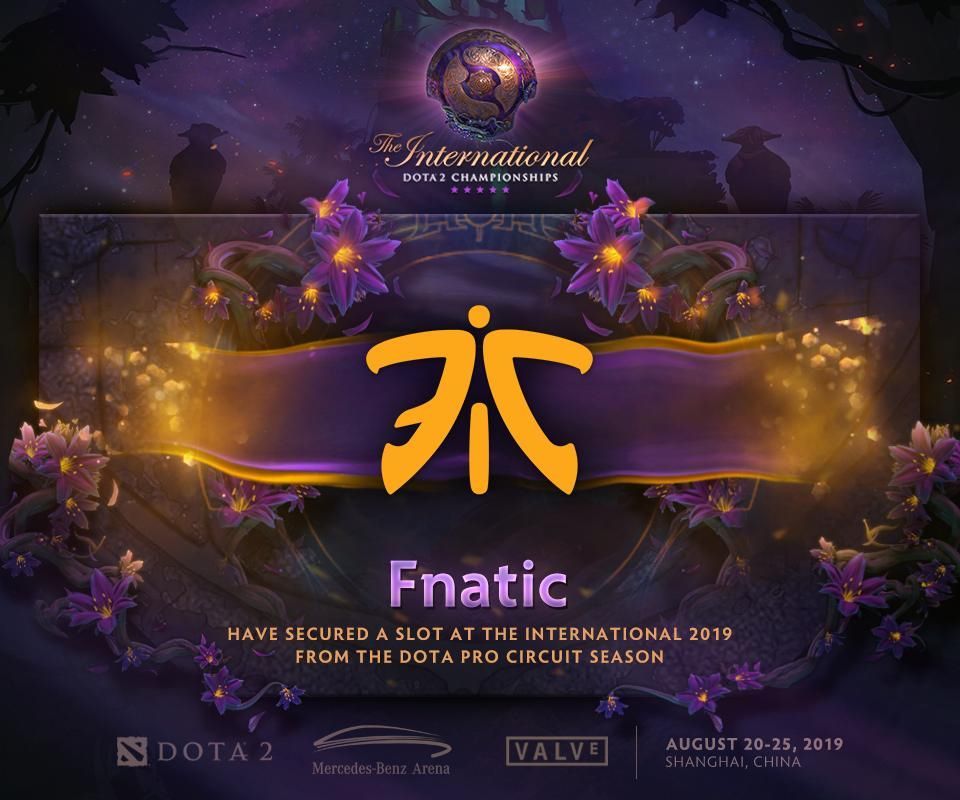 After a disappointing finish at The International 2018 last year, Fnatic decided to revamp their Dota 2 roster during the start of the 2018-2019 season. Jacky "EternalEnvy" Mao, Saahil "Universe" Arora, and Johan "Pieliedie Astrom, as well as coach Kurtis "Aui_2000" Ling, departed the roster back on September 1, 2018.
Eleven days later, Fnatic announced that Daryl "Iceiceice" Xiang, Anchua "Jabz" Jirawong, and Pyo "MP" No-a, along with their new coach, Kim "DuBu" Doo-young, will be joining Abed "Abed" Yusop and Djardel "DJ" Mampusti on their new official roster.
Fnatic's new roster did surprisingly well in their first Major of the season. They dominated their group at the Chongqing Major, even beating out Evil Geniuses. However, they lost their first playoff series to EHOME, but managed to defeat J. Storm in the lower bracket. They then upset TI7 champions, Team Liquid, but finally lost to PSG.LGD, earning them a fifth-sixth place finish.
Fnatic pulled off their best performance of the season by finishing third place at the Stockholm Major. After another successful group stage, Fnatic dominated the upper bracket, defeating Virus Pro and Keen Gaming without losing a game. But Fnatic lost in the winner's final match against Vici Gaming 2-1, and then was eliminated by Virtus Pro 2-1 in the rematch.
After the Stockholm Major, Fnatic struggled in the next two Valve Majors they entered. They were at the bottom of their group at the MDL Disneyland Major and were eliminated by Keen Gaming right away.
And it was more of the same at the Epicenter Major, where they underperformed in the group stages. They were defeated by Foward Gaming in the lower bracket.
After two disappointing performances, Fnatic decided to switch up their roster right before The International 2019. They decided to drop MP from the active roster and move Jabz to the carry position; while their coach, DuBu would take over the support role.
Fnatic's two key players are clearly Abed and DJ, as they've been with the team since 2017. Abed made headlines when he reached 10,000 matchmaking ranking points in Dota 2, twice while DJ, is arguably one of the best Position 4s in the world. Then you have Iceiceice, their innovative offlane player, who's been known to make big plays in high-pressure situations.
However, the main issue Fnatic has to deal with moving forward is the unexpected player and position change they made prior to TI9. Jabz has proven himself to be one of the best support players in the world.
Moving him up to the carry position might cost them, especially when DuBu is the player set to replace him in the position five support roll. DuBu has traveled with the team as their coach throughout the 2018-2019 season. But will he be able to exhibit the same level of play Jabz has?
Fnatic's best International performance was back in 2016, when they finished fourth place after losing to Digital Chaos 2-0. Aside from that, they've underachieved in previous years.
It will be a difficult task for Fnatic to win TI9 this year, but it isn't impossible. They've been able to upset some of the best Dota 2 teams in the world this season. And if they are able to win TI9 this year, that would make them the first SEA team to win The International.
READ MORE: Air China now offers Dota 2 VODs on flights