The team right behind Vici Gaming in the rankings, are the North American giants, Evil Geniuses. No other NA team has come close to what EG has accomplished over the years. And now they're back to the International 2019, hoping to be the first team ever to claim two TI titles.
While EG may have not won a Valve Major this year, but they've performed well enough to climb up to fourth place in the Dota Pro Circuit rankings. With wins over TI8 runner-up PSG.LGD and TI8 winner OG this season, they have more than earned their direct invitation to TI9.
Here's how they were able to do it.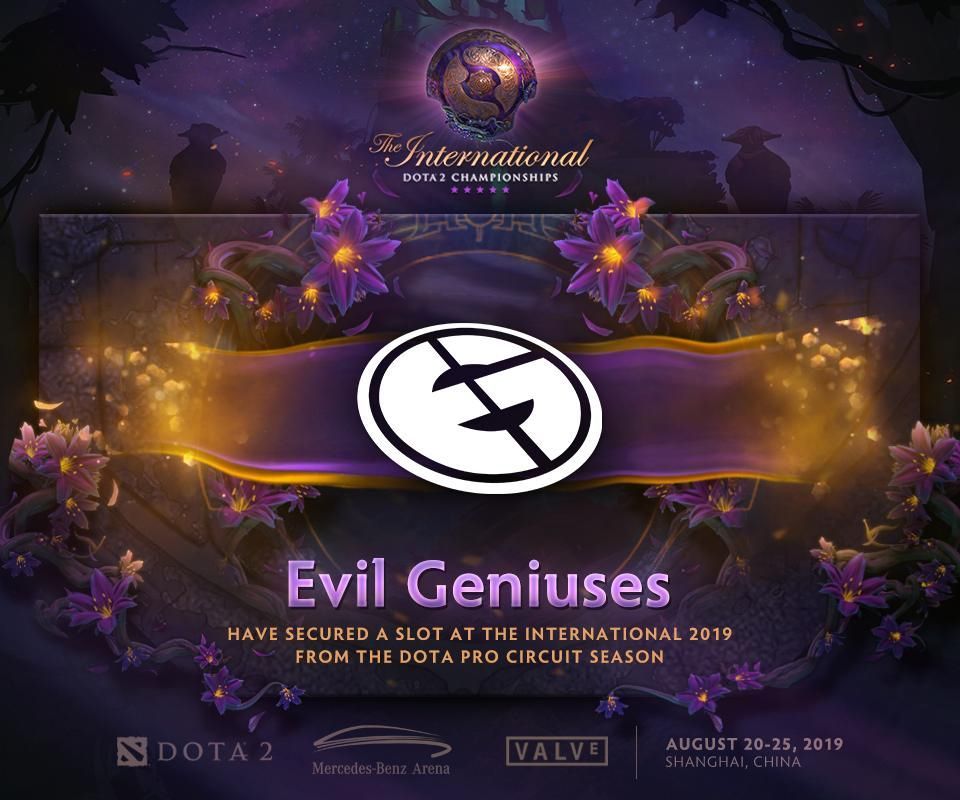 One of the reasons why EG has done so well is that, unlike other squads, Evil Geniuses has not made any changes to their roster all throughout the 2018-2019 DPC season.
The unchanged roster meant that the talented squad has had time to gel together under the leadership of Tal "Fly" Aizik as their captain. EG also has one of the best mid-laners in the scene in Sumail "Sumail" Hassan, as well as a top-tier carry player in the form of Artour "Arteezy" Babaev. Rounding up the squad is Gustav "S4" Magnusson in the offlane role and Andreas "Crit" Nielsen for support.
Evil Geniuses has earned three third-place finishes at Valve Majors in this year's 2018-2019 DPC season. During the Kuala Lumpur Major, EG performed well in the group stage but lost to their former team captain, Peter "ppd" Dager and Ninjas in Payamas in the first round of the playoffs.
After the loss, they quickly recovered and went on a tear through the lower bracket, eliminating North American rivals Forward Gaming, Fnatic, and PSG.LGD. They eventually defeated NiP later on in the tournament, but their run was stopped by Virtus Pro, who would go on to win the Kuala Lumpur Major.
The next event was the Chongqing Major, where EG faced similar difficulties. They were once again dropped to the lower bracket after they lost VP in the first round of the playoffs.
Then, they battled through the lower bracket final, only to be defeated by the eventual champions. This time, they lost to Team Secret, which resulted in yet another third-place finish.
The final event EG excelled at was the MDL Disneyland Major. After another promising performance during the group stage, they changed things up and did better in the upper bracket. They eventually lost again to Team Secret during the semifinals and were then eliminated by Team Liquid for yet another third-place finish at a Major.
EG ended the season with 6,825 points, with 6,300 points coming from their third-place finishes. The remainder of the points came from weaker performances at other major events.
That said, EG has always been a team spoiled with talent. While they previously relied on improving their squad by poaching players from rival teams, the success of their unchanged roster has proven to be working better so far.
Sumail is still considered as one of the best middle laners in the world, though he's known to take big risks during key moments of games that can pay off or fail badly. If he's able to control himself and build on a significant early game lead, EG will be tough to beat.
One player viewers should keep an eye on is Crit. He's the one member who tends to be unnoticed compared to the rest, but is highly capable of making game-deciding plays when needed.
The biggest obstacle standing in EG's way, is themselves. Their line-up, from position 1 to 5 is top-notch, but they've always had difficulty performing better the deeper they get into tournaments.
They've also struggled against Team Secret, who has eliminated them from three different events this season, namely, the Chongqing Major, MDL Disneyland Major, and at ESL Birmingham.
That said, EG has plenty of motivation going into this year's TI9. After their crushing defeat by OG last year, EG will be keen to avenge their losses and reach higher than third-place this year. If they do, Sumail and S4 could be the first-ever players to lift the Aegis of Champions for the second time.
READ ALSO: Road to TI9: How Vici Gaming became the best Chinese Dota 2 team this season