OB.Neon has officially parted ways with John Anthony "Natsumi-" Vargas. The announcement was made on the team's Twitter account on July 27.
Eagle-eyed fans may have noticed that Natsumi hasn't been playing with the rest of his team since they failed to qualify to The International 10 during the Regional Qualifiers which Fnatic won.
OB.Neon was knocked down to the Lower Bracket by Fnatic early in the playoffs, where they were eventually eliminated by Execration after a 1-2 loss.
---
---
OB.Neon thanks Natsumi for playing with them
Natsumi was a large part of OB.Neon's success across multiple tournaments. Besides their 3rd place finish in the Huya Winter Invitational, Natsumi helped the team land a 2nd place finish in Southeast Asia Upper Division Season 1 and the Asia Pacific Predator League 2020/21.
Since Natsumi has been released, the team moved Rolen Andrei Gabriel "skem" Ong back to his original role as the team's carry.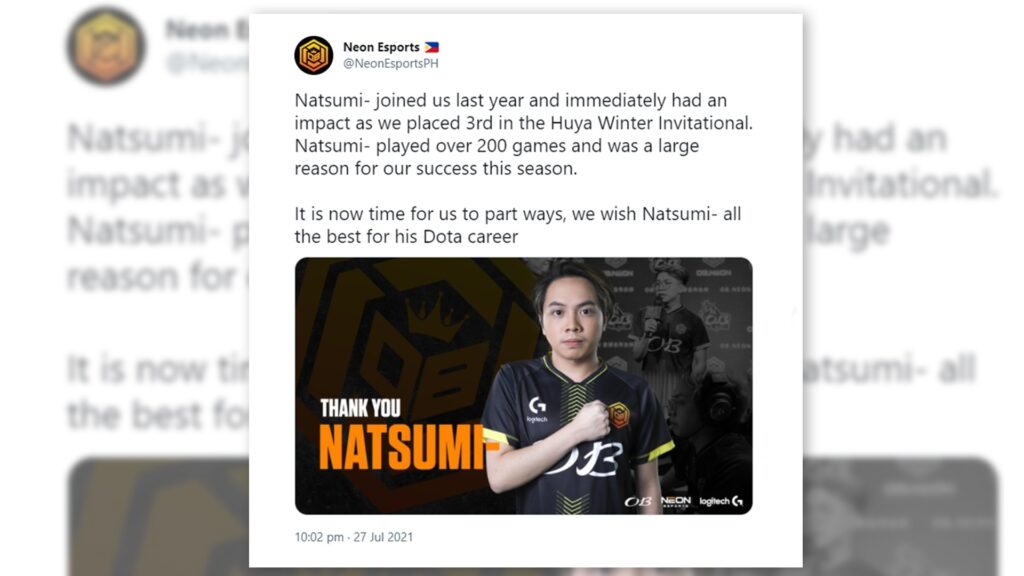 OB.Neon is currently looking for a position 4 support to fill their roster. Originally it looked like TNC's Timothy John "Tims" Randrup would stand-in for the team, but that did not come to pass.
The team is temporarily competing with Mark "Shanks" Redira in the BTS Pro Series Season 7.
OB.Neon's Dota 2 roster
Rolen Andrei Gabriel "skem" Ong
Erin Jasper "Yopaj" Ferrer
Michael Roi "Enryu" Ladines
Jaunuel "Jaunuel" Arcilla
Fans can watch the livestreams on the official BTS Twitch channel.
READ MORE: The 3 best heroes to counter Axe in Dota 2