The much awaited collaboration stream between TNC player Jun "Bok" Kanehara and Japanese vtuber Kureha Kurono happened on July 25 on Kureha's Youtube channel.
Anxious viewers were greeted with a pre-recorded cover of Dota o Ako, a song loved by old school Filipino Dota players, before the interview with TNC's star support player ensued on vtuber Kureha Kurono's livestream.
TNC Bok on how he got into Dota professionally, and his all-time favorite anime
Over the course of the stream, we learn that Bok first got into Dota around 2012. His first competitive team was Arcanys Gaming, a Filipino team based in Cebu.
He eventually went on to join Rex Regum Qeon, an Indonesian squad, but left because he had trouble communicating with his teammates.
Bok also revealed to vtuber Kureha Kurono that he loves to watch anime. Code Geass and TenSura are his all time favorites!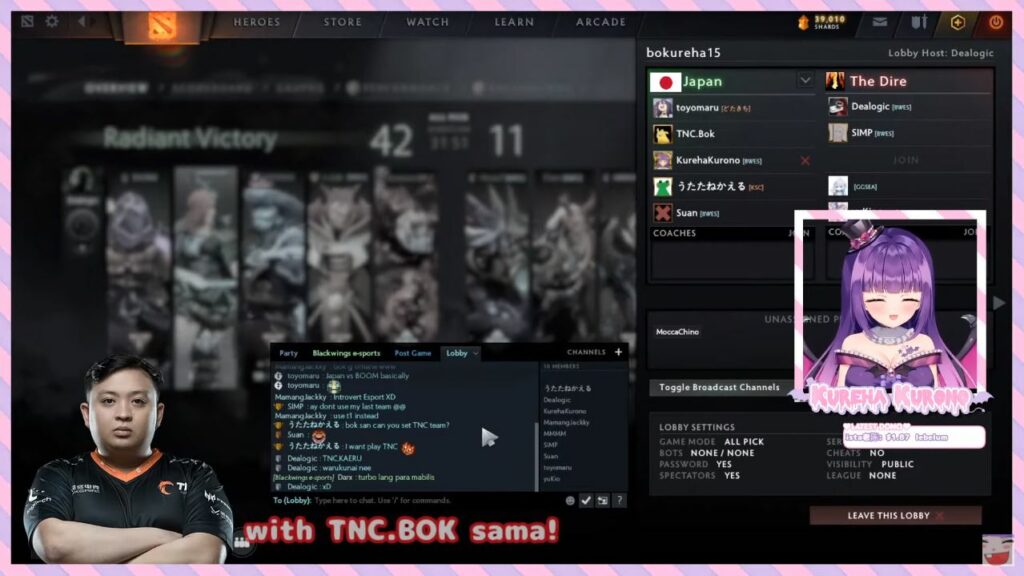 ---
---
TNC Bok even spoke some Japanese to vtuber Kureha Kurono
Throughout the stream we hear Bok speak some Japanese since his father is Japanese. His Filipino mum supposedly makes some rocking Japanese curry too.
After the interview, the two teamed up for some crazy Dota 2 games. Fans were surprised when both Bok's girlfriend and Filipino caster John "johnxfire" Nathan Fernandez joined the party.
During the stream Bok revealed that met his girlfriend through a game called Coin Master. The two occasionally play games of Dota 2 together, for she's an experienced Dota 2 player. Who said you couldn't find true love while gaming!
Being engaged with super friendly community in chat and enjoying the awesome company on stream, the overall experience was chill and fun.
If you missed out on the live experience, you can head on over to Kureha's Youtube channel to watch the VOD. Fair warning, turn your sound down before tuning in!
READ MORE: BTS Pro Series Season 7 SEA: Schedule, format, competing teams, results, where to watch