Gaimin Gladiators midlaner Miroslav "BOOM" Bičan had a difficult journey on his way to becoming a Dota 2 pro.
During a pre-tournament interview at ESL Stockholm Major, the talented 22-year-old Czech shared that he was once kicked out of his home by his parents because he desired to become a Dota 2 pro.
Despite the difficulties, BOOM continued to hone his skills and made his way to the top of the Western European region.
Gaimin Gladiators BOOM's journey on how he became a Dota 2 pro player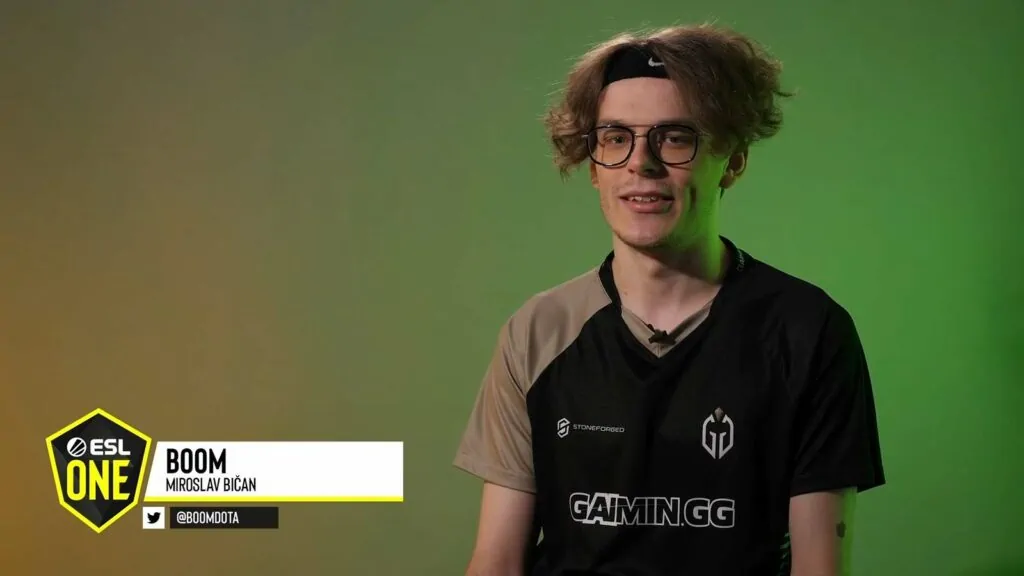 BOOM had known from a young age that he wanted to become a Dota 2 pro player. Unfortunately, his parents disagreed and gave him a stark ultimatum.
"I told my parents I didn't want to study anymore, that I wanted to go full time with Dota," he said. "They didn't like that, so they told me I had to move out or finish school."
Regardless of the consequences, BOOM decided to quit school and later moved in with a friend he'd met from playing Dota 2 who helped him out in his time of need.
"I was basically broke at that point and I wasn't making any money," he said. "He let me stay at his place for free."
A month after he moved out, BOOM shared that his parents finally calmed down and let him come back home. His decision to play Dota 2 competitively had finally paid off as he was signed by Vikin.gg a month after he reunited with his parents.
"I started making some money, so, that's when they started to understand I can make a living out of playing Dota," he said. "They're fine with me doing it now, they just didn't want me to waste time."
---
---
---
From being kicked out of the house to playing at the Stockholm Major
After representing Vikin.gg throughout the 2020-2021 DPC season, BOOM joined European stack Team Tickles in the following year. Team Tickles had an impressive run during DPC WEU 20221-2022 Tour 1 Division 1, beating teams like Alliance, Nigma Galaxy, Tundra Esports, and OG.
The talented European stack was picked up by professional esports organization Gaimin Gladiators right before they won the DPC WEU 20221-2022 Tour 1 Regional Final where they defeated Team Liquid, 3-1.
Gaimin Gladiators qualified for the Stockholm Major by finishing second behind OG in DPC Europe 2021-2022 Tour 2 Division 1. They are currently tied in second place with Fnatic and Team Liquid with a 5-3 record in the Group Stage of the Major.
The European squad only has two more group stage matches left to play. Their next match will be against South American squad Thunder Awaken on May 14, followed by their final match against Fnatic on May 15.
Fans can watch the Major live on ESL ONE's official Twitch stream from May 12 to 22.
During the group stages, two additional streams will be broadcasting. You can find Stream B and Stream C here.
You can check out the upcoming playoff schedule and more information about the Major here.
READ MORE: Team Spirit's Collapse Mars and Yatoro triple rampage at Stockholm Major is TI10 all over again