Fnatic's Filipino players Djardel "DJ" Mampusti and Marc "Raven" Fausto, and performance coach Pao Bago, have finally returned to the Philippines nearly a month after the conclusion of The International 10 (TI10).
On October 16, the Philippines' Bureau of Immigration listed Romania as a red list country and denied entry to those traveling from Romania. The Filipino Dota 2 players who attended TI10 had return flights scheduled on October 18 and 19, and were therefore denied.
This travel advisory left Fnatic's Filipino Dota 2 team members, along with T1's Carlo "Kuku" Palad, Karl "Karl" Jayme, and Evil Geniuses' Abed "Abed" Yusop, stranded in Bucharest, Romania after TI10.
---
Fnatic's Filipino Dota 2 players DJ and Raven return to the Philippines after TI10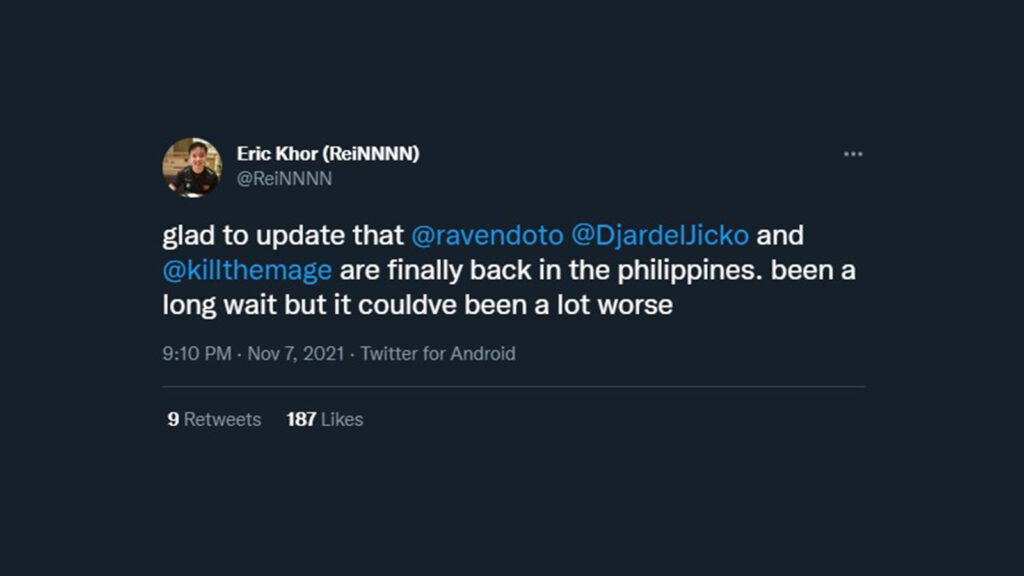 According to Fnatic's Team Director Eric "ReiNNNN" Khor, DJ, Raven, and coach Pao arrived in the Philippines on November 7, 22 days later than expected.
The three Filipino team members from Fnatic were the last to make it back home after Kuku, Karl, and Abed returned ahead of them.
The team's coach, Pao, also reported that TI10 event organizers PGL and Valve took care of their accommodations as they tried to make arrangements to get back home.
READ MORE: OB.Neon's new roster locks in six players for 2022 DPC season