OB.Neon, the breakout team during the ONE Esports Singapore Major announced their new roster for the 2022 Dota 2 DPC season.
OB.Neon's performance against Team Secret was lauded as one of the best matches of the year during the Singapore Major. The team is looking to qualify for The International 11 (TI11) after falling short this TI10.
---
---
OB.Neon suffered multiple roster issues during the DPC season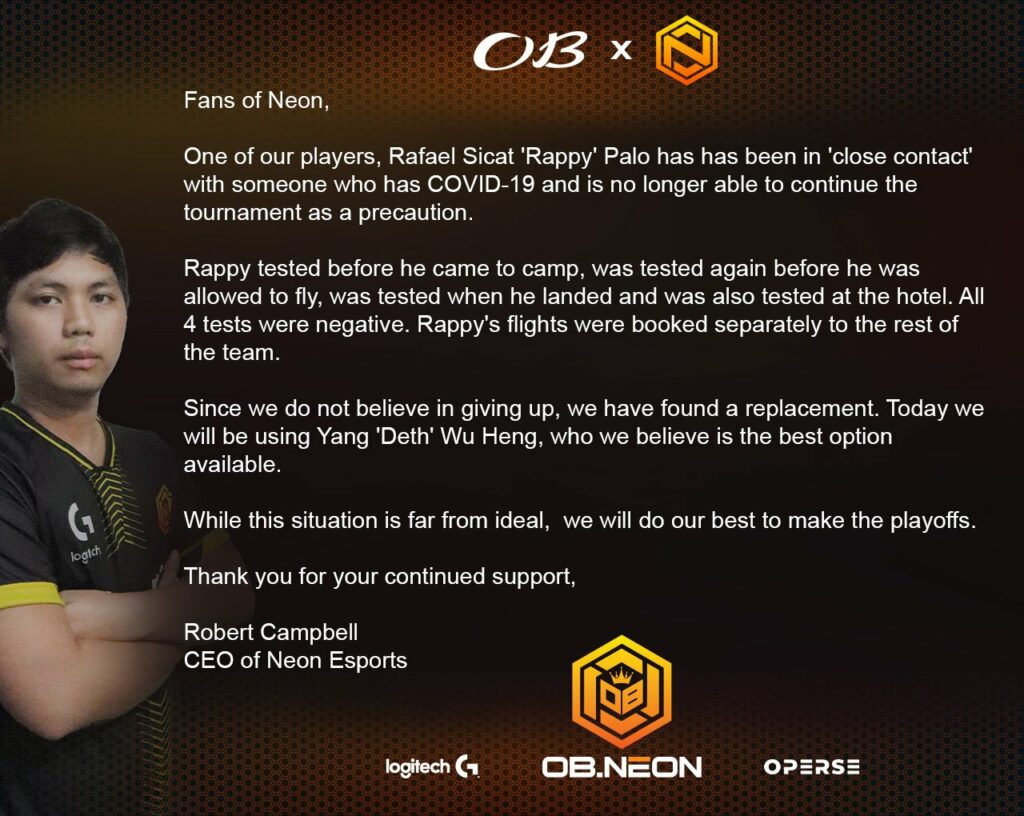 OB.neon started the TI10 DPC season strong. They came second in the first season of the Southeast Asia division along with a 5-6th place finish at the ONE Esports Singapore Major.
During the ONE Esports Singapore Major, John Anthony "Natsumi-" Vargas was unable to play, which facilitated the need for a stand-in.
Rafael "Rapy" Sicat Palo joined as a stand-in but had to quarantine due to coming in contact with a COVID-19 positive case. As such, Yang "Deth" Wu Heng was drafted as a second stand-in.
The team was plagued in the second half of the DPC season with multiple roster changes. Prieme Ejay "PlayHard" Banquil left the squad, while Rolen Andrei Gabriel "skem" Ong switched roles from carry to support.
---
OB.Neon's new roster includes Jaunuel as their sixth player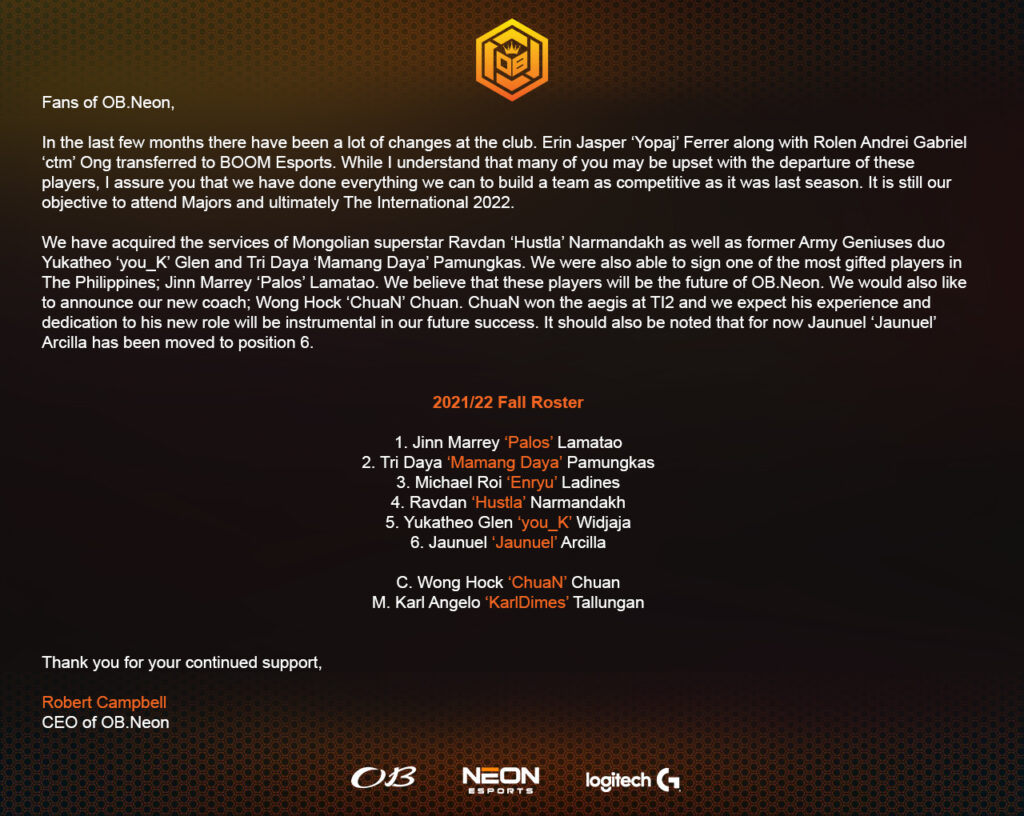 Dota 2 rosters usually have five players, so it came as a surprise when OB.Neon revealed that their 2021/2022 roster, which features six players.
Having a sixth player on the team allows them to make substitutions if the need arises. It also protects the team, should roster shuffles or unforeseen circumstances cause one of the players to be unable to play.
OB.Neon also hired TI2 winner Wong "ChuaN" Hock Chuan to coach the team. ChuaN is the first player from Southeast Asia to win The International. His knowledge and experience will surely be an asset as they attempt to qualify for next year's The International.
OB.Neon's Dota 2 lineup for the 2022 DPC season
(1) Jinn Marrey "Palos" Lamatao
(2) Tri Daya "Mamang Daya" Pamungkas
(3) Michael Roi "Enryu" Ladines
(4) Ravdan "Hustla" Narmandakh
(5) Yukatheo 'you_K' Glen
(6) Jaunuel "Jaunuel" Arcilla (substitute)
Jaunuel will be the second position 5 support for the team and their substitute player.
Dota 2 fans can read the full announcement on the team's Twitter.
READ MORE: Dota 2 just experienced its biggest growth in 31 months