Jake "SirActionSlacks" Kanner was streaming on Twitch recently when one of his viewers decided to donate US$10,000 (yes, that's four zeros) during the live broadcast.
SirActionSlacks is a popular Dota 2 streamer, host, and manager of Arkosh Gaming. He also works as a host for other esports titles.
---
---
SirActionSlacks has been in the Dota 2 industry for eight years
The donation came from user eezzee, a long-time fan of his talents. The viewer attached a message with the donation that said, "For making me laugh over the years. Enjoy the final gift."
SirActionSlacks is well known for his sense of humor, which he brings to his livestreams and at official events. He regularly entertains viewers with stories about his life and by playing pub games, and is also infamous for playing most of his matches using the (most annoying) Dota 2 hero, Techies.
During The International 10 (TI10) All-Star match, SirActionSlacks was the host for the prestigious event and produced hilarious results.
---
The gifts kept on coming during the Twitch livestream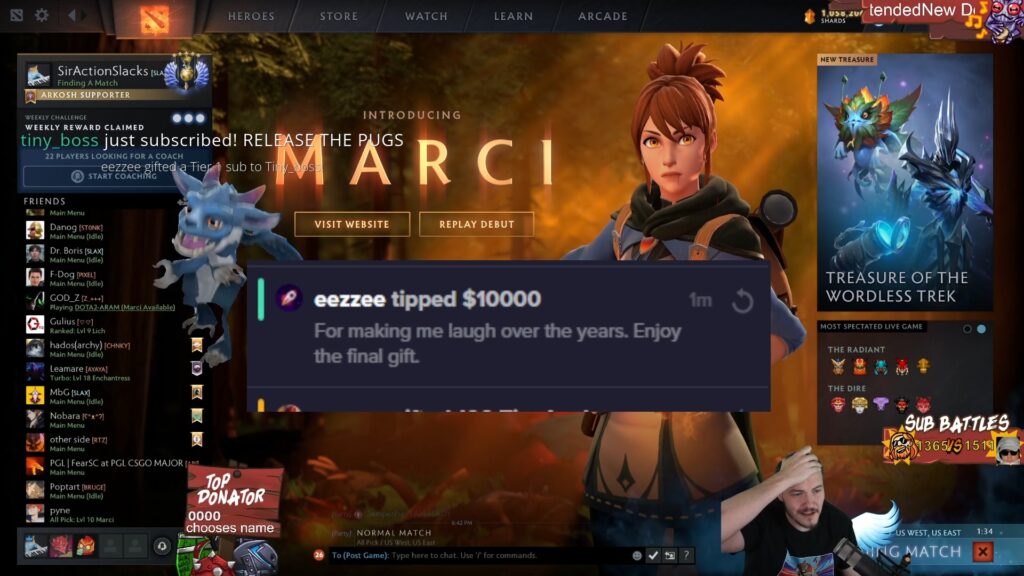 Besides direct donations, Twitch offers users multiple options to support their favorite streamers. One of these options is a monthly subscription that provides exclusive benefits to subscribers.
The generous eezzee hyped up the chat by giving out more than 900 subscriptions to the viewers. It was rare to see Dota 2's funniest caster left completely speechless.
READ MORE: Miposhka says Team Spirit will stick together for 2022 DPC season